Here was the scene just before midnight outside my local
Toys R Us
last Friday night. In celebration for the upcoming animated Clone Wars
movie
, select
locations
were having a midnight madness
sale
debuting the brand new toys. We arrived about fifteen minutes early, and as you see there was a good-sized crowd already. Another twenty or so people would show up before the doors actually opened.
Of course Vader's 501st
Legion
was present for the event, making their second appearance on the blog. The
Fett
outfit was top notch, and the rest weren't too shabby either. I question the
scale
on some of the characters though. For reference sake, I'm barely five and a half feet tall, so that makes for one incredibly tall
Stormtrooper
and one surprisingly short Jedi.
Once inside there was a sizable area and display dedicated to the new stuff. You had access to the whole store, but this was where all the action was.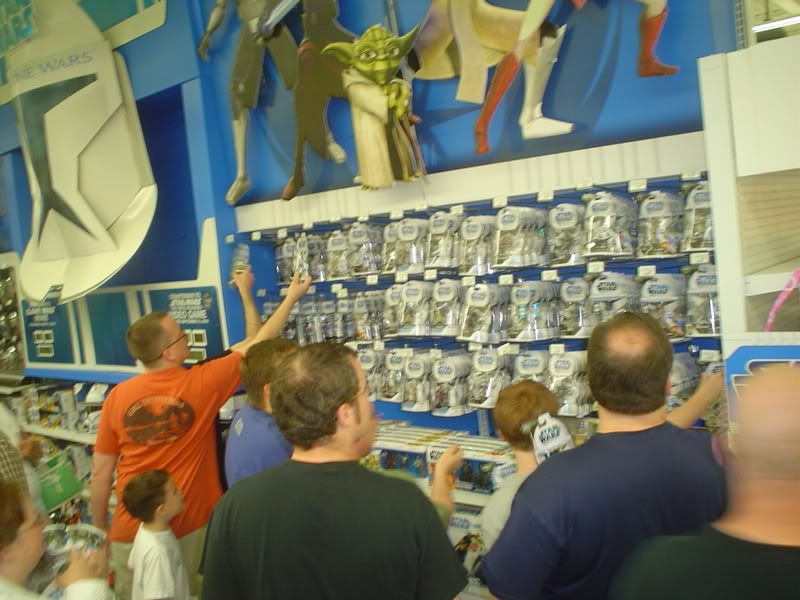 There were more middle-aged men clamoring for the new figures than kids,
heh
. That's Andy in the middle with the dark shirt and bald spot. No, not him, the other one, ha. The figures looked cool, and if there were more of the animated style available, I
might have
picked a couple up, but I was there for the
Legos
of course.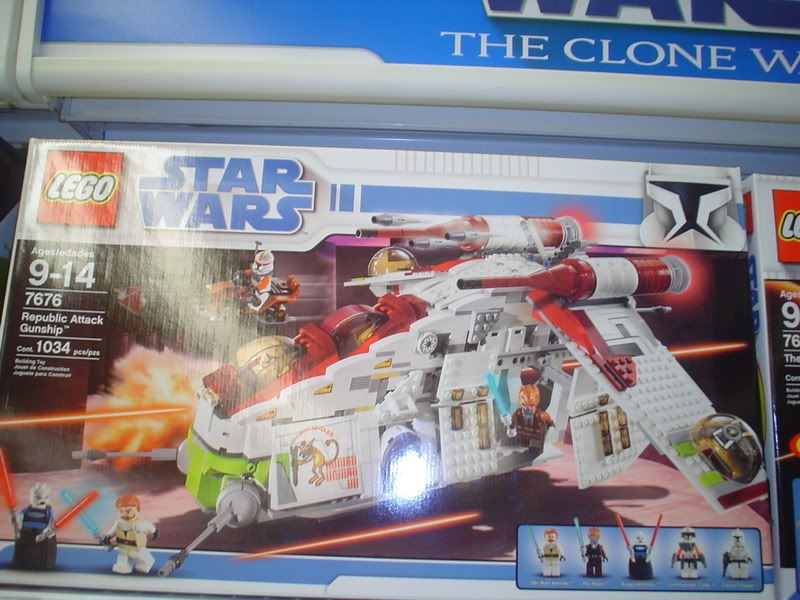 #7676 Republic Attack Gunship
: This was the MVP of the night. It also weighed in at the most expensive. I would've gladly snatched this up had I been prepared monetarily. It's a big set, and a nice remake of the first
Gunship
Lego set that came out a couple of years back. I gotta pick one of these up sooner than later.
#7673

MagnaGuard

Starfighter
: On the left, this spaceship was absolutely massive. It actually has some very nice lines and detailing that makes me want to pick it up eventually. The downside is that its mini-figs are based off the kinda lame
Battle Droid
frames. They do sport some interesting
cowl/capes
though.
#7674 V-19 Torrent
: On the right, this is the set that I was hoping to pick up that night. This Clone attack craft just looks great, and borrowing a term from the Lego community, it's looks very "
swooshable
". I figured it'd be about a thirty dollar set, too bad I was only
half
right, sixty bucks, yikes. Instead of going in the shopping cart, it just got added to the wish list.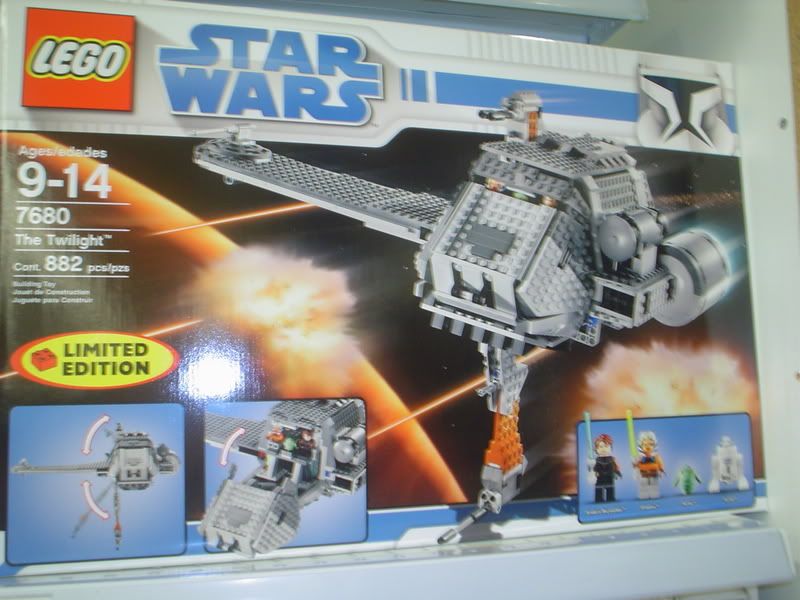 #7680 The Twilight
: Wow, this one so underwhelmed me it's not even funny. It's giant, clunky version of a
blocky
B-Wing
fighter, finished off in a very uninspiring monochromatic gray. Not only that, but if you look at the picture, there's not even a windshield for the cockpit, your figs would be exposed to space, 'sup with that? Throw in the equally unbelievable price tag, and you've got a set I'll be leaving on the shelves.
#7675 AT-TE Walker
: This one completely caught me off guard, it was cool,
very
cool. It's a high dollar set though, but I see myself picking it up at one point as well. It's an early prototype of the
AT-AT
, obviously, and it comes with a nifty set of mini-figs, plus lots of parts and details. As with the Gunship, this version seems to look much better than it's
predecessor
.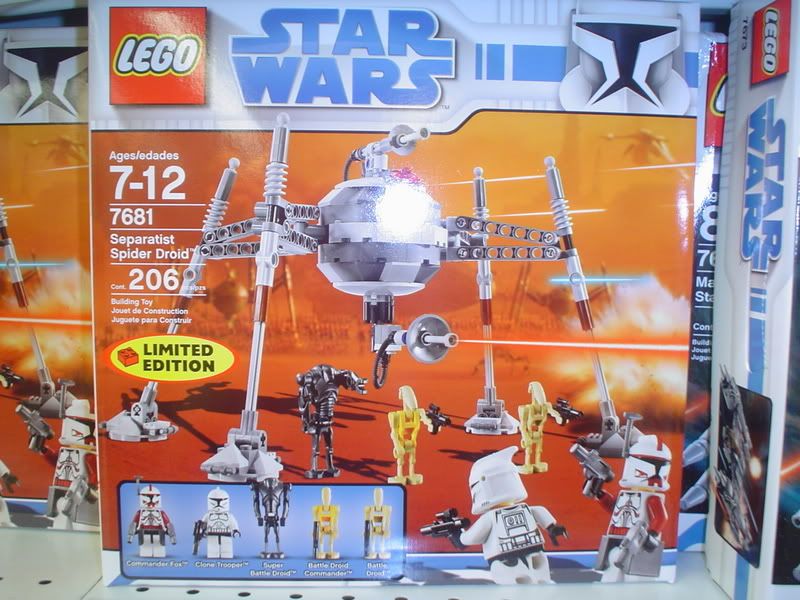 #7681 Separatist Spider Droid
: The cheapest set (so far) of the Clone Wars line, and at thirty bucks I don't know if I want to pick it up for the pieces, or for the two Clone figs alone. I'm really hoping there will be a good number of lower price point sets to come out, I'm a little surprised there's not any yet. I thought I saw a small set previewed from a toy show that was just three troopers on
speeder bikes
, but I can't seem to find it now.