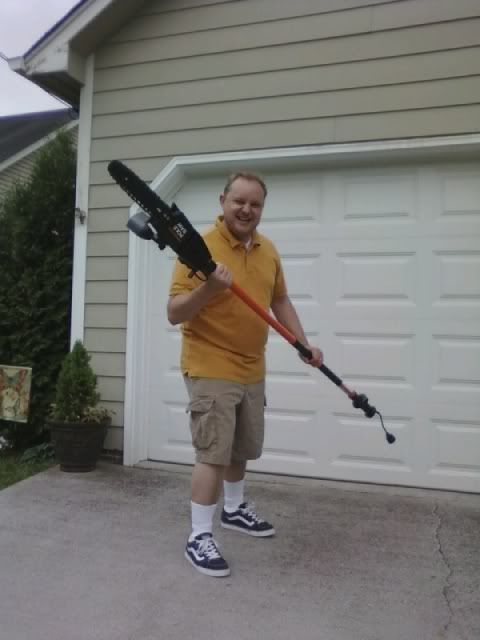 Chain Halberd!
I had to do some heavy duty trimming of some pine trees that were entangling some of my lines. So not only did I get to irresponsibly use wacky power tools, but it looked just like a chainsword-on-a-stick. I thought that was a pretty cool feature, I don't know if the neighbors I borrowed it from did or not.
Me and a Jedi chick at Free Comic Book Day
Captain Rex meets Captain Chica
I've mentioned my wife a couple of times before, especially when talking about all the square footage she has so graciously given over to my geek pursuits. She's
not
a gamer wife though, so it was too good to pass on incriminating photos of her geeking it up.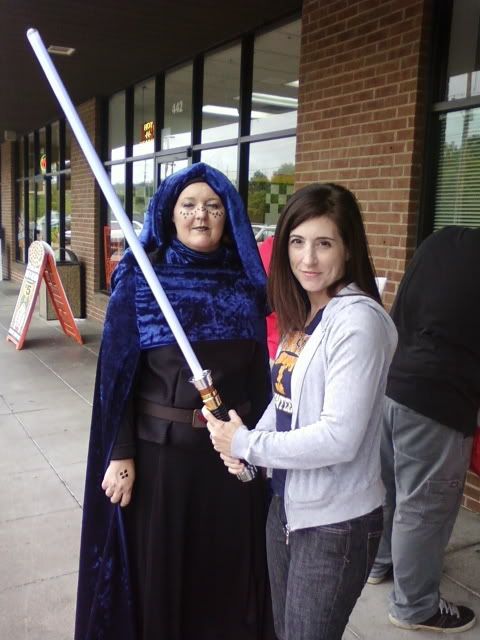 After this was taken my wife enacted Order 66
No, it's not me with a close shave, haha. Digging up pics online to link in a post from earlier this week I ran across this one. It wasn't what I needed at the time, so I didn't use it, but I thought it was way too cool to pass up anyway.
This guy's
whipped up an excellent
Priest of Sigmar
outfit that looks very convincing.
Reduce, reuse, recycle...and RAVAGE!
Here's a sneak peek of a
SuperSystem
team I have on the backburner. After looking at this pic, I'm tempted to just dip them and base them and call it a day. No, that would be too easy, I may have to give these guys their proper due and actually paint them up. Obviously this will be a
nature themed
super team with a hefty mix of
brawlers
,
bricks
,
flyers
,
speedsters
, and the like. Most of these are just old
Mage Knight
figs I had laying around, with the exception being an old GW
Treeman
, and a Heroclix unique
Wasp
. My cost here is basically zero since all of these were just lying around my odds and ends.