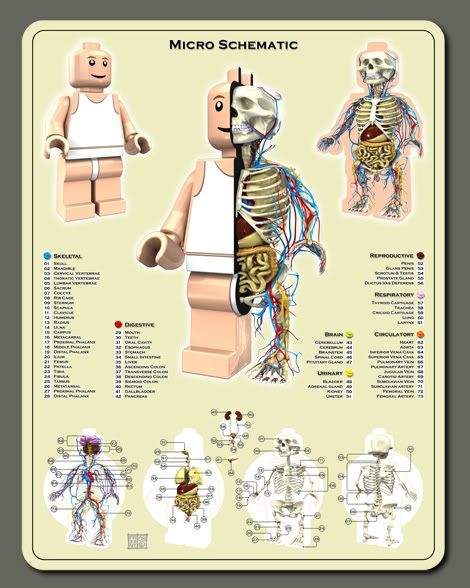 "Micro Schematic"
Jason Freeny over at
Moist Productions
is an artist, illustrator, and 'crazy person' (his words, not mine). It's not often, but thankfully not rare either, that someone of talent incorporates a little Lego into their work now and again, and that's why I took notice here. The above "Micro Schematic" came out a while back, and I fell in love with it given my
Lego
background. I actually reached for the check card immediately to order a shirt with this design on it, and I usually don't pay more than twenty bucks for a t-shirt, unless I'm at a
Rush concert
! Ironically I don't wear the shirt out that often because I don't want to get a lot of wear and tear. Even stranger is that looking through the online store now I don't see the Micro Schematic shirt anywhere, so I don't know if there were some copyright issues?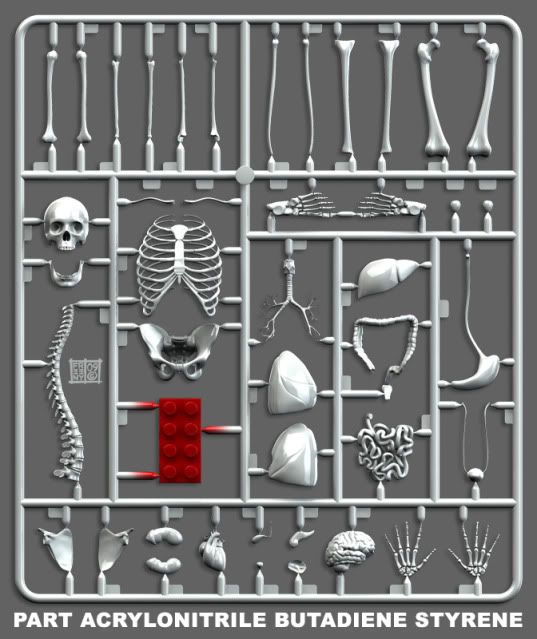 "What You're Made Of"
Check out his galleries, he doesn't stop with mini-figs, there's some great anatomies of balloon animals, sock monkeys, gummy bears, and the like. There's more than just a couple of Lego pieces of course, lots more, but that's what caught my eye to begin with. Looking through those galleries (I can't hot link them, so just refer to his home link above) you'll find some great graphite illustrations, a lot of computer works, and even some sculptures. The above piece has obvious resonance with me as well, just because of all the time I've spent clipping parts off of sprues and assembling them, it's nice to see the red brick, the heart of the model on there too, I think we all have a little Lego in us after all.