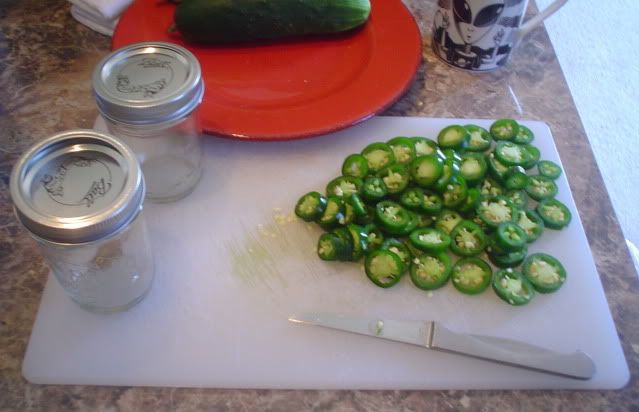 Yeah, yeah, this is a "gaming" blog and here's another dang
gardening post
! Get used to it, 'cause I think here at Mik's Minis, we're going to be renaming the place "Mik's Veggies" in the summer. So my little experiment of a garden is going well, very well. In fact, I've got so much produce yield, I have to start getting creative with the excess. I've given away about all I can, so now I'm adding pickling and canning to my repertoire.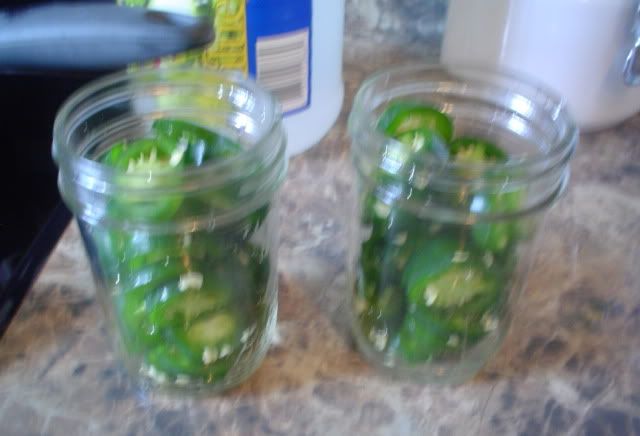 These two mason jars were filled up with sliced peppers from just
a single visit
to the garden one afternoon. Just that morning I had given away fourteen peppers to some friends and family, now I had another two jars worth, so I turned to canning. These jars aren't very big, I bought standard
Masons
with the idea of smaller portions in mind.
Canning is a cool process and if I can do it, anyone can, it's incredibly easy. Plus, with very little prep, you can keep food (fairly natural) for up to a year or so. For all the budding zombpocalypse survivalists and end-of-the-worlders out there, this could be just one more tool in your preparation. There's also something cool about canning your own stuff. We (used to) buy jars of jalapeños at the store all the time, no longer.
First off, wash your jars, lids, and bands inside and out with lots of hot, soapy water. I then used boiling water to rinse them with. I had a bad experience years ago with a batch of home brew beer that ended up with worms in it because we (Oz and I) didn't properly sanitize our kit. It might be overkill here, but I didn't want a repeat.
So, you've got your jars and lids sanitized. Next is your high tech canning solution, white vinegar and water. That's it. Your mix should be one to one (1:1), and here I used two cups of each. Then you boil it up, as shown above. All you're going to do here is place your jalapeños, sliced, in the jars and scoop out the boiling mixture and pour it in the jars right away. The jars I kept in a large pot in the sink with hot water prior to this step. This way when you pour in the boiling water, your jars don't shatter on you, even thought they still might.
Just me talking through the lid process.
All right, that's all there is to it! Here's two jars, good to go, they're in the cabinet, labeled, as we speak. I've got plans for these puppies this fall come football season, I may just eat them right from the jar. I was out watering this evening and noticed a good haul hanging on the branches right now, so I'll be doing up another batch of two (or three) jars sometime tomorrow.