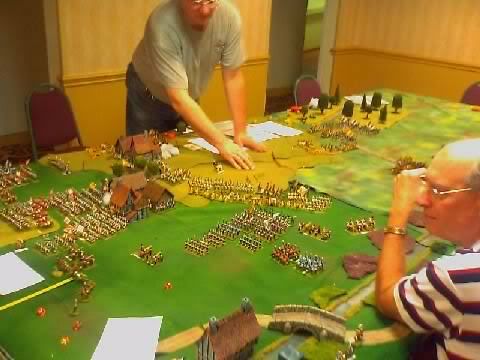 I don't even know what game Andy sent me a pic of, but it looks great!
Well, as we speak,
Historicon '09
is in full swing, this
year's theme
is Napoleon's 1809 campaign. It's also the last year for the convention to take place in Pennsylvania. I had fully intended on going this year, the last few years before this I had been crunching my way through college summer school. At the last minute however, I was dealt a funky hand in life (just a minor hiccup) but it threw my Historicon plans out the friggin' window.
Andy
and
Brian
have made the trek though, so here's to them, have fun guys!
Andy
is finding time to update his blog while there with some pics...
lots
of pics. If you want to see some absolutely amazing terrain and beautiful gaming tables, head over to his
Historicon Album
and take a gander. Good stuff in there...
Here's
Brian
(left) running a game of Check Your Six