Meet Hit Girl: The Coolest (And Most Controversial) Superhero of the Year

InsideMovies.com, -Kara Warner

Entertainment Weekly's Adam Markovitz isn't surprised about more potential parental group grumblings, which will likely increase after the film opens in theaters April 16. "Some people have very strong beliefs about what kids should and shouldn't be asked to do," he says. "Even within the context of a movie ... It's a little girl swearing and stabbing through the head and that's bound to create controversy."
'One of the most irresponsible films ever'?

New York Post, -Kyle Smith
"If you don't like violent movies, fine, but don't say you weren't forewarned when the movie is rated R for "strong brutal violence throughout" and for many other good reasons."
Hit Girl Controversy: Is She Kick-@ss or a Bad Influence?
Associated Content.com, -Aida Ekberg

"Perhaps the real controversy doesn't lie in Hit Girl violently killing evil adults without it affecting her, but in the fact that her father Big Daddy is willing to sacrifice his daughter for revenge."


Kick-@ss's Hit Girl, and 9 Other Controversial Cinematic Children Up to No Good

Movie Line Nine, Kyle Buchanan

Chloe Moretz, 13, can kick your you-know-what
USA Today, Scott Bowles
"I don't see what the big deal of it was," says Moretz, who swears she had never said the word before reading the script and has never used it privately.
"Just because I talk a way in a movie doesn't mean I'd ever do it in real life. My friends don't talk that way."
The Geek Beat: Hit-Girl Hysteria

Cinematical.com, -Elisabeth Rapper

What I find fascinating is what other writers have already theorized -- that there wouldn't be much hand-wringing if the character was called Hit Boy. Every bit of hand-wringing emphasizes Hit Girl's gender rather than her age, stresses her corruption, and worries about her language. A girl should never, ever be thinking such ugly things, let alone doing them.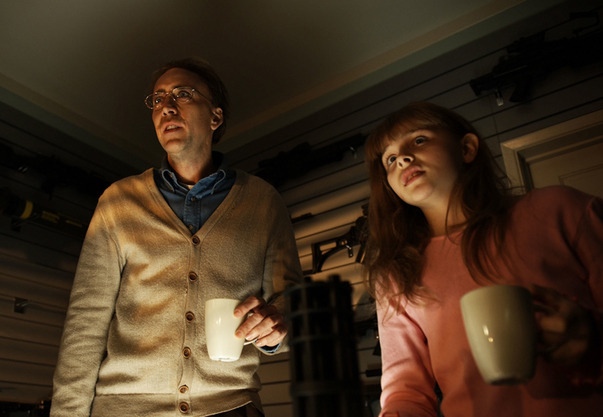 Feisty Hit-Girl is a Positive Role Model -- and a Rare Kick in the @ss
Independent.IE, -Julia Molony
"The character represents the indulgence of two powerful adolescent urges. First, taboo breaking. (That's there in the prolific use of shocking profanities). And second, independence. That she is small and slight and sweet only serves to drive home the point even harder. Nobody can stop, chasten or restrain her. And if they try, she'll kick their ass."