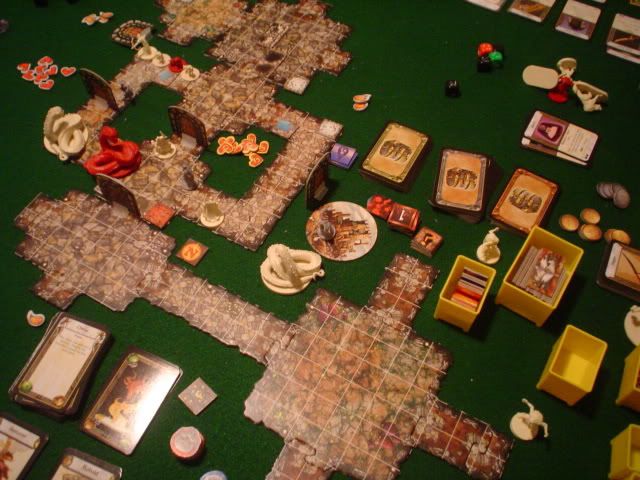 Nothing much to report here, except some more
Descent
last week. We didn't have a large mid-week crowd,
Andy
and
Chrispy
were both absent, but luckily
Chri3
showed up with his little brother in tow. I say "little", he was twelve, but that still meant I had to watch my language. My brother-in-law
Jake
showed up to. Jake's kind of zany, he is full of raw geek potential, but he has never gamed a day in his life. He brings both an unbridled enthusiasm and a completely random, out-of-left-field unpredictability to the table. It's never dull.
So we cranked out some Descent. You know what? This really is a great game. It's got simple mechanics that are easy to pick up and run with, yet can get complex enough to give you options and feel like you're actually using your brain. The components of the main box are just amazing, and you get so many figures, cards, tokens, board pieces, and the like that's it's jaw dropping. And the replay value is outstanding, and that's not including the expansion sets or the boxed sets designed just for extended campaigning.
You could play this game weekly, literally for a year straight, and never get tired or bored with it. With my group we bounce around too much to make it a regular thing, but it would be nice nonetheless. For dungeon-crawl, RPG-lite action, it's pretty got it all.
For some closeup pics of a couple of painted character models, check out the
Adepticus Prime blog
, there's some great shots there.