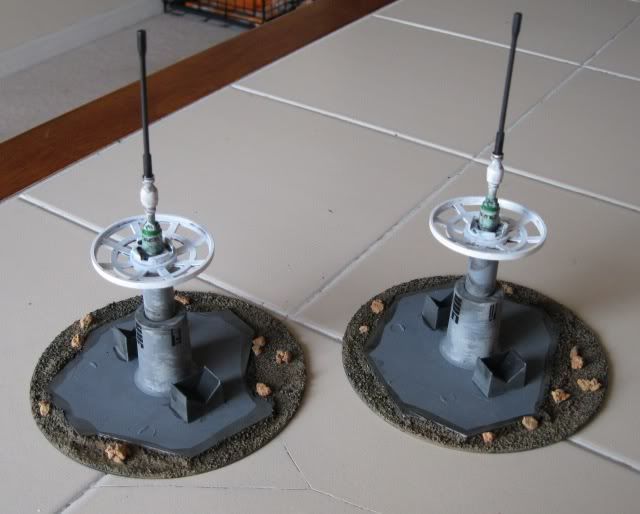 With the completion of these two satellite communication towers I have now constructed as much terrain in the first two weeks of the new year than I did in all of last year! All of it! Again using cd's as my "small terrain base" standard I made these two pieces. This time I used even
more
junk and
more
spare parts.
The parts that form the basis of the towers themselves, the largest pieces, are actually plastic spindles that hold the ends of large rolls of paper inside their cardboard boxes. Each end plugs into the paper roll and they had large square bases, which I subsequently had to hack off a bit so they would fit the diameter of the cd base. The gravel and rocks are just that, just some of my basing dirt. For the radar dishes I used Lego parts, a couple of leftovers. The dishes are from Lego sets and
sell for three cents a pop
, there is a lightsaber handle in there, and on the underside of the dish is a flax 1x2 tile to keep it level. The antennae themselves, and well as the other cylinder piece are actually from a knock-off company. I super-glued all of this together when I was done, and there you have it, sat-comm towers!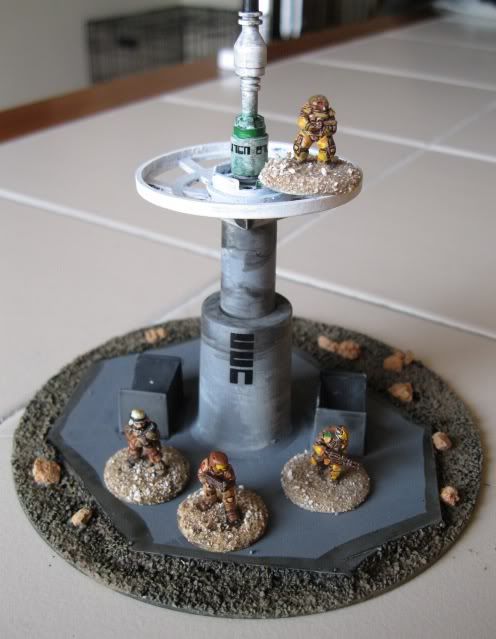 I made this originally with the intention of 15mm sci-fi gaming, so the first size shot is with some of my GZG troopers. As you can see, there's enough room for a sniper fig or what-not to stand on the dish itself. I used leftover Tau transfers, but tried to use the kind that didn't scream "Tau" and said "techno mumbo jumbo" instead.
Here's a view with some 28mm troopers...
By request, here's some 6mm stands...not a bad size scale!
I might've shown these guys before, but while I had out my box of 15mm troopers out, I thought I'd show it again. These aren't all of my 15mm troopers, but a single army I had painted up for
Star Grunt II
(now free!) a while back. It consists entirely of
GZG figs
, broken down into three platoons of regular troops, a platoon of power armor, and an HQ squad. Hopefully they'll be storming the sat-comm towers sooner than later!