I still have a good number of built-but-unpainted Deathwatch troopers,
you can see them here
. I'll be getting to them in addition to what you see here, but these are moving to the front of the line. These five represent five of the six player characters we've whipped up for our upcoming campaign that should debut in June. The sixth character is an assault marine of the Carcharodons chapter that Andy is whipping up.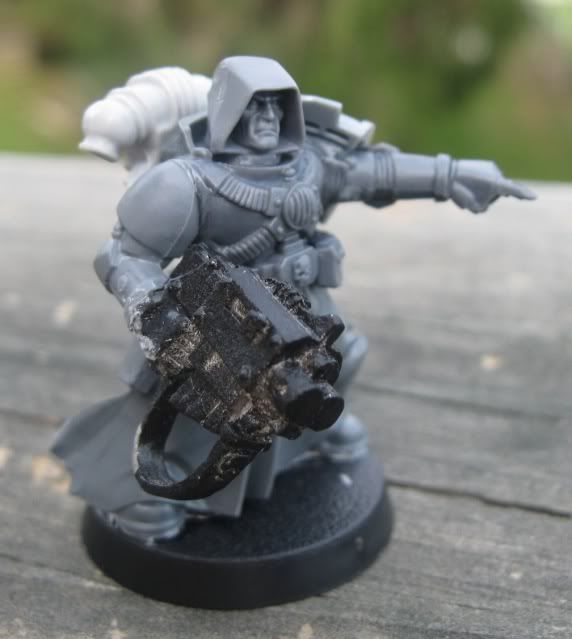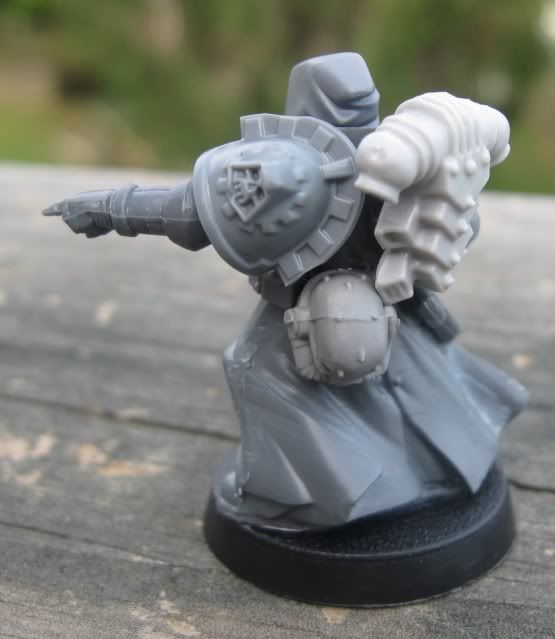 This is my personal character, a Sons of Minos tactical marine. I'm building him up to be a leader-type tactician, so I went with the "hey, go that way" pointing arm. I also equipped him with a storm bolter. He won't start out of the box with one, but they look too cool not to stick it on there. Being that these are for an RPG, we can be a little lax with the gear. Speaking of gear, he wears MkV Heresy armor, as evident from his chest piece and helmet. Rounding him out is a very old backpack and a Ad.Mech. shoulder pad. I know it's not technically a Deathwatch pad, but it looks very cool and can easily pass for one. An
embossed Sons of Minos shoulder pad
will adorn his right shoulder when it arrives.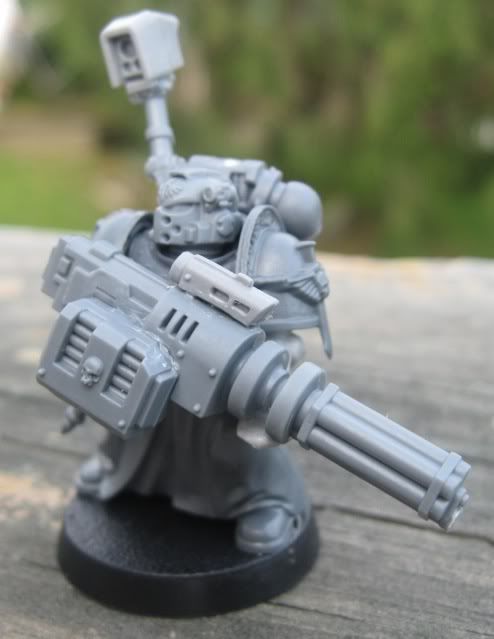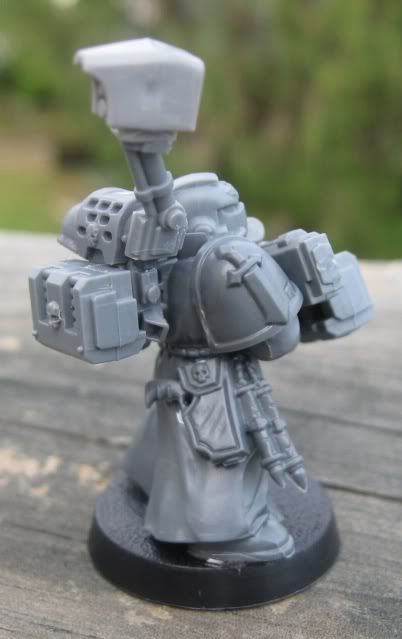 Our devastator marine is being played by a long-time roleplaying friend but zero time tabletop gaming buddy. He couldn't tell the difference between a heavy bolter and a meltagun, and he could care less probably to boot. He wanted a BFG, so that's what I set out to do here. It's ambiguous enough it can pull double duty in multiple roles, and it looks pretty snazzy as well. I took an assault cannon, added a box mag and a scope. I also modified a standard backpack to look like a heavy gunner's pack, complete with an articulated targeting range finder thingie. He's a Dark Angel, so DA bits finish out his kit.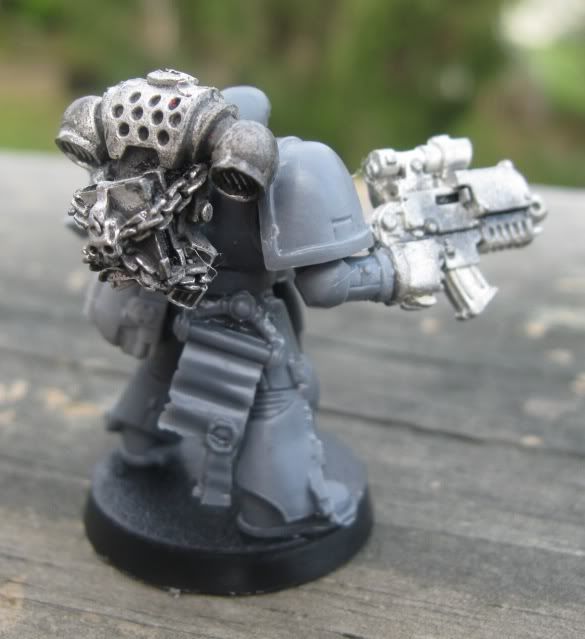 Here's our Ultramarine librarian armed with Deathwatch bolter and force sword. I don't know where the bolter comes from, but it looks pretty robust. The fist gripping it is a tad large for scale, but hopefully painted it won't be too noticeable. A Black Templar backapack ('cause it has a book chained to it) and a hanging scroll, along with the helmet round him out.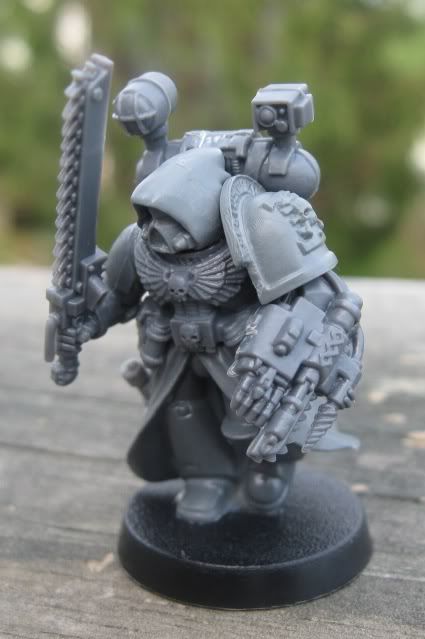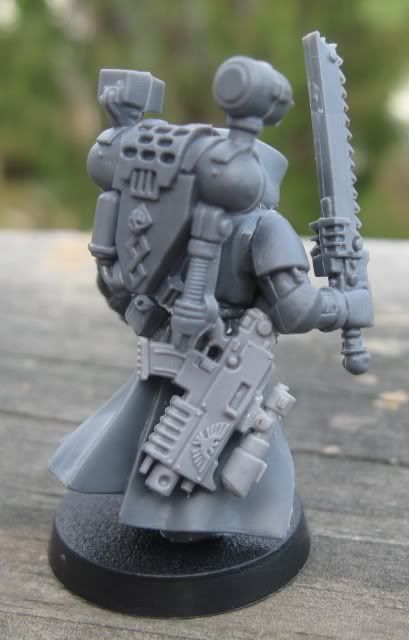 Our apothecary is also from the Sons of Minos (he's looking for a Gene-seed cure) and was fun to put together. Like my character up top (and the Dark Angel) he is wearing robes, these will be dark brown compared to the DA's white ones. Slung on his side is his DW-pattern bolter and small pouches are on the other side. His medical-grade chainsword, medic backpack, and super gauntlet of healing +3 round his kit out. Oh, he's also awaiting his embossed chapter shoulder pad for the right arm. Thanks again
John
!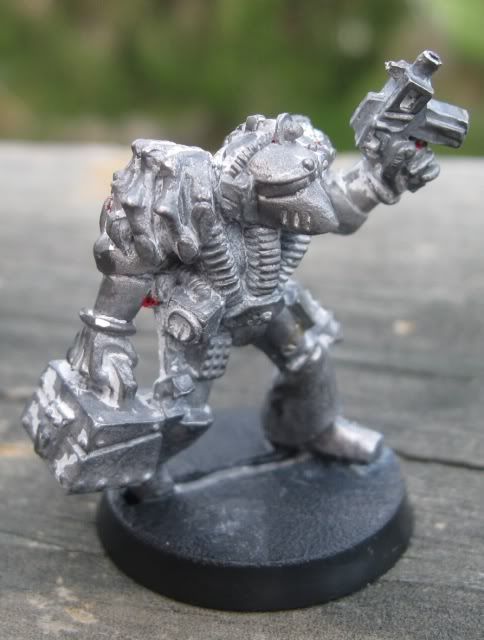 This techmarine almost didn't make the cut. It was a roll on the armor histories chart that cinched the deal however. One of the results is something along the lines that an epic battle long past ended up with the armor being impaled by an alien beastie's natural weapons. Well, the claws (or whatever) broke off in the armor and are still there today. So here you have it, sculpted over twenty years ago this techmarine fits the description to a 't'. This Ultramarine is still waiting on his servo-arm backpack.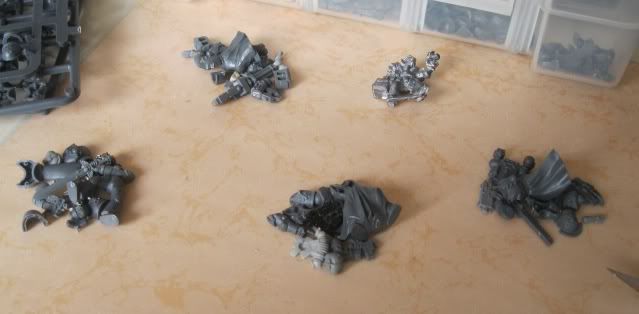 I love the building phase of troopers. You can see my bits box in the background, it's not the biggest, but it does have a nice selection of stuff to choose from. I just tinker around, dry-fitting some items and digging around for specific ideas. The targetter on the devastator was a happy accident that just fell together as I was trying to do something else. So once I have all the bits I need for each model I scoop them up and put them in their own bags until it's time to build them. Well, they're built so I guess it's time to paint them!