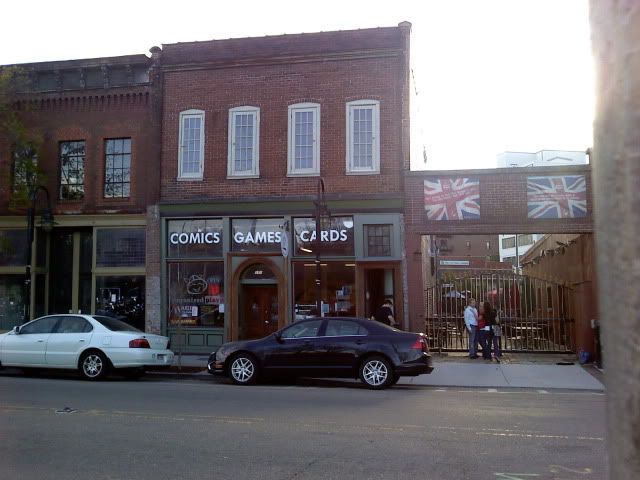 It's been some time since I've said anything on the local game store front. Let's not forget the Hulks in Spaaaaaaaaace!
price gougery from one shop
, and the
still-going-strong chainstore
that offers in-house games and promotions (and the occasional sale).
But today I'm talking about neither a mall store, or a chainstore, but a truly local game store, run by a gamer first, businessman second. It's cleverly named
, and it's pretty cool, cool enough to give it its own post I reckon! Ha, "I reckon"!
Now I won't get into the whole brick and mortar vs. online outlets thing. For me, as an adult gamer who owns his own home and has a large cadre of close friends to game with, the LGS isn't a must for me. But I recognize its value and importance in the gaming community. I'm glad Org Play exists because it fills a much needed gap the other two stores can't hold a candle to.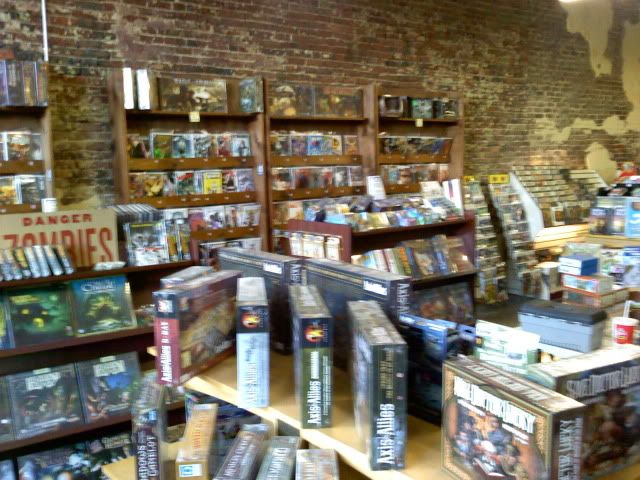 It's located in an eclectic part of the city proper that is very similar to
San Diego's Gaslamp Quarter
. It's an older part of the city that consists mostly of night clubs, restaurants, pubs, and the like. The architecture, as you can see from my blurry cell phone pic here, is pretty cool on the inside as well as the outside with its rustic exposed brick. As you can see it's also packed to the gills with all kinds of gaming goodness.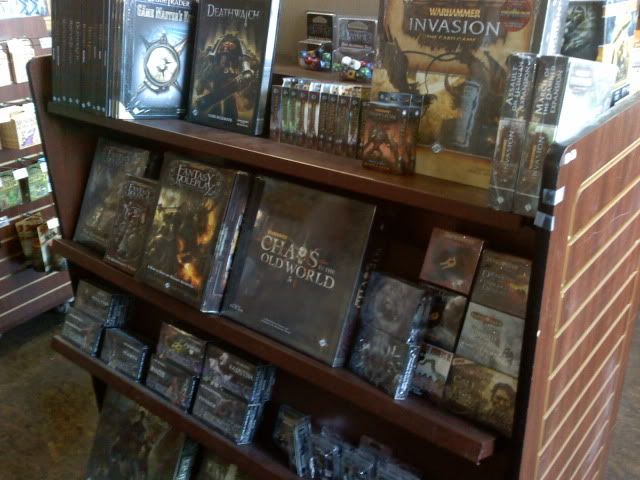 I'm actually pretty impressed with the variety Org Play's packing under the hood too. Here's a ton of Fantasy Flight RPG's as well as a nice selection of Malifaux and other mixed minis/boardgaming goodness.
Of course there's comics too. Though I haven't picked up a comic in years, it's cool to see them on the racks and kind of takes me back when I used be into comics and peruse these racks for a long time. I would imagine it be kind of hard to maintain both facets of the store at the same time. I've visited some great comic shops, and some great game shops, but rarely both under the same roof.
The rest of the boardgames are a plenty as well...
Got DnD? They do, but I'm curious as to that single 3rd edition unwanted stepchild of a Forgotten Realms sourcebook in there. Did it get stuck in the shipment by accident? On the bottom row is where I should've really focused. There they've got all kinds of
indie press RPG's
like the excellent Spirit of the Century.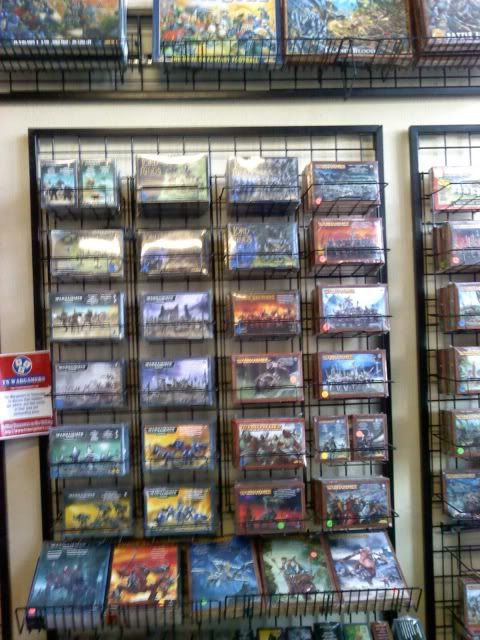 There's tons of GW product on hand too. Not the biggest interest of mine right now, but it's there, it's also fun to see things like the Archna-Rock in person. Besides, it's a quick paint and wash fix and up top they had a copy of Blood Bowl too.
I've had my eye on Flying Frog's
Invasion From Outer Space
, and since Org Play's inventory apparently knows no bounds, I may have to pick it up here next time I've got the cash on hand. Like I said earlier, sure I can get the Deathwatch sourcebook at a whopping 37% off online, but sometimes you've gotta pay a bit more so that newbie pre-teen has a store to walk into next month and be introduced to our world.
Besides, our fledgling
Blood Bowl league
has been doing rather well and once a month we leave the coziness of our beer fridges and basement game rooms to venture forth and do some actual public gaming. It's a bit odd, having customers come and go checking out what you're doing, but it's cool and who knows, we might add a new team or two to the league.