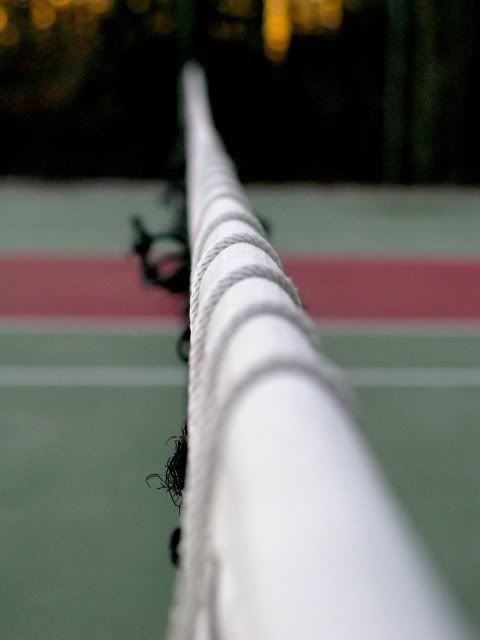 Just a quick tennis update. Last week's match, as you may have guessed from the title, was the 'straight sets' victory I was shooting for. There was all kinds of drama all over the courts that day, it was crazy.
The court on one side of us was a forfeit because the opposing team was late, but no one said it was a forfeit until halfway through the match. My captain and the opposing captain were going at it off and on during my match, and then on the court on the other side of me a player hit the ground and got knocked out and bloody. They had to call an ambulance for him. Meanwhile I'm in the middle, just trying to figure out how to serve and wanting nothing more than a little fun and exercise!
Well, finally, no third set tie-breakers in sight this match; I won 6-4, 7-5. I was happy but most of the mirth of the day had been spoiled by all the other shenanigans, it didn't help that the opposing team's coach was one of my opponents! Also, his partner was a bit unsportsmanlike which prompted me in turn to be rather unsportsmanlike myself in one particular instance. Not something I am prone to do mind you, and it was a one-time thing, but I still should've kept my cool a bit better.
So the season is six matches in and I am batting .500 (3 wins, 3 losses) with two matches to go. So my first goal was to just win a match, which I did. My second goal (after two third-set tie-breakers) was to win a match in straight sets, which I just did. Now my third goal is to finish the season with a winning record, which means I
have
to win the final two matches!