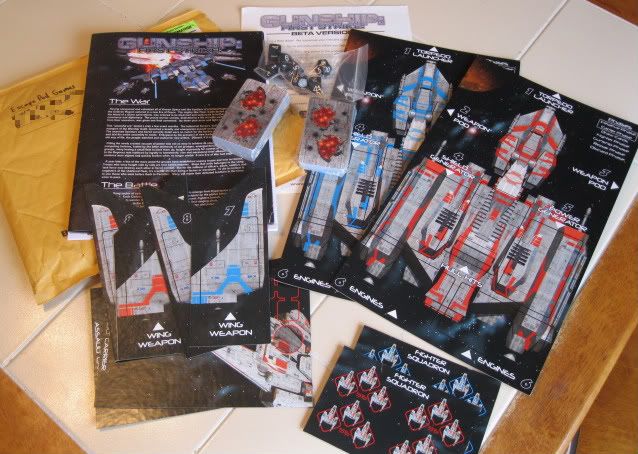 I've started reading the rules of
Gunship: First Strike
, and this week Miller and I were hoping to get in a game. One thing led to another, and we ended up trekking off to the mall to take advantage of a sale at one of the game shops (more on that later). We wasted a lot of time there, so we just played a quick game of Tactical Assault: Combat Cards when we got back (also more on that later).
I didn't want to leave Gunship in the lurch though, so I thought I'd share the contents of the game at the very least. I need to also share that as a beta-test version of the game there may be little changes to the final product as well as things such as thicker cardstock or what-have-you. Since these are just pics though, you can't really tell a lot of that stuff and if this is "just" beta-test material, I can't wait to see the final product.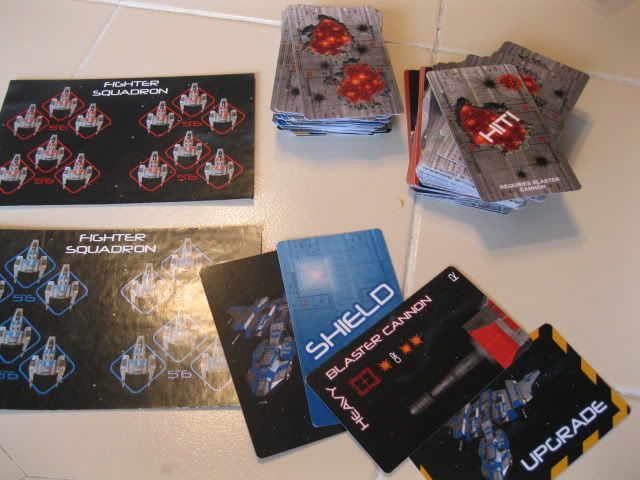 You've got individual card decks for your fleet, and each player will use those as needed. Each player also has placards for the three main components of his fleet; a fighter squadron, the assault carrier, and of course, the gunship itself. The cards themselves cover all kinds of items from weapon and ship upgrades to actions and the like.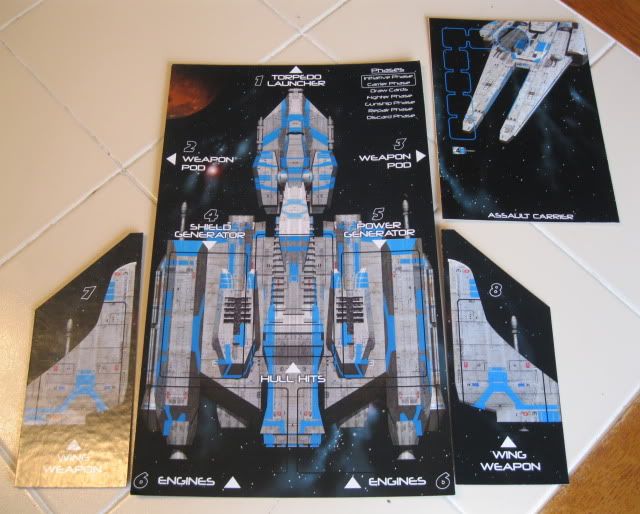 Bearing the same name as the game itself, your gunship takes center stage. You can see here you also have two 'wing' pieces in addition to the main hull of the gunship. Your wings can be armed with a large number of weapons, but they can also be blown off entirely. It's all good though, that's why you've brought an assault carrier with you. Dock, repair, re-arm, get back out there to fight. Of course when you go in for repairs and equipment is a trick all by itself, but an aspect of the game that makes figuring out when a lot of fun. You can also see your placard for the massive assault carrier. These are target number one for the enemy. Destroy theirs before yours is destroyed!
You also get a bag of different sided dice, d6's, d8, d12's and a full color rules manual. I'm not a big fan of poring over thick rulebooks and trying to decipher them. Gunship isn't like that at all, the rules aren't super thick and there's plenty of examples given to make any question you may have easy to understand. They strike me as the type of rules that you 'get' fairly easily, but it takes you a while to figure out which strategies are going to work best for you in the long run.
Next time the Gunship breaks orbit here at Mik's Minis I'm hoping it will be in the guise of an actual game report. Follow the BGG link at the top of this post to find out more about the game itself, and for a little more about the game and its creator, Steve Wood,
check out this great interview
. Until then!