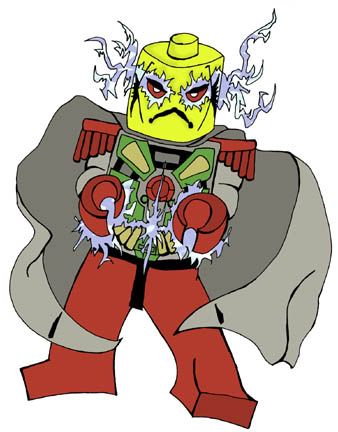 Welcome to another Art Leftovers! Today's trio could almost be thrown into the same genre together, almost. I'm sure I've plugged the LEGO skirmish battle rules a buddy and I came up with a very long time ago. If not,
here you go
! The rules were written around '97, so the above image (which went with the rules) is about as old. It's a psyker from the game; sci-fi mega-mind powers trooper. Ride the lightning!
Up next is a spaceport chick. Nothing much else to say, she's the kind of local you'd find hanging out at a spaceport. She's tough, she's alien, she's hot (in an alien sort of way), and she can more than take care of herself, hence the blaster. I don't know if she's wearing a head wrap or a bandage.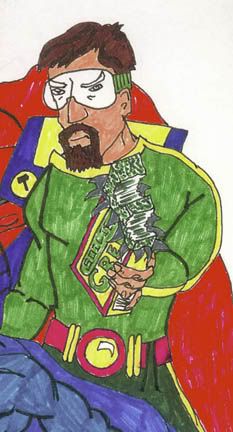 Last up is a superhero based off a radio handle based off real life. Once upon a time I was a delivery driver. Our driver cohort numbered four and we had color-themed handles to use with the dispatcher. Not happy with just colors we went a bit further so in the end there was Soylent Green (above), Blue Phantom (me), Agent Orange, and Red Menace. Dispatcher was Echo Base. It was a fun gig to have in your twenties, and the pay was decent enough. Above is my buddy Oz who has made several cameos here over the years in his Soylent Green guise.
That's all the leftover art we have this week, thanks and enjoy!