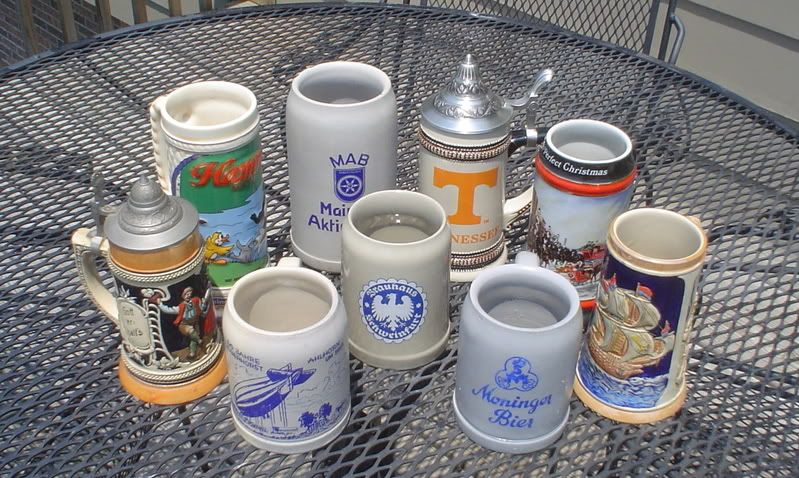 I'm glad I got those
Vespids
done because the rest of June is going to be busy. There's not going to be a lot of geek time to be had with painting miniatures or what-not, for serious. I thought I'd catalog some of my mugs, krugs, and steins while I had the chance. I'm not an avid collector, I'm not a member of
SCI
, but I do like the look and feel of a good mug, and when I can find one I try to snatch it up.
Steins have lids, mugs don't, krug are earthenware, you've got salt-glazed, slip gloss, etc; the list goes on and the particulars get incredibly detailed. Just goes to show you can geek out about
anything
; miniatures, boardgames, pipes, puzzles (ugh), and yes, mug collecting. I'm not going that far, but like I said, I can appreciate a good tankard though, so here's mine. I may not have time to sit down and paint up a squad of [whatever] in the immediate future, but I do have a feeling these will see a
lot
of action coming up over the next couple o' weeks, heh.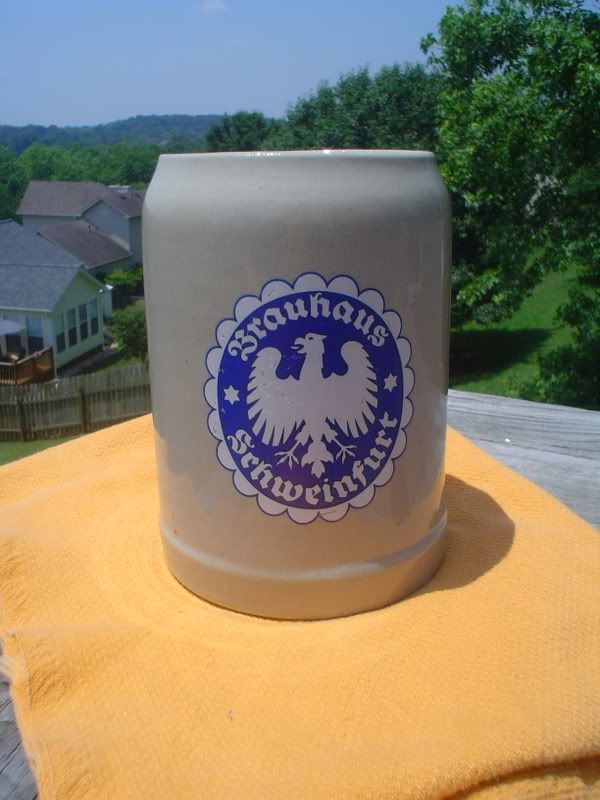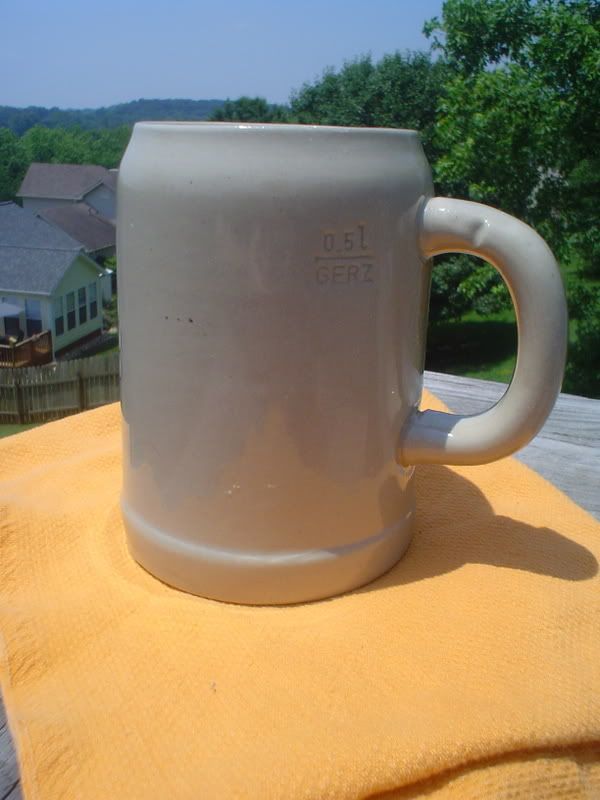 Brauhaus
was established one hundred and fifty years ago. They've been around the block a few times, and know a thing or two about brewing. This is a sturdy, salt-glazed mug finished with a slip high gloss. It's half a liter (as marked) which to those metric-challenged folks is about seventeen ounces. A standard 12oz can of your favorite beverage looks absolute dwarfed once poured inside. Circa 1950's.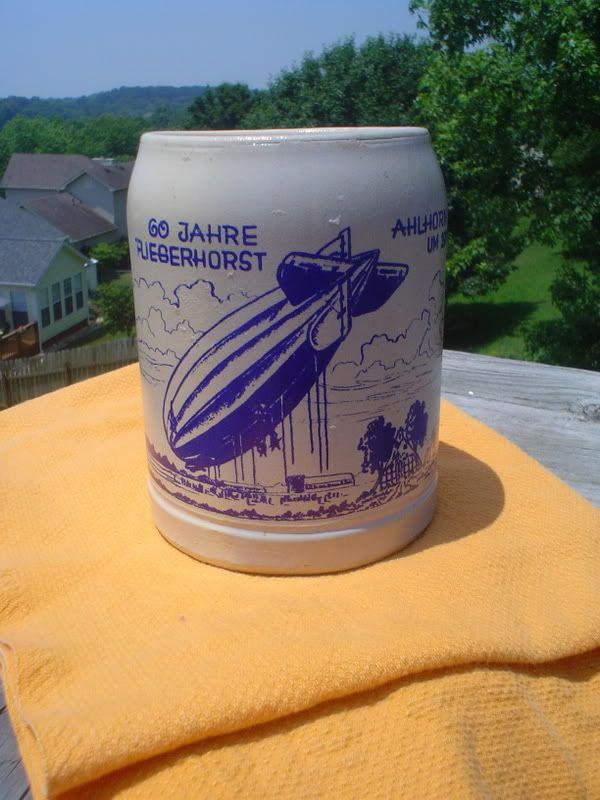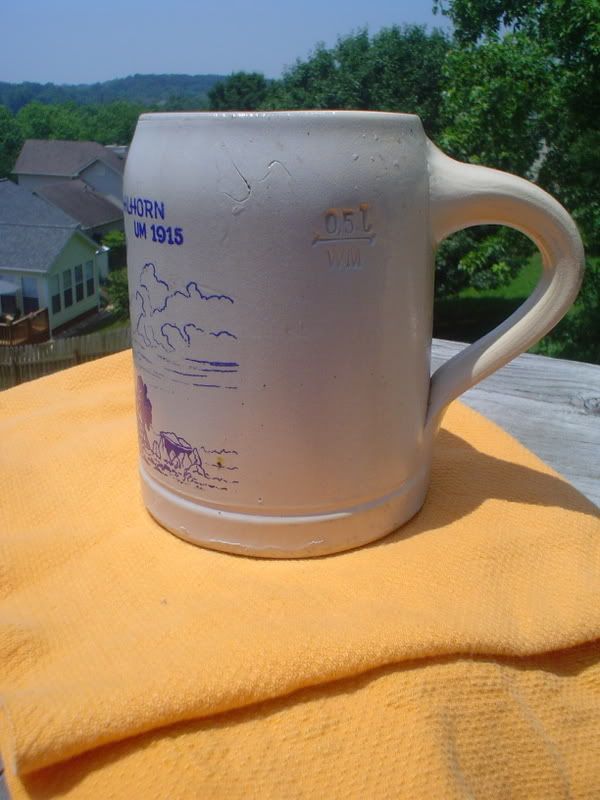 This is a great little half-liter mug, and it's pretty old to boot. It's been a little tricky to research, since it doesn't have a vintage logo or company name attached to it, but I've tracked down what I could. Fliegerhorst Alhorn is an airbase and they once serviced
dirigibles
, like the one shown on the mug. By 1915, they had been doing this for some time, about twenty five years. This mug commemorates this achievement. Circa 1915 (making this one of my most vintage mugs by far, just shy of one hundred years old).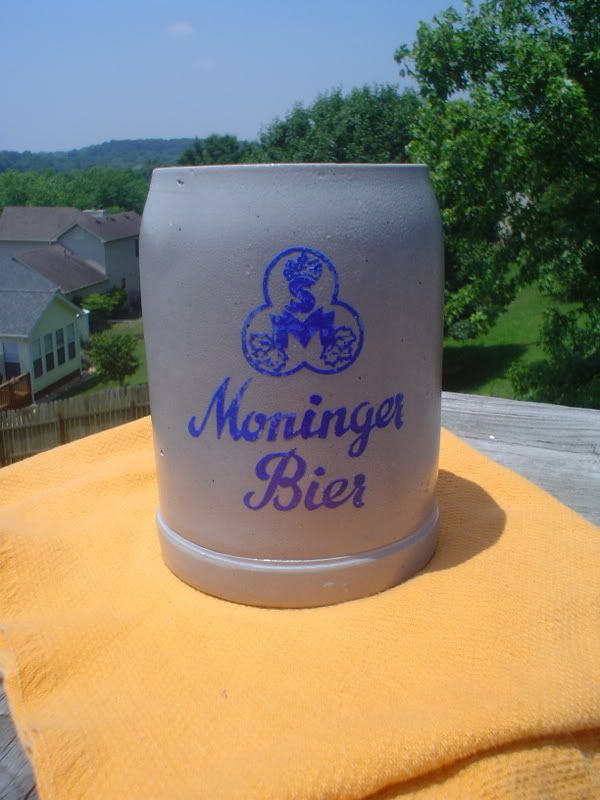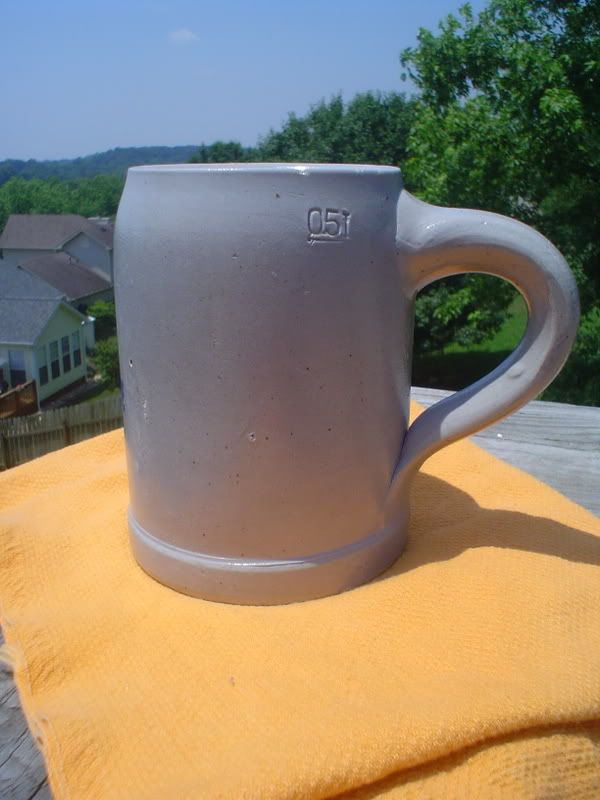 I picked up this half liter, salt-glazed mug for five bucks at an outdoor stall at a weekend flea market avery long time ago. It was my first mug I picked up for the sake of nothing more than having a mug. I saw it, it looked nice. I held it, it felt solid. I touched it, it felt right. I smelled it, well, nothing happened in that department, but I've been using it ever since.
Moninger
, founded in 1856 beats out the Brauhaus boys' founding by two years. After taking this outdoors to shoot these pics I realized the logo has faded quite a bit;
NOT
dishwasher safe, which is what I've been doing to "old faithful" for years now, argh. Circa 1940's.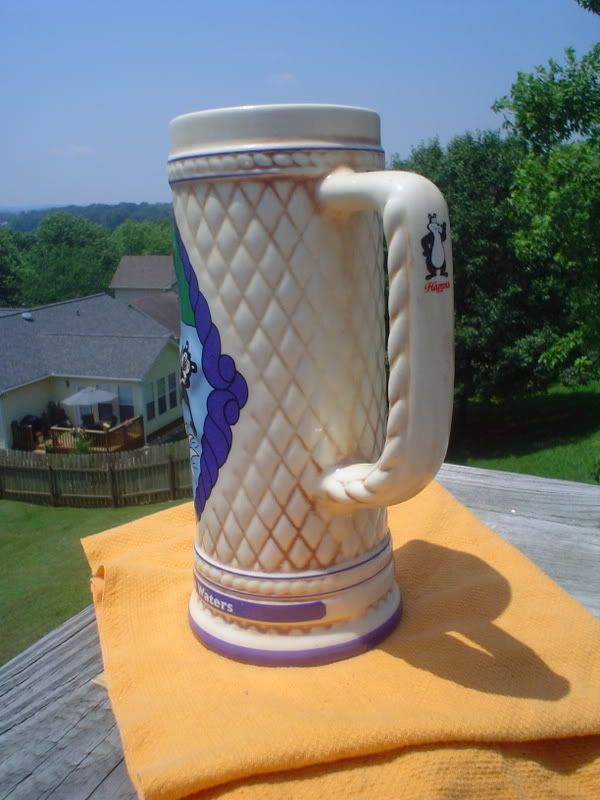 No, it's not
Ham
, the Space Chimp, but
Hamm
, the beer-bear! I love this big ole mug just because of all the character it has, I just don't use it enough. It's a good-sized mug datin' to 1988. The Hamm
brewery
operated for about a hundred years out of Minnesota, and later ended up in the hands of
Pabst
; who, as it turns out, still brews this economically priced beer. Hamm himself has an illustrious advertising history dating back several decades. Here's a vintage commercial for ya: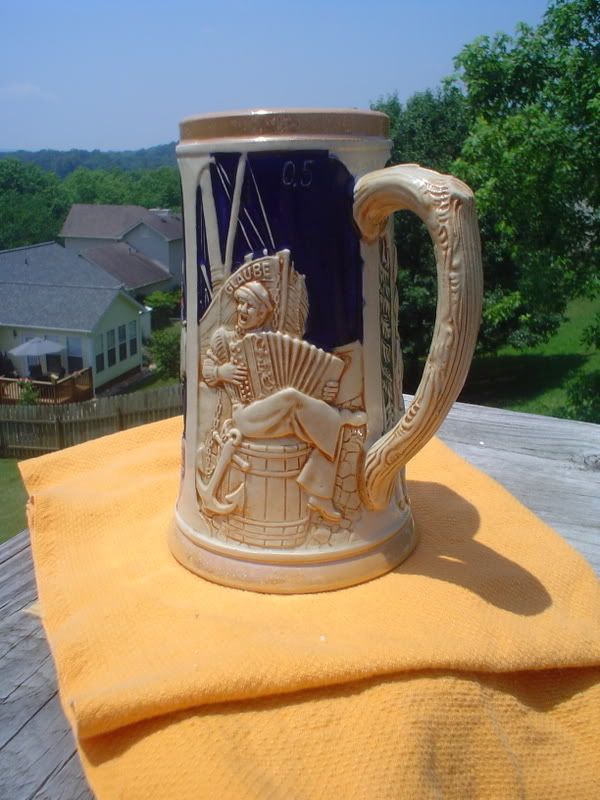 Now this mug (and the following stein) are kind of mysteries to me. They're old, obviously, but these are decorative, not commercial, so they're almost impossible for a rookie such as myself to pinpoint. The missus and I used to live on a good sized chunk of land (about 96 acres), this mug and the following stein were both found amongst the [junk] in the old farmhouse. This farmhouse is on the historic registry and is over a couple of hundred years old. Now these vessels aren't that old, but I have no idea how new they are either. The newer house we lived was built in the fifties, but it's hard to tell when these were put in storage in the old house.
The second of the 'farmhouse' series, I just dubbed them that, heh. It wouldn't be too hard to figure these out, based on technique and style I'm sure I can narrow these down to a time frame within a decade or so. They are modern-era, for sure, and each one is stamped with "made in Germany", one even looks like it said "western Germany" at one point. These won't blow my 'zeppelin' mug out of the water, date-wise, for sure. I'm guessing 1950's-1960's. For now, they'll just be my 'old' mugs that serve as good reminders of the land we used to live on, good times.
"One of these things is not like the others..."

Here's my
Budweiser
mug, woohoo. Not much to say here really, it's from Budweiser and it dates to 1992 as part of their "Collector's Series". I don't want to knock it, I love all my mugs equally, it's just that this one is like the odd-man
out
, haha.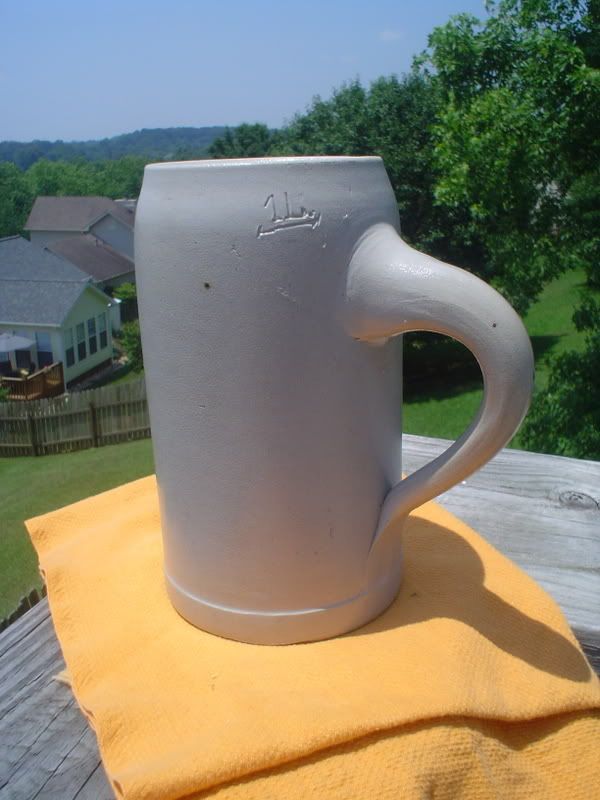 Mainzer Aktien-Bier
(MAB) has been around about as long as the rest of the brewers mentioned so far, getting it's start in 1870. This is one monster of a mug. A rather recent addition to the collection, this hefty tankard is stamped as a one liter mug. One liter's not too hard to visualize, it's half of a
two-liter
, heh, or (again for the metrically impaired) about thirty-four ounces, or close to three cans of your favorite beverage. Salt glazed, circa 1950's.
Last on the ole list, for now. This one is adorned with my "alma mater", but don't let that blazing orange throw ya off, it sports it's German muggery pedigree underneath! This is a very well made mug, not too shabby on the eyes, and plenty comfortable to use as well. Most people opt for a class
ring
, but that is
so
not my style! I mean a graduation
ring
, seriously? I went this route instead, a graduation
stein
, and every time I use it I can think of all those collegiate shenanigans I just got through. What geek blog doesn't mention their Mom at least once, and since she also gave this to me as a grad present, I'll even give her a cameo pic. Enjoy!