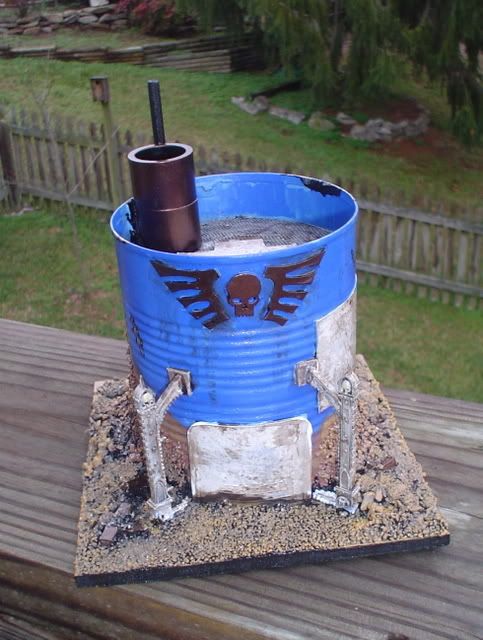 Imperial C.A.N.
This is supposed to be an overall geek blog, but lately (and for the next few months to come) I think it'll primarily be a terrain making blog, heh. I'm okay with that, if anyone's guilty of not having quality terrain to play on...it's me. The above C.A.N. is a step in the direction to fix that.
The Imperial STC blueprint for the C.A.N. is widespread across countless Imperial worlds. The C.A.N. (Contained Architectural Nexus) serves a variety of purposes and can be built for a specific task in mind, or left bare so it can be altered with construct modules to adapt to different needs. This particular C.A.N. found on the surface of
Trucidos
represents a science research post. It has room to comfortably house two people for up to a month at a time. There are two levels inside containing living quarters and storage, with an observation and communications deck up top. Below ground is a basement level that houses scientific equipment, research station, and additional storage.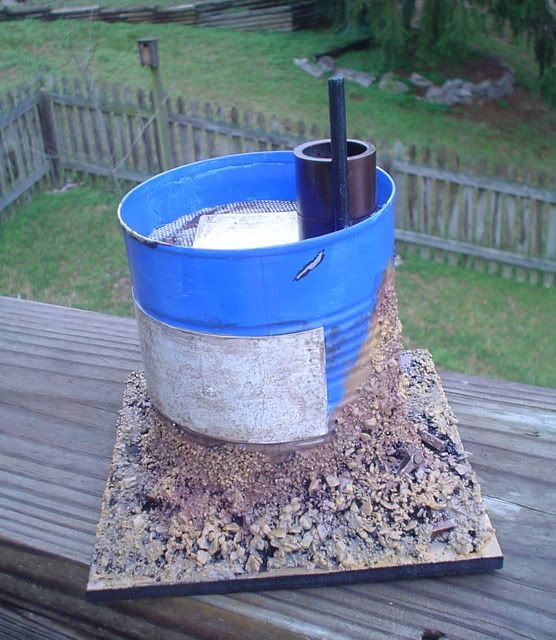 It's obvious where I got the name from, as this is most obviously a...can. I put this wide panel on one side of it to alleviate that somewhat, however once painted you can't escape, so I decided to embrace it, hence the name.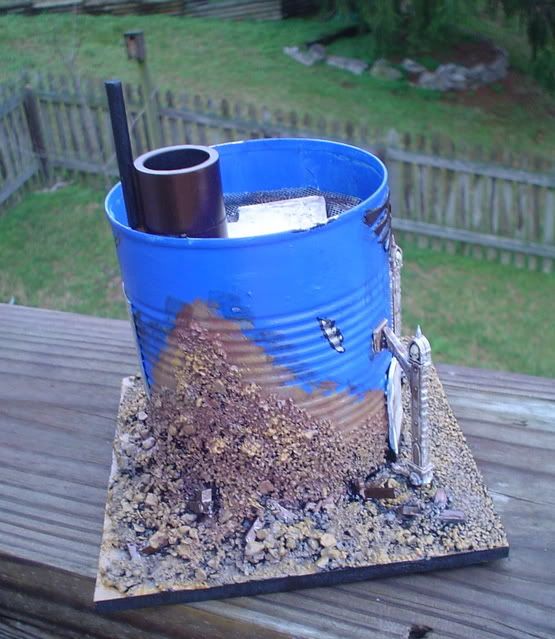 I used a large refried beans can for the building itself, which has a sizable footprint. I used the lid of the can to serve as the floor, and covered it with mesh screen. I put a card stock panel on the side and to plastic panels on the front and top to serve as hatches. Two arches attach to the front and
Andy's
resin skull motif adorns the front. The chimney and antenna are a piece of PVC pipe and a wood dowel rod.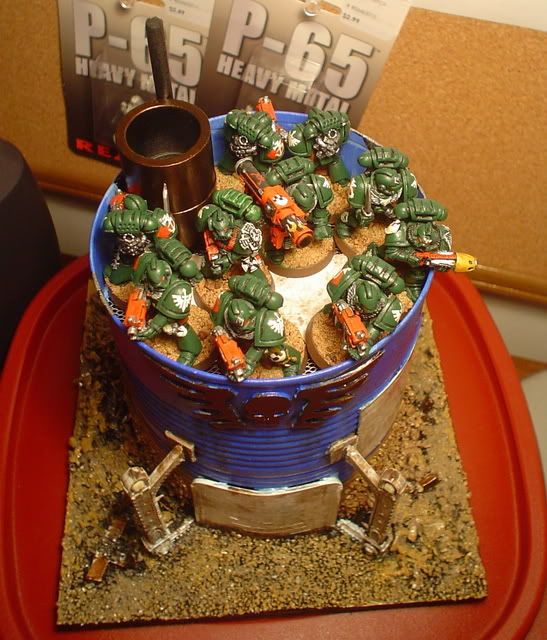 Fully loaded
Here you can see the C.A.N. is large enough to hold an entire tactical squad of ten troopers on the roof. If I had placed the chimney on the side of the building, it would be even less crowded (or hold enough room for a character model). I don't know how often you'll be sticking ten guys on top of such a small emplacement, but it's good to know you C.A.N., haha, get it, can? I crack myself up.