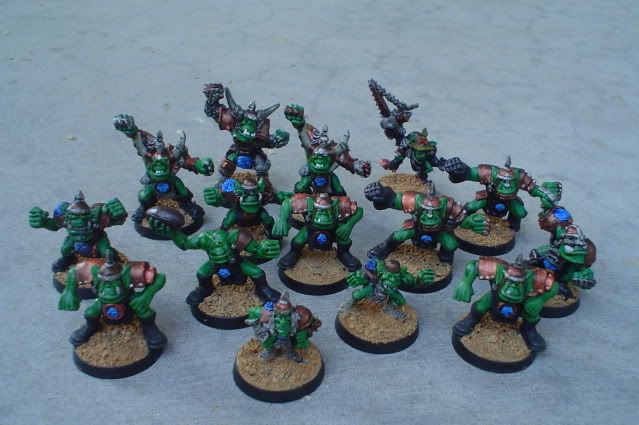 The
Grosse Pointe
Greenbacks
First off, I
love
Blood Bowl
, it's one of the best miniatures games out there. Secondly, although I personally feel that the Orcs are a very competitive team, I've never played them, nor do I see myself playing them anytime soon. So why paint these guys up?
The answer is simple; we've all got unpainted lead, pewter, and plastic laying around...so why
not
paint them? It's either paint them, or sell them, and this way maybe I can loan them to a rookie player to get started out. Most importantly (important?) is if you glance over to the right at my '2009 Totals' tally you'll see that with this bunch I've broken even on both 'miniatures bought' and 'miniatures painted'!
The whole reason I
started this blog
was to 'keep myself honest' when it came to getting in quality games and to do more than just buy figs all the time and never paint them, so it's also to keep me on track with being productive. These Orcs are a perfect example; they'd have lingered forever in the bits box if I hadn't realized how close I was to tally equilibrium. They're not my best work...by far, but they get the job done, and they help tip the scale towards the painted side of the equation. So, here you go!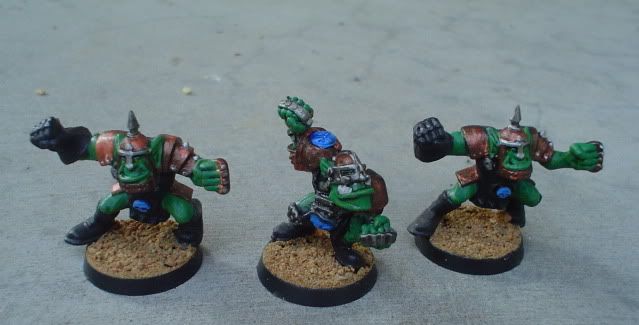 Da Blitzers
I didn't really even have a full team on my hands, as you can see it's a large mix of both plastic and metal figs from two different team sets. Also, for good measure, I've got a trio of Goblins thrown in for the heck of it. I don't even know if this team's compliant with the latest
Living Rulebook
, but I've gotta imagine since there's nothing nutty in here, that these boys in green should be ready to hit the pitch and be good to go.
The
team captain
quarterback and a trio of Goblins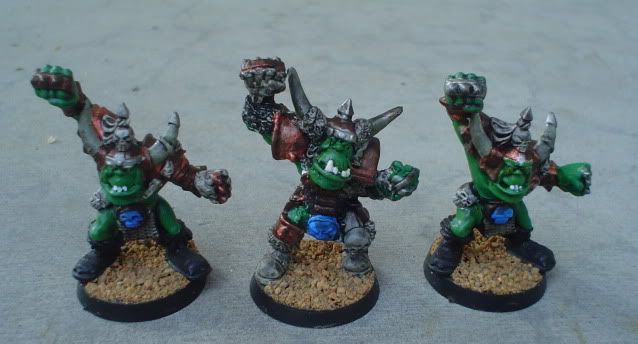 Da Black Orcs
Da Linemen
My numbering system; works great visually from the back side of the board!