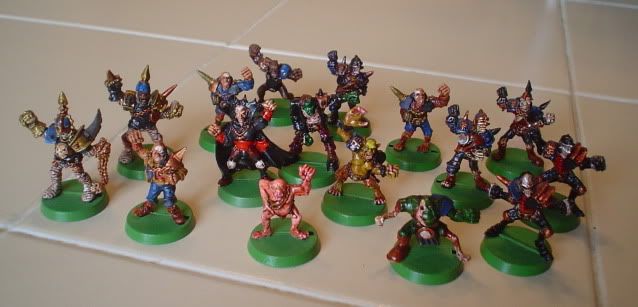 The Neverwinter Wights
Continuing on the roll I've been on with showcasing my Blood Bowl teams I've got the much maligned Undead team. By "showcasing" I really mean dusting off and getting them out of their respective boxes for some fresh air.
I've seen some Undead teams do all right, remember "back in the day", haha, there was only one flavor of Undead, we didn't have Vampire Counts and Tomb Kings and the like. Slow and clumsy is how I remember them, with a few that also hit hard. I've used them in a couple of one-off games, but they weren't my play style, and you'll never win a game with them based on touchdowns. That's all right though, they've got tons of character.
Some Skellies
There are a lot of great third party companies out there making Blood Bowl figs, but one idea I've never seen done was to use Privateer Press'
Risen models
for skeletal linemen. They've got a great look to them, especially the
Cygnar Trencher
.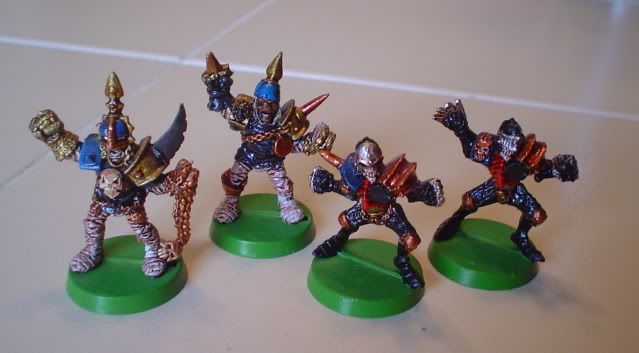 A pair o' Wights and a pair o' Mummies
Two stock Ghouls and a converted WHFB one
Star players: a Vampire and a 2nd edition Ned Stein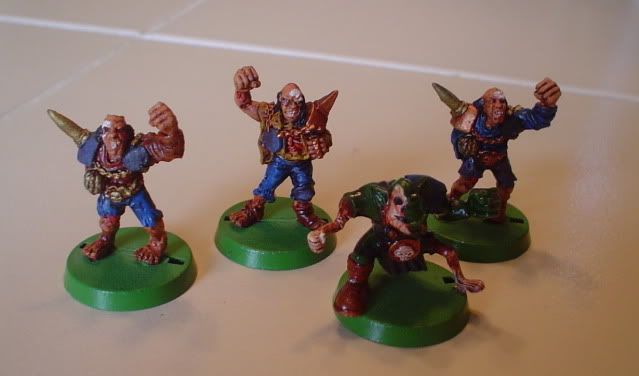 Zombies!
The Orc zombie is obviously a conversion I did with a plastic one and a couple of skeletal limbs. In the one big league I played in, our buddy Marc had a rather successful team much to everyone's chagrin. To further add insult to injury his team color was pink and named the Deadrock Goyles, as in "you just got beat by a bunch of goyles", but it was all in good fun, and I digress. Anyway, when his star player, a
Blitzer
(thanks for the pic Brian!) named High Heel Provac finally died, I couldn't help but 'resurrect' him as one of my zombies. Of course on my team roster I still kept the same name too!