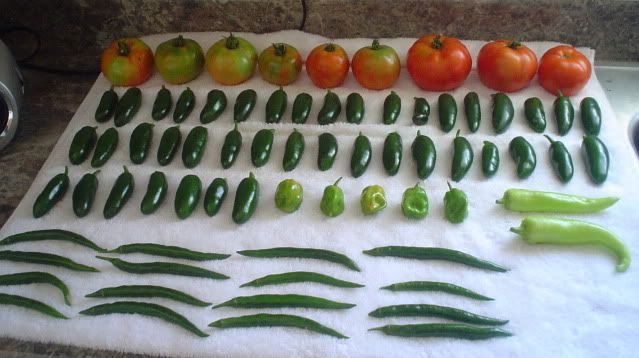 the garden continues to bear fruit...
So I've made this salsa the last couple of game nights now and thought I'd share the recipe here. My favorite thing about this tasty condiment is that it comes entirely out of my backyard, save for a single onion. I also warn ya, it is a hot salsa, very spicy (hence the name). It's not atomic, but if you're not fan of heat, it may not be for you. I made the recipe so it escalates up in the ingredient count, alter as you like to make it less (or more) spicy. The larger the tomatoes, the less spicy it will be. Same thing goes for the onion.
Mik's Minis Fires of Mount Doom Salsa
Ingredients
:
x1 small to medium white onion
x2 medium to large tomatoes
x3 habañero peppers
x4 jalapeño pepper
x5 cayenne peppers
x1 tablespoon of olive oil
x2 pinches of coarse salt
x3 pinches of ground pepper
x4 pinches of cilantro
Method
:
1. Dice the tomatoes and onions into pieces and put into medium bowl. Dice habañero and cayenne peppers very fine and put into bowl. Slice and quarter the jalapeños and also put into bowl.
2. Add remaining ingredients to the bowl. With a wooden spoon, mix ingredients thoroughly. Immediately drain the juice at the bottom of the bowl. This will be the only time you do this part, don't worry, more juice will accumulate later.
3. Cover and refrigerate at least one hour prior to serving (the longer the better however, even overnight). Once uncovered, remix the ingredients then serve.
EDIT: My buddy
Andy
made a pretty funny comment forver linking the name of this salsa with the blazing Eye of Sauron and the next morning...