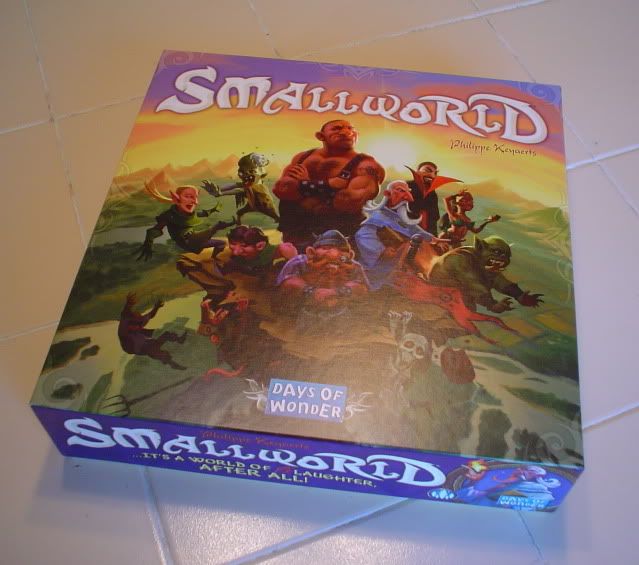 Philippe Keyaerts' Small World
I mentioned a couple of posts ago that I was aiming to get some boardgames for family game night. My boxes arrived in the mail and I opened them up with enthusiasm. The two card games I picked up were packaged nice, but they're card games in the end, I'll whip something up about them at a later date. For now I'll focus on
Small World
.
I've heard great things about Days of Wonder's
Ticket to Ride
, and have played DoW's
Shadows Over Camelot before
, and was impressed by it, but this is the first DoW game I've bought. Upon opening the box, I knew I was going to have to 'review' it. I haven't even played it yet, but based on the production quality alone, I'll give it the one-two treatment. This post will be about the pieces and parts of the game, and after we get a few games under our belts I'll post another review about the mechanics and gameplay of it.
You get a nice, large rulebook. It's full color, double sided, and printed on durable semi-gloss paper. As you can see it's got great diagrams and walks you through what pops up in-game. Also, the entirety of the rules are just a tad over six pages, but given large print and tons of diagrams, they're a surprisingly quick read. I've given it a once-through the one time, but I feel I've got a pretty good handle on things already.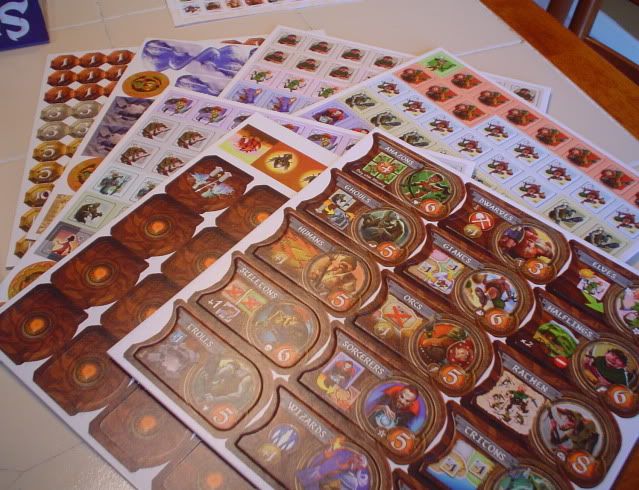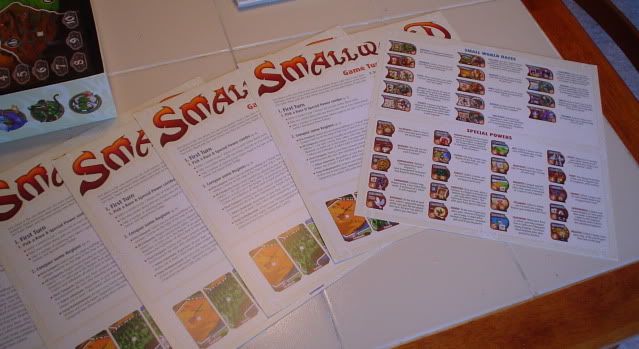 The number of counters, chits, cards, and the like are immeasurable, you get well over a hundred, maybe a hundred fifty pieces at least. As I was pulling the unpunched sheets out of the box, they just kept coming and coming. The cardstock/board is thick, very thick, and the pieces popped off their "sprues" in the blink of an eye with nary a hangup occurring whatsoever. In my mind I was already rolling my eyes though, 'cause I knew I was going to have come up with some type of organization system for all of it,which probably means a separate toolbox, but more on that in just a little bit.
Right up top on the right was another nice touch. Large, double sided and full color summary sheets are also provided. The game is for 2-5 players, but they actually include six of these quick reference sheets. The extra one as it states in the rulebook is kind of "just because", it's just there to use as a group reference sheet.
The maps are the crux of the game, they represent the "small world" itself. There's actually two maps included in the box. There is a smaller rectangular map (small being a relative term) that is double sided, one side is for two players, the other for three. The second, larger map is also double sided, one side for four players, the other side for five. The picture above is on my kitchen table, so that gives you an idea of the size of them. As you can tell from the pics, the boards are colorful and illustrated very well.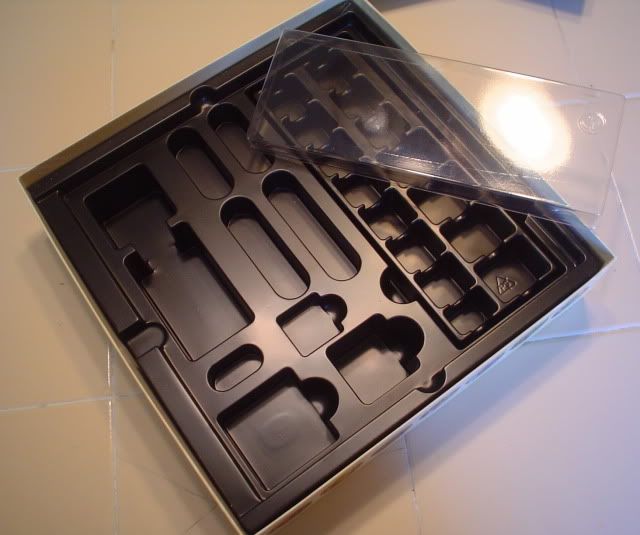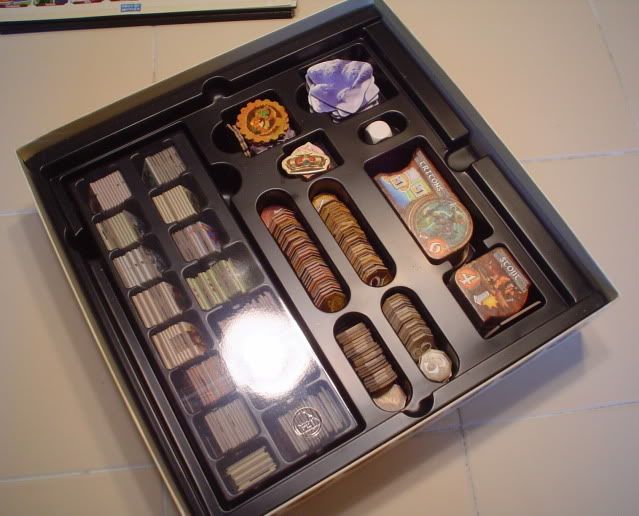 Once I pulled out the last piece I had a little present waiting on me, a built-in storage tray, holy crap! This was quite the deal maker for me. I had no idea it came with this, and my above worry about what to do with all the pieces suddenly vanished. I loaded it up after I punched out all the pieces, and as you can see, it fits like a glove.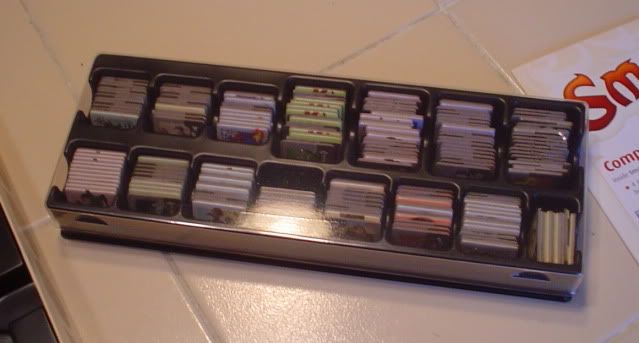 Small World has fourteen playable races, and each individual race requires its own race tokens on the board. This separate tray comes out of the box, has its own clear lid so the pieces won't spill out, and holds the races' tokens all in one go. It's kind of a neat aside, but even the edges of each race are a different color to tell them apart.
So there you have it, the components of Small World really deliver in spades. It's got quality pieces inside and out and there's not a single shoddy element to this game whatsoever. Everything feels as if it is going to last for a very long time. Fancy components are just half the battle though, really maybe less than that, perhaps a third of the battle. The real test is how the game plays and how fun it is overall. Like I said, hopefully I'll get a gameplay review written up and posted on here sooner than later.