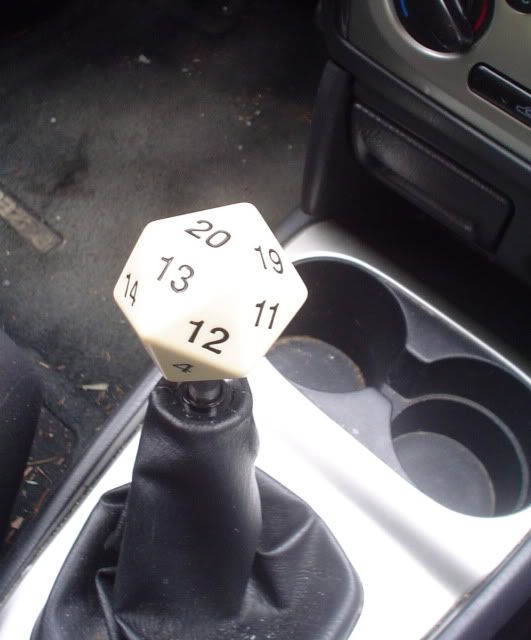 So I've had a "giant" d20 sitting on my mantle in the game room for some time now. I've always thought, "Man, that'd be cool if I had a gearshift knob like a d20...". Well that day is now. It's done, I now have a d20 gearshift knob. My car can shift into 19th gear.
From the outset, I knew I didn't want to put it with the '20' face up, that's too cheesy. No, in true gamer fashion I opted to roll the die, and drill it accordingly to
whatever
number came up. Since my brother-in-law was over, and he had
my nephew
with him, I opted for the little guy to roll. As you can see, the official roll was a 'nat' twenty!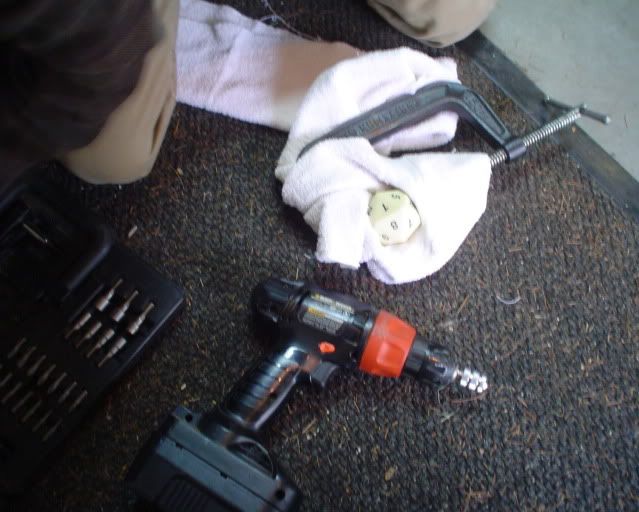 The tools for the job; a power drill, drill bits, "c" clamp, and a big ole' d20
We didn't really know what were going to find once we started drilling. Safety goggles were a must, we didn't know if this thing would fragment, explode, splinter, or what. It turns out it had a solid core, was all plastic, and as long as you're drilling straight, you're good to go. As you can see from the tape, d20 dust was coming off of it in great amounts. We wore safety goggles, but not masks, so yes, I was breathing in this dust. Essentially, I can say that the very spirit of the d20 flows through my veins...literally. Not many can claim as such!
We used ascending drill sizes. It was tedious, sure, but we only had one shot at this at I didn't want to risk cracking the whole thing in half because our drill bit was too mondo. The towel is here just to keep the sides from getting marred by the "c" clamp.
No comments on how dusty the inside of my car is please!
I prefer straight shift vehicles to automatics, so luckily my gearshift knob was just threaded on. It was incredibly easy to take off, just unscrew it by hand. Now I didn't just stick the d20 on here and epoxy it. I actually had a threaded, plastic insert that I tapped into the underside, drilled cavity with a hammer. After that I just screwed on the d20, and voila, instant geek gearshift! If you add this to my
Lego Dwarf sticker
, and my
Lego iPod mount
you've got, err, I don't know what you've got, but it's fun nonetheless. I must say, after driving with this for a couple of days now, it's incredibly comfortable to use, but can be cold in the morning!