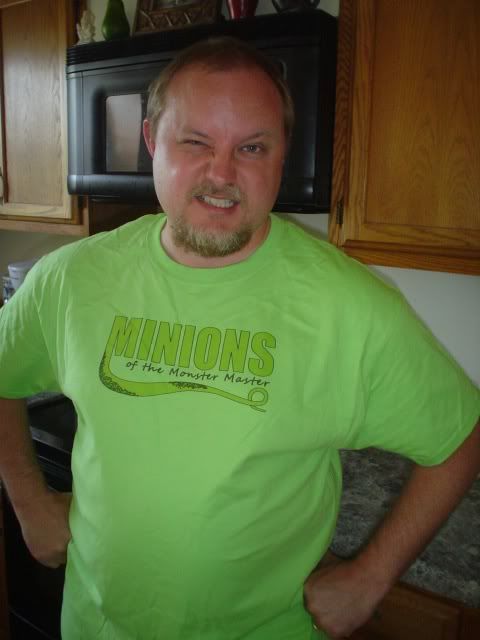 In the mail today, instead of
cool bits and parts
, I got something else geek affiliated, a shirt! Not just any shirt, but a shirt from the group's podcast endeavor,
the Minions of the Monster Master
.
Frankly, I got the cheapest shirt we offered, because I didn't know how good it would be. It turns out it happens to be great! I also should point out before I go any further, the group makes zero money off of this. There's an option to mark up the items to get a kickback, but we didn't do that. You get the shirts at the same cost as we do.
Here's the official blurb from the
store
:
Green is the new black! Support the Minion Intiative in this vivid, economical shirt.
Go green! Freshen up your wardrobe with attention-grabbing green. Not only is this 100% Hanes Authentic T preshrunk and durable, it's the most comfortable t-shirt ever. Stand out in a crowd; remember, green is the new black.

6.1 oz. 100% cotton

Standard fit
On the fabric thickness meter on the site it lists this shirt as just a notch or two below the midway point. I thought this would make it super thin, like an undershirt, but I'm wearing it as I type and it's comfortably thick, but not too much so, and certainly not too thin.
I'm a
big guy for my height
, about 100 kilos, and sometimes "extra large" shirts aren't so large. As you can see from the photo, x-large fits just find, plenty of room around the midsection, chest, and shoulders. It says it's pre-shrunk, not having washed it yet I can't tell you if it shrinks up or not, but I'd suggest cold water laundry.
EDIT: After two washes in cold laundry, this shirt has held its own so far. I can't tell if it has done any shrinking whatsoever. So "pre-shrunk" I guess is pretty accurate.
The graphic on the front is done very well, and I have know idea what process they use. I do know you can't feel it at all when you run your fingers over it, it's the same texture as the regular part of the shirt. It looks pretty much exactly like the logo looked on the computer, so that's a plus. Again, I haven't washed it, so we'll see if it fades or not.
So, all in all, for $15 bucks I got a pretty solid shirt that looks good and feels great. It certainly helps that it's an idea we all put together, and game related too. Mind you, you don't have to be part of my gaming group, or even
a listener of the show
to wear it. It says "minions" on it, which is always neat word, and has a great tentacle underneath to boot. It's a green shirt, awfully bright, maybe not your cup of tea, but there's tons of other options in terms of colors and designs, including the
classic black
. Yeah, in the end I'm very happy with it.
Here's the official store link
, enjoy!