Finished terrain project using
Dropship Horizon's method
These stands of wasteland terrain went up fast. We're talking start to finish with maybe a couple of hours worth of work, tops (not including drying time). I really couldn't be happier with how they turned out, I just wish the cars were oh-so-slightly smaller in scale.
After I primered the cars black I went in with a heavy overbrush of dark red to simulate rust. Next I took a diluted black wash and inked all of the cars over the rust red. Then while I was waiting for that to dry, I focused my efforts on the dirt and gravel.
The ground was already primered tan, so I hit it with a heavy overbrush of dark brown. I use a lot of craft paints, so I don't remember the color exactly, it might've been 'teddy bear brown' or whatever. It dries quick and by the time I finished piece number four, the first piece was ready for the next layer. I hit it again with heavy drybrush of a midtone brown, making sure to avoid the cars themselves, and focusing more on the thicker debris and gravel. Finally I drybrushed the third light color, 'teddy bear tan'. That was it, dirt was done.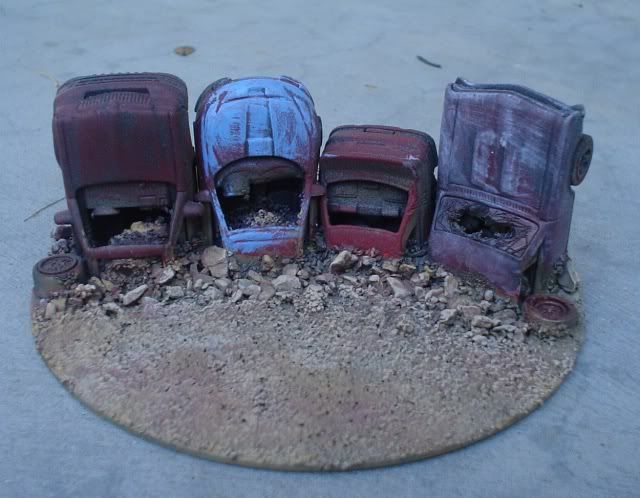 For the cars, which all had a uniform rusty look, I wanted to interject some color a bit to give some variety. Now scouring wind and flame has more than likely stripped most of the paint, and the oppressive sun has done a number on what's left. Given that, I did some very light drybrushing to achieve this, sticking to just a few colors.
The undercarriages were even easier. I did a light drybrush of silver, followed with a brown ink wash to make it look rusty. That's it, this step took no time at all. Because the underbellies are so visible, you want to use cars that have a decent amount of detail.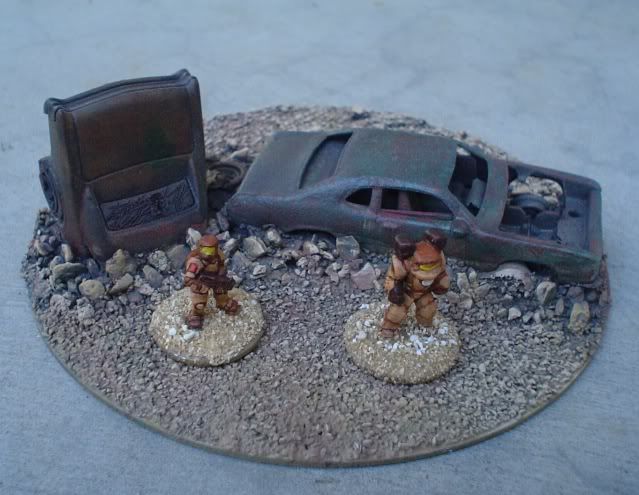 Like I said, my only lament is that these cars are better suited for 20mm, not 15mm. But as you can see from this pic, they will still work great. Here's a couple of 15mm
GZG figs
hanging out by some scrap. I like the right hand car on this base particularly; it's got that stripped down, burned out look that one would normally associate with the wastelands.