I took a bit of a break from painting figs to crank out some 15mm terrain. Now before I go any further, I have heard it said that imitation is the best form of flattery. Having said that, Mark over at
Dropship Horizon
must be flattered out of his shoes! His
15mm terrain
is the progenitor of the project I've done here, and his terrain looked so nice, I decided not to deviate too far from his plan. So here's some WIP small-scale, post-apocalyptic terrain.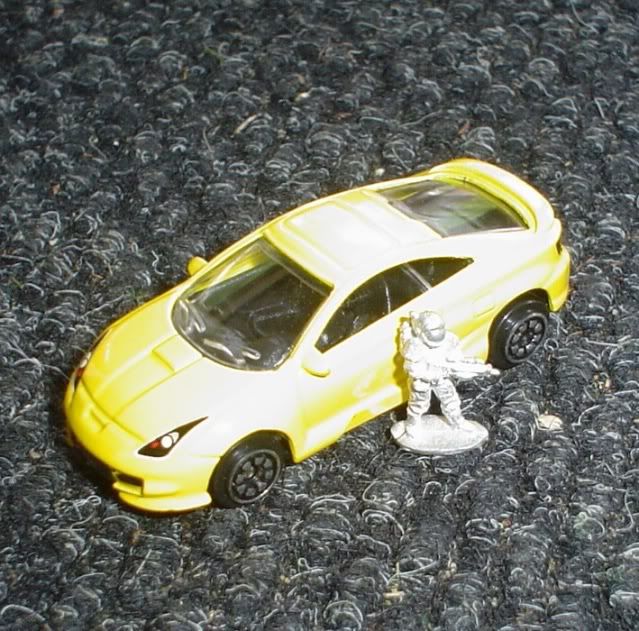 Although
Hot Wheels
(
Matchbox
,
Maisto
, etc.) are really more suited for 20mm figs, they will work in a pinch for a project like this. I couldn't find a bag of party favor type plastic cars, but I found these knockoff generics for .69¢ each. The metal was softer and the plastic windshields popped out quite easily. I also had a Hot Wheels car which I chopped. It was much more solid, and its windshields were pinned/bolted in place, so they're built tough, and it really shows when you break out the
Dremel
and get to hacking and slashing.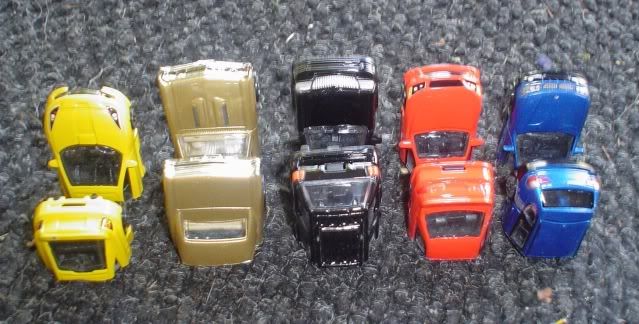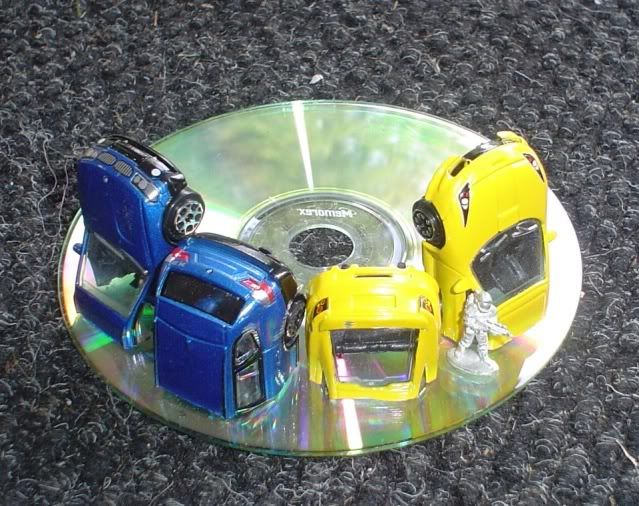 Like I said, this is
NOT
an original idea!
What I didn't take WIP pics of was gluing it all down. As you can see I used CD's as my bases. These were old CD's from my car, and with the advent of
MP3 prevalence
, I don't use them anymore. So I took the car halves, arranged them (see post title pic), and used Gorilla Glue to adhere the car halves directly to the CD. Once it dried I trimmed away the annoying little extra foamy bubbles with a hobby knife. I took white glue and liberally dabbed it around the edges of the cars themselves and then dumped thick, clay cat litter into the glue. Next I brushed on a thin layer of white glue everywhere else and then sprinkled
Woodlands Scenics
fine ballast over that area. Finally I 'sealed' it all with a watered down white glue.
This is after everything has dried and I spray painted the primer layers. Honestly, looking at these pics, I could almost just plop them down on the table as is and be done with it. I first used flat black to paint just the cars themselves, then I went in with a tan color and got mostly the 'gravel', but a lot of it dusted the freshly blacked cars too.
I'll go back in and wash the cars with either a brown or a black ink, and I'll give the dirt and gravel a couple of highlight shades of browns/tans. I may do some faded color dry brushing on the cars themselves to give a hint of the color they were, but I dunno.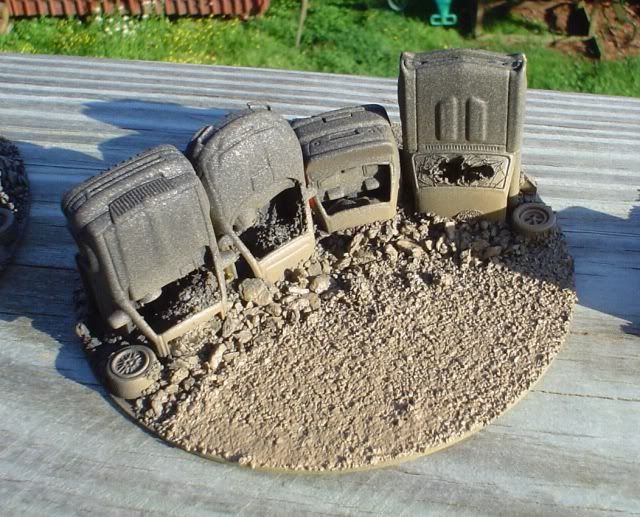 The car on the far right is the Hot Wheels brand, and as you can see, I could not pull or pop out the windshield, so I just hacked at it with a hobby knife to make it look smashed up. A couple of spare tires I snapped off went onto the overall base as well.
The car on the right was another one I had laying around, and it's actually very good quality. It's a
Johnny Lightning
, complete with rubber tires, hinged hood, and more. I popped off the tires, tore off the hood, and ripped out the engine; giving it a burned-out look.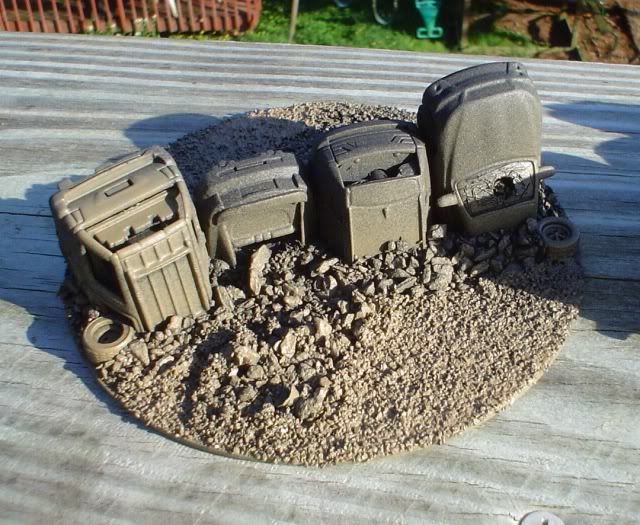 If you have just four spare cars lying around you can get up to two pieces of terrain out of them, since you're only using half of the car anyway. Or two cars gives you a single base I guess. Why are these like this, as in, what's the backstory? Who knows? Maybe they were blasted like this, sands of time have covered them up. Maybe a mini-fissure opened up in a parking lot and swallowed half of them. Maybe survivors dug a trench and stacked them in there as a makeshift bulwark against marauding motorcycle gangs and/or radioactive dung beetles.
Bonus! With some spare pieces I started work on two
ICBM silos