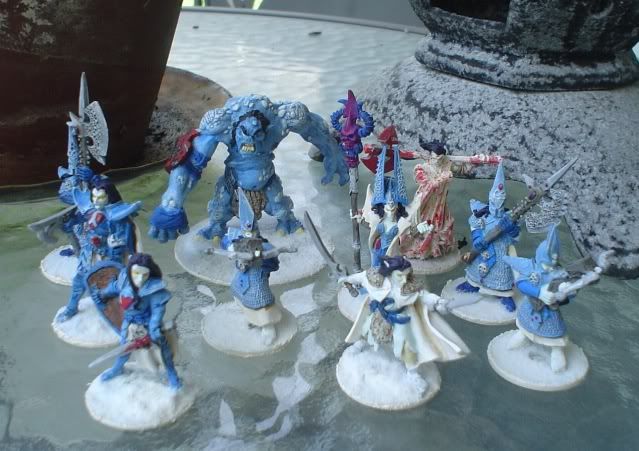 501 points of choices for
Song of Blades and Heroes
We played a
great game
of SBH not too long ago, but I was shocked to see that it had almost been eight months since the game before it. We really need to crank up the frequency of this gem of a fantasy skirmish game. Totally, utterly, and enthusiastically inspired by that game I cranked out "official" models for the "evil ice elves" from the report. They were proxy of course, and I felt I had to do them justice. Yesterday saw their
official Sarterra entry
. Instead of making a specific warband of exactly 300 points, I went with a larger spread to have options.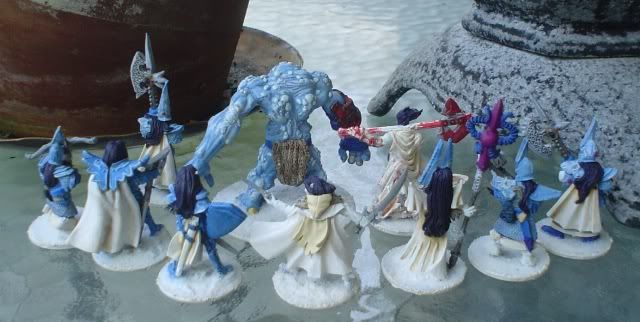 I primed these guys white and used a lot of techniques I normally don't use. After soaking them with a custom-mixed blue wash overall, I went back and added some darker wash to certain areas in the armor. I also started blocking out their cloth and cloaks with a tan. I used a bunch of wet-blending to work their cloth up to a pure white (first time I ever wet-blended like that). Their hair was a chore too, basing as black, and working up with two other really dark blues. All in all, especially given how fast I cranked them out, I'm happy with them. I'm also trying to make a point to quickly paint up figs that other friends give me (instead of just hoarding them) and the basis of this warband came from the
Repple Depple blog
. The three Reaper elves, and the big Reaper troll were all hand-me-downs, so thanks again Brian!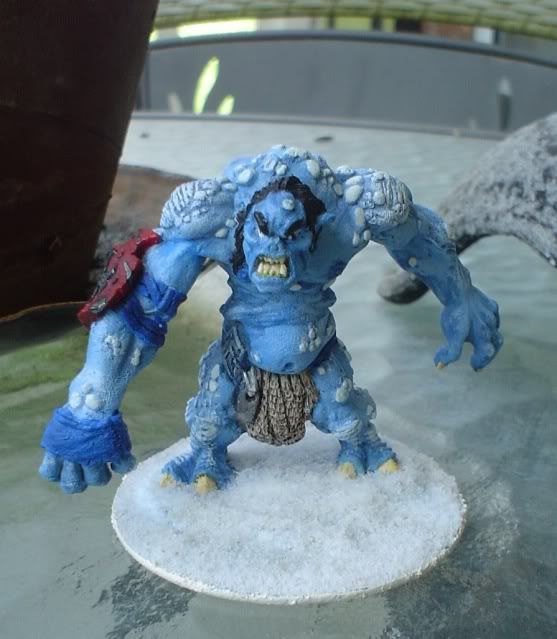 Tundra Troll, (Troll; Q5/C4, tough, fearless, big, 41pts)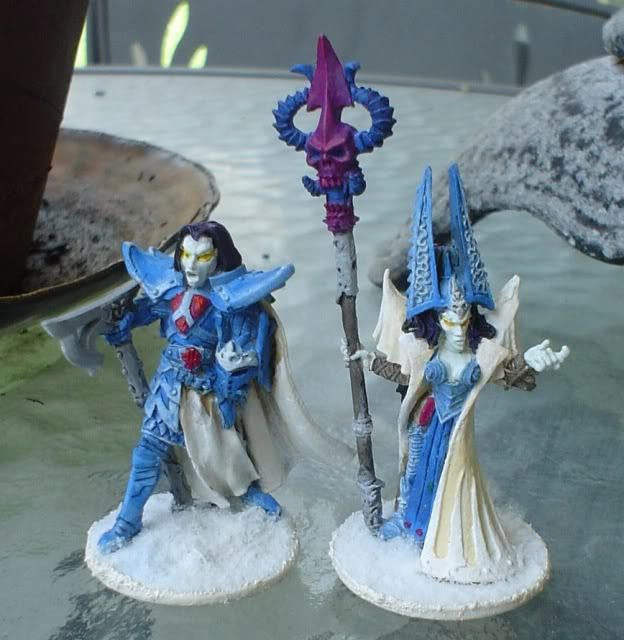 Warband leaders...
Frostfairn Marshall (Dark Elf Leader; Q2/C3, evil, heavy armor, leader, 88pts)
Frostfairn Sorceress (Dark Elf Witch; Q3/C1, greedy, sorcerer, 30pts)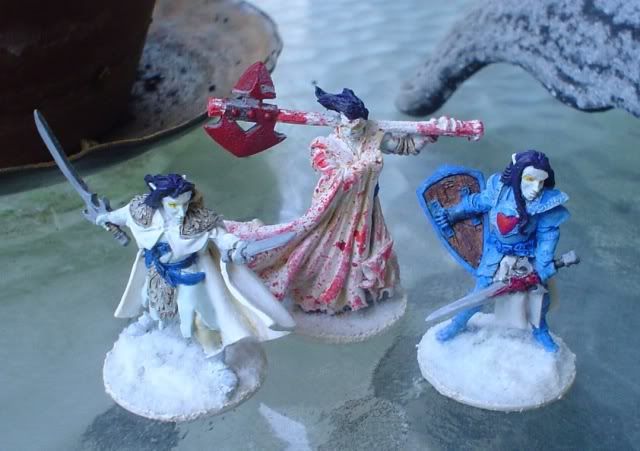 Warband specialists, left to right...
Frostfairn Scout (Dark Elf Sneak; Q2/C2, acrobat, evil, stealth, traps, 48pts)
Frostfairn Berserker (Dark Elf Witch Dancer; Q2/C4, acrobat, distract, 88pts)
Frostfairn Soldier (Dark Elf Warrior; Q3/C3, evil, 30pts)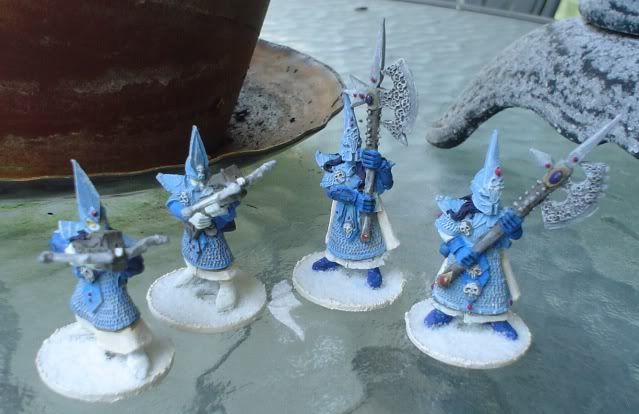 Warband rank-and-file
Frostfairn Crossbowman (Dark Elf Crossbowman; Q3/C3, evil, poison, long shooter, 50pts)
Frostfairn Crossbowman (Dark Elf Crossbowman; Q3/C3, evil, poison, long shooter, 50pts)
Frostfairn Guard (Dark Elf Halberdier; Q4/C4, evil, heavy armor, 38pts)
Frostfairn Guard (Dark Elf Halberdier; Q4/C4, evil, heavy armor, 38pts)