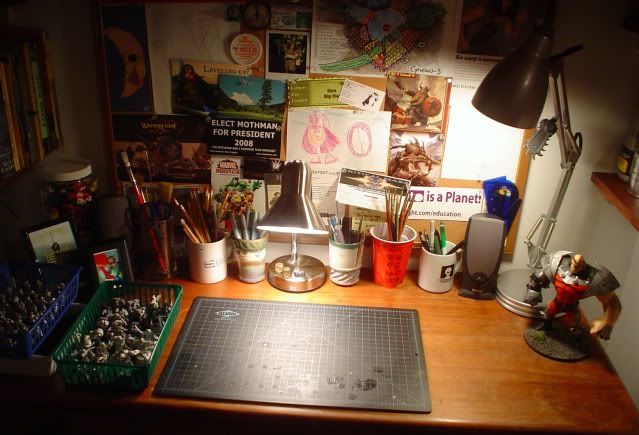 The last time my
desk was clean
was back in November. It's been cluttered since then, so in another (what's becoming scarily characteristic) bout of insomnia, I went to scrubbing again. I already showed you the terrain shelf, and the summer queue, but what about the work desk? I absolutely love seeing other's work space posts, I'm not alone am I? It pretty much looks exactly like it did last time, I added another lamp, and cleaned off (as in painted!) a ton of bare lead that was taking up space. I think that's about it? Maybe a little more, enjoy...
The left side:
pics of my girls
a big jar full of classic Lego space mini-figs
A Mothman glass with large brushes and scissors
a pencil mug
speaker for the iPod

The middle:
'closeup' lamp
my pair of solid brass...dice
handmade ceramic cup w/ blades, drills, tweezers, etc.

a Sharpie and dry erase marker cup (handmade myself as well)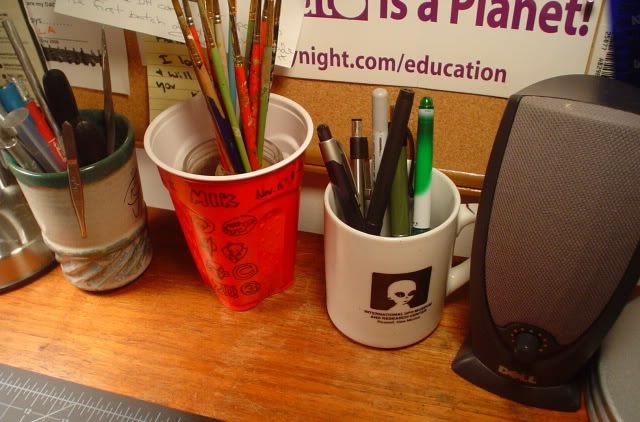 The right side: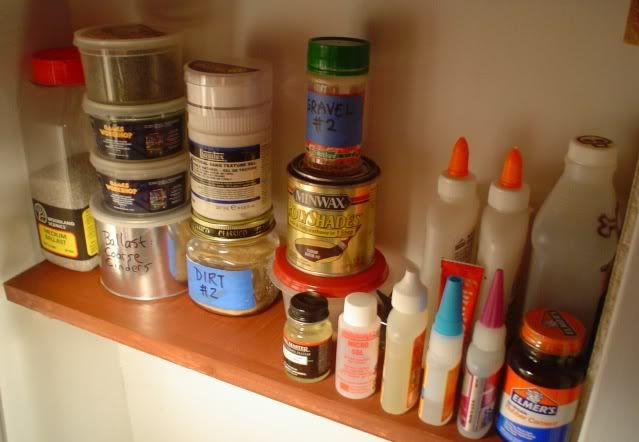 The HAZMAT shelf:
lots of sand and ballast
lots of flock
glues of all kinds
some "original" dip
miscellaneous solvents

The corkboard behind the desk, kind of like a "Where's Waldo" of gaming...
So that's it for my work area, it's treated me and my figs well, moreso over the last few months than I thought possible. The corkboard above is pretty dated, I look at this photo and I see a Warmachine pic, I haven't played that game in years, though it may be up there because of the Dwarf on it, which I'm partial to. Also, like the Heroclix pic, sometimes I pin up stuff I just like the look of, though some of the stuff up may be for reference, notes, etc. So that's my work space, next time you see my finished pics, they were painted right here.