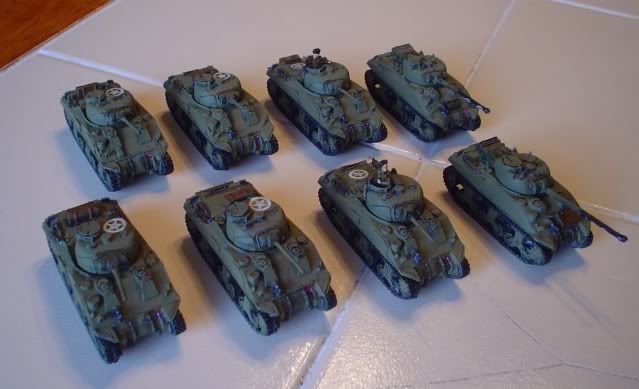 Here's two more platoons of British Sherman V tanks. I posted a WIP on these guys not that long ago, and here they are done! Not only did they paint up very quickly, comparing these with the
first two platoons
(and HQ platoon), the latter batch looks better too. Each platoons consists of two regular
Sherman V
tanks, one command Sherman, and one
Firefly tank
.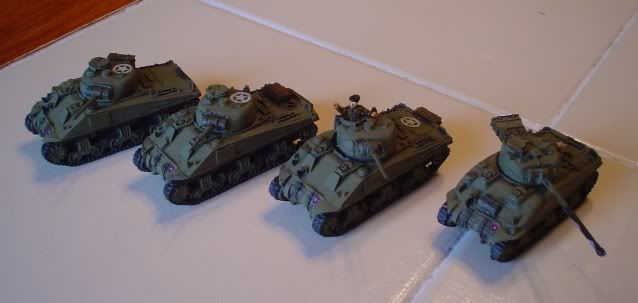 Yes, the two photos are pretty much identical but I promise it's eight different tanks! You'll note on the Firefly turrets I added the black-and-white countershadowing pattern to help disguise their length. I wasn't thrilled about the last batch of Firefly turrets either so I went back and gave them another shot while I was at it.
This Sherman tank above is exactly what I'm shooting for.
Exactly
. I don't know where this one is on display at, but I'd love to see it in person. You can see the
Guards Armored emblem
on the front of the tank itself as well as the regiment number, the 53rd which is what I'm painting up. You can also see the bridging sign up above the right tread, and although my tanks are in 15mm, I think it'd be cool to add bridging signs as well. Now this one above also has its serial number on it, which I'll avoid, as well as the nickname "Little John", which although is cool, both might make for tedious decal application. The problem is that the only decals I have are the Guards Armored symbols themselves, so it may be a while before I track down the regiment numbers and bridging signs unfortunately.
All right, here it is, my Guards muster shot! Now there's been a lot of FoW army pics of late,
Andy posted his Germans recently
, and Steven's been going nuts with all of his
armies over at WWPD
. I'd be remiss if I didn't mention
Joe's FoW blog either
, but he's been slacking on the muster pics! Anyway, point being, my little force here
pales
in in comparison all of those mentioned, but it is
my
force and I'm growing fond of it.
Using my
Hell's Highway book
I've maxed out my core choices of Sherman combat platoons and from here it's all about the support and weapons platoons. Next up is my
armored car recce squad
, which should be done by the time I write this, and then I've some self-propelled artillery to tackle as well as some other goodies.