Dark Angels Space Marines:
**Begin Transmission**




Praise the Emperor.




Brother-Captain Othniel, our travels have been successful. Brother Jakoubek and I were ready to leave this system when our ally, Inquisitor Artiger, contacted me in secret. A dire artifact, the unholy Victory Machine, has been unearthed on a nearby moon and should it fall into the wrong hands, any hands, it would be heresy. There are those in the Imperium who would see the artifact acquired, Artiger and I agree that this cannot be allowed to happen under any circumstances. He is using what resources he has available to teleport us to the surface of the moon. A precise strike from his cruiser in orbit should render the artifact a non-issue. Brother James and myself only need to find its location. Alien heretics are noted to be in the area as well, presumably looking for the same device. They will suffer.




Praise the Emperor.




Chapter Master Tristan Tracto




**End Transmission**
Primary Objective: Destroy the device known as the Victory Machine.
Secondary Objective: Destroy any alien presence.
Tertiary Objective: Destroy any opposing presence.
Chapter Master Tracto has served with honor and distinction in the Dark Angels space marine chapter for centuries. He wields the Sword of Durendal, a chapter artifact said to have been wielded by El'Jonson himself. In addition he wears an ancient suit of Articifer Power Armor and a custom bolt pistol sidearm rests on his hip. The latter is rarely used; Tracto prefers to dispatch his foes in melee combat.
Venerable Battle-Brother Jakoubek fell in battle hundreds of years ago. Mortally wounded and crippled beyond repair he was placed within the tomb-sarcophagus of a Dreadnought. Since then he has become the living embodiment of a war machine, utilizing his vast array of weaponry to its fullest effect. Trusted advisor and friend to Tracto, Venerable Battle-Brother Jakoubek will often accompany the chapter master on many off-mission endeavors as well as investigations and protocol matters.
Name:

Dreadnought Brother James

BP / AP:

170 / 8 [18]

Attributes:

Strength: 7 [2], Agility: 5

Mind: 3, Resolve: 6

Powers:

Armor x4

Combat Sense x4

Extra Attacks (+1AP)

Extra Move x10

Knockback Resistance x3

Melee Attacks x3

Ranged Attack (9D, 30")

-AoE (Blast)

-Chain Attack

-Rapid Fire

-Super Damage x1

Super Strength x2

Vehicle

-Level 3

-Giant Robot

-Independent

-No Carrier (-8)

-Turret

Vitality:

13
Name:

Chapter Master Tracto

BP / AP:

85 / 7

Attributes:

Strength: 4 [1], Agility: 4

Mind: 3, Resolve: 5

Powers:

Armor x3

Combat Sense x3

Density Increase

-Immovable

Iron Will x2

Knockback Resistance x2

Melee Attacks x2

Super-Strength x1

-Super Knockback

Vitality:

9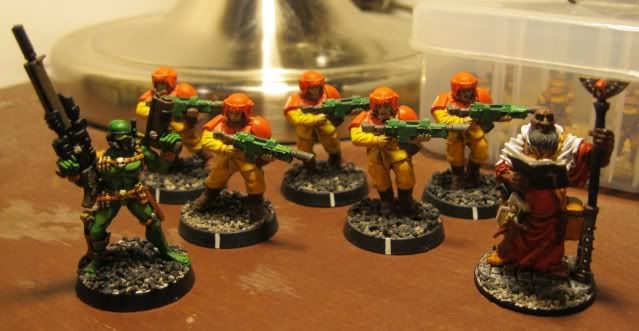 Imperial Guard:
Dear "Reverend" Soble,

You may have fooled the others of the council but I know what you are, you are a soldier of the Imperium and you cannot turn your back on that responsibility. You have far too much experience in battle, and far too many grafts and bionics frankly, for you to turn to faith and wander aimlessly as a vagabond preacher. You owe the Imperium of Man.

On paper you are still under orders, and therefore under my command, for another two months. That is just enough time to send you to the edge of the system and investigate rumors of Quandan's fleet returning as nothing but wreckage. You can pick your own team, but I want you away from system central for a good while. Perhaps when you return you will know your place.

Planetary Governor Sulpheus Mape
Primary Objective: Obtain and protect the Victory Machine.
Secondary Objective: Destroy all intact scanning stations.
Tertiary Objective: Find alternative transport from the planet.
Reverend Shamus Soble is well on his way to retirement in the private sector. A massively built man, he has adopted an unassuming guise in that of a street preacher. A far cry from the decorated veteran he once was. Though his zeal for the Emperor of Mankind is honest he detests what his corrupted government in his sector has become and longs to strike out on his own. His contacts have heard rumors that a device from long ago, dating back to before even Mars was terra-formed, has been marooned on the very moon he has been sent to. If he can retrieve this item it can be his key to writing his own destiny.
Vindicare Assassin Mendel is one of the few remaining soldiers who have served alongside Soble in battle decades past. He is a deadly shot with his Archangel sniper rifle and manages close assault roles just as easily, dispatching foes with vibro-blade and Gyrojet pistol alike. He wears an advanced armored bodysuit and multi-suite mask.
Imperial Guardsmen are countless among the galaxy. These particular troopers, hand picked by Soble, are veterans of his last company. They have served Soble in many roles and will follow him to hell and back if only asked. They are equipped with standard issue flak armor and use special issue lasguns which fire an enhanced beam that shifts between dimensional layers in a manner very similar to the psy-bolts used by the Grey Knights.
Name:

Vindicare Assassin Mendel

BP / AP:

85 / 8

Attributes:

Strength: 3, Agility: 6

Mind: 2, Resolve: 5

Powers:

Armor x2

Combat Sense x3

Extra Attacks (+1AP)

Force Field x1

Fortune x2

Ranged Attack (9D, 32")

-Extended Range x1

-Rapid Fire

Vitality:

8
Name:

Reverend Shamus Soble

BP / AP:

85 / 7

Attributes:

Strength: 6 [2], Agility: 3

Mind: 4, Resolve: 4

Powers:

Armor x3

Combat Sense x5

Knockback Resistance x3

Melee Attacks x3

Super-Strength x2

-Super-Knockback x2

Vitality:

10
Name:

Imperial Guardsmen

BP:

85

AP:

6 [8]

Attributes:

Strength: 4

Agility: 4 [1]

Mind: 2

Resolve: 4

Powers:

Armor x3

Combat Sense x3

Enhanced Senses

Extra Movement x2

Knockback Resistance x1

Ranged Attack (8D, 30")

-Affects Ethereal

-Rapid Fire

Super-Agility x1

Vitality:

Henchmen Group x5