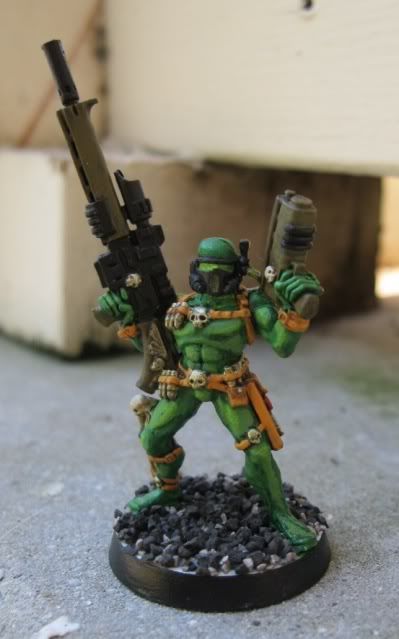 Prepping for our recent
Super40K battle
I realized I needed a sniper figure! I went to
Reaper's Figure Finder
hoping to find some kind of
Chronoscope
fig that would do. Then I poked around my own bits box and found this guy, and Imperial Vindicare Assassin...just sitting there. I wonder how many more $15 dollar figs I've got just laying around?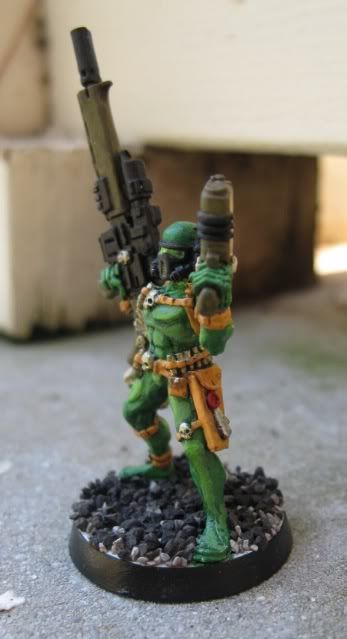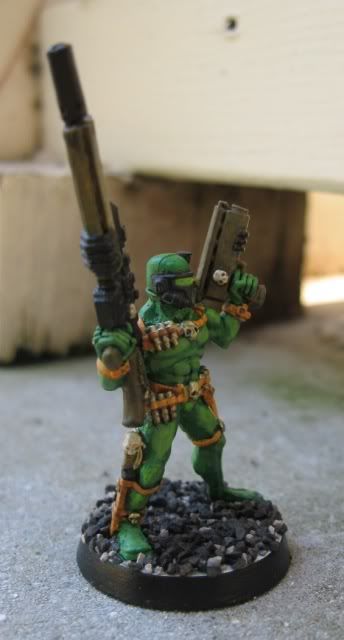 Did you catch Santa Cruz Warhammer's "
Top Ten Models of all Time
" series a while back? If not you should, there were a couple of models I personally would've added in there myself...but I wasn't doing the writing. I know for a fact I would've included this model in that list however, and mainly because he's the most non-GW GW fig I've seen.
You can't really appreciate a sculpt until you paint it. It's kind of cool discovering all the little details you didn't realize were there the first time around, not until you get a brush on the fig itself. This fig has those details, and more. It's moved up to a spot in my own "fave figs of all time" book.
His rifle looks more like a
suped-up, modern sniper rifle
than anything in the 40k universe. His pistol doesn't look like anything from any race in the 40k universe either, it looks more like a
Gyro-jet pistol
from Gamma World. Okay, the plethora of skulls about his person are kind of a giveaway, and the purity seal on his holster is too, but file off the seal, and you'd be hard-pressed to peg this guy to any one genre, and it certainly wouldn't be 40k.
Since I was painting him up for use with the SuperSystem rules, and I wanted to continue the non-GW looking GW fig trend, and went with a fairly bright, definitely non-standard color scheme. It wasn't until after I painted him up that I thought how familiar he looked. Then I realized he looks
exactly
like an
Agent of Hydra
!
Exactly
!