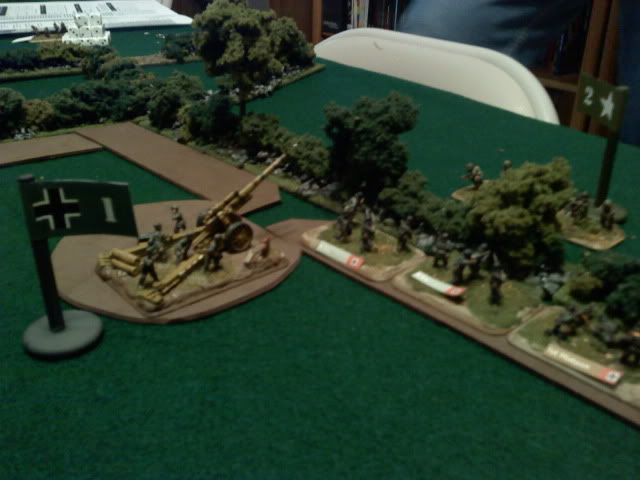 The

Brécourt Manor Assault

(June 6, 1944) during

the U.S. parachute assault

of the

Normandy Invasion

of

World War II

is often cited as a classic example of small-unit

tactics

and

leadership

in overcoming a larger enemy force. -

Wikipedia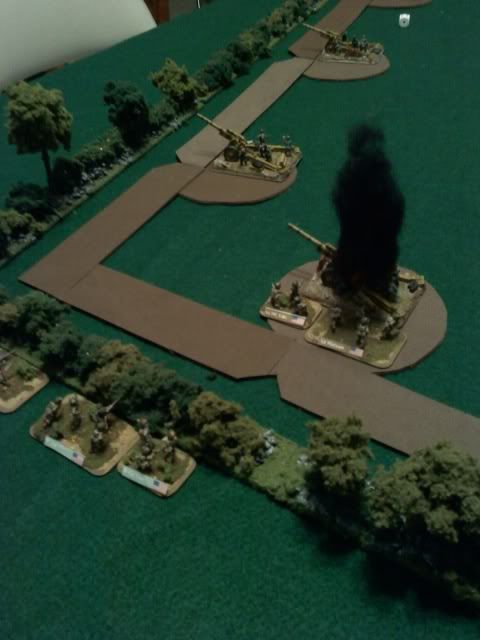 We played some WWII gaming the other night, this time withe the playtest rules of the forthcoming
Fireball Forward
. These aren't designed as a Flames of War "killer" or even as competition, but just as another way to game in that era. From their site they sum up the goal of these rules, "
Fun World War Two company-level wargaming rules that are short on charts, rules and brain-pain but are long on tactics." Sounds good to me.

My buddy, Little Lead Heroes' Andy, set up the game for the scenario itself (Brecourt Manor). You can see better pics of the table there. Having gamed a lot of Flames of War with these guys I was in for a shock when I saw a tiny 2x3 table and only a handful of stands per side. Normally our FoW games encompass a twelve foot table with dozens and dozens of elements per side.

The gameplay was fast and even though I haven't played before I still felt I had a better grasp on the rules than in a game of FoW, mainly because a lot less was happening on the tabletop. The big draw for me is that the rules are set up to be largely scenario based, with linked "adventures" possibly being the norm down the road.

This particular scenario is excellently portrayed in the series Band of Brothers, you can watch the clip here, and it was a lot of fun to play it out on the tabletop. Watching the clip beforehand might've been helpful actually. In the show the Allied forces won the day, it played out quite differently on the tabletop however with Axis forces winning handedly in both games.

We were able to finish up rather quickly, switch sides, then play the same scenario again. In fact, we were able to finish the second game up so quickly we broke out Dominion and played a game or two of that as well. The rules received mixed reviews from our local group. Sometimes I'm having fun just hanging out, rolling dice, pushing around toy soldiers, and the like so I didn't get into the lengthy post-game discussions about it.