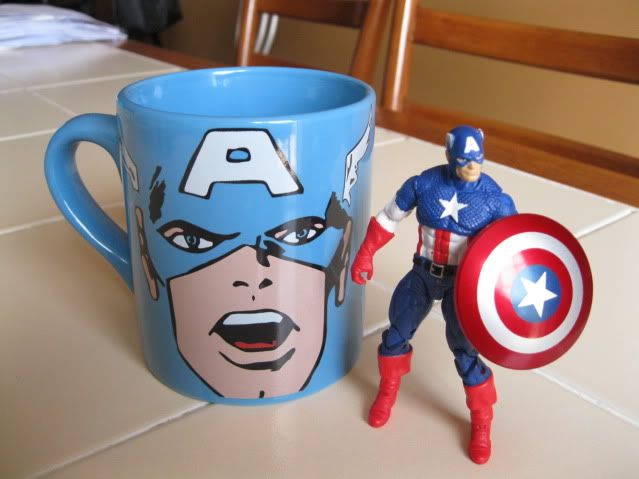 Two Caps for today, coupled with my
movie review last month
and you'd think I've gone cap-crazy. Not really, it's all coincidence. We (my daughter and I) needed a better representation of the first Avenger than what I had shown the other day.
I found the
Marvel Universe version
(the
official
and most excellent figure line of all the supes) online for a reasonable price but didn't want to wait. We found the above fig at the store, and although he's from the movie line of toys it doesn't matter, we open our packages 'round these parts.
There were about six Caps to choose from; WWII Cap, Arctic Cap, Comic version of Cap (with metallic pants?), Night Stealth Cap, Break-dancing Cap, and so on. We opted for "heavy artillery" Cap, basically because he looks normal once you ignore all the spring-loaded nonsense that came in the package with him. Plus, his shield is pretty normal, which apparently is a big criteria.
As for the coffee cup, it was just too cool to pass up. I found it for three bucks at a discount clothing store in the back with the other assorted and random kitchen stuff. I also got a ceramic, multi-colored fish you use to put dirty spoons and the like on while cooking. I thought that might've been pushing it too far to include here however.