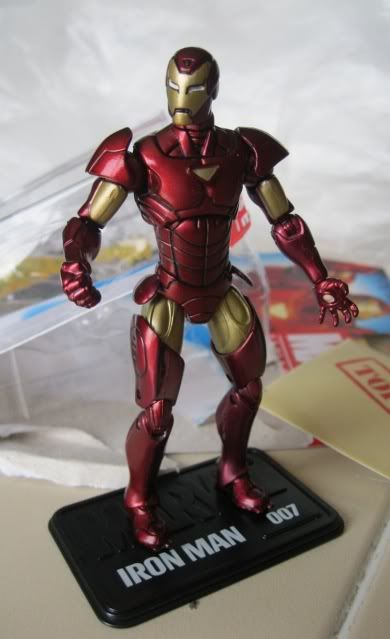 Got my Iron Man in the mail to join the rest of
the Avengers
...
The son of a wealthy industrialist and head of
Stark Industries
,
Howard Stark
, and Maria Stark, Anthony Edward Stark is born on
Long Island
. A boy genius, he enters
MIT
at the age of 15 to study
physics
. After his parents are accidentally killed in a car crash, he inherits his father's company.
While observing the effects of his experimental technologies on the American war effort, Tony Stark is injured by a booby trap and captured by the enemy led by Wong-Chu, who then orders him to design weapons. However, Stark's injuries are dire and shrapnel is moving towards his heart. His fellow prisoner, Ho Yinsen, a Nobel Prize-winning physicist whose work Stark had greatly admired during college, constructs a magnetic chest plate to keep the shrapnel from reaching Stark's heart, keeping him alive. In secret, Stark and Yinsen use the workshop to design and construct a suit of powered armor, which Stark uses to escape. But during the escape attempt, Yinsen sacrifices his life to save Stark's by distracting the enemy as Stark recharges. Stark takes revenge on his kidnappers and heads back to rejoin the American forces, on his way meeting a wounded American Marine fighter pilot, James "Rhodey" Rhodes.
Back home, Stark discovers that the shrapnel fragment lodged in his chest cannot be removed without killing him, and he is forced to wear the armor's chestplate beneath his clothes to act as a regulator for his heart. He must also recharge the chestplate every day or else risk the shrapnel killing him. The cover for Iron Man is that he is Stark's bodyguard and corporate mascot. To that end, Iron Man fights threats to his company, such as Communist opponents Black Widow, the Crimson Dynamo and the Titanium Man, as well as independent villains like the Mandarin, who eventually becomes his greatest enemy. No one suspects Stark of being Iron Man as he cultivates an image as a rich playboy and industrialist. Two notable members of Stark's supporting cast at this point are his personal chauffeur Harold "Happy" Hogan and secretary Virginia "Pepper" Potts, to both of whom he eventually reveals his dual identity. Meanwhile, James Rhodes finds his own niche as Stark's personal pilot, revealing himself to be a man of extraordinary skill and daring.
The comic took an anti-Communist stance in its early years, which was softened as opposition rose to the Vietnam War. This change evolved in a series of stories with Stark profoundly reconsidering his political opinions and the morality of manufacturing weapons for the military. Stark, however, shows himself to be occasionally arrogant and willing to let the ends justify the means. This leads to personal conflicts with the people around him, both in his civilian and superhero identities. Stark uses his personal fortune not only to outfit his own armor, but also to develop weapons for S.H.I.E.L.D. and other technologies such as the Quinjets used by the Avengers, and the image inducers used by the X-Men.
Iron Man possesses powered armor that gives him superhuman strength and durability, flight, and an array of weapons. The armor is invented and worn by Stark (with occasional short-term exceptions). Other people who have assumed the Iron Man identity include Stark's long-time partner and best friend James Rhodes; close associates Harold "Happy" Hogan; Eddie March; and (briefly) Michael O'Brien.
The weapons systems of the suit have changed over the years, but Iron Man's standard offensive weapons have always been the repulsor rays that are fired from the palms of his gauntlets. Other weapons built into various incarnations of the armor include: the uni-beam projector in its chest; pulse bolts (that pick up on kinetic energy along the way; so the farther they travel, the harder they hit); an electromagnetic pulse generator; and a defensive energy shield that can be extended up to 360 degrees. Other capabilities include: generating ultra-freon (i.e., a freeze-beam); creating and manipulating magnetic fields; emitting sonic blasts; and projecting 3-dimensional holograms (to create decoys).
In addition to the general-purpose model he wears, Stark has developed several specialized suits for space travel, deep-sea diving, stealth, and other special purposes. Stark has modified suits, like the Hulkbuster heavy armor. The Hulkbuster armor is composed of add-ons to his so-called modular armor, designed to enhance its strength and durability enough to engage the Incredible Hulk in a fight. A later model, designed for use against Thor, is modeled on the Destroyer and uses a mystical power source. Stark also develops an electronics pack during the Armor Wars that, when attached to armors that use Stark technologies, will burn out those components, rendering the suit useless. This pack is ineffective on later models, however. While it is typically associated with James Rhodes, the War Machine armor also began as one of Stark's specialty armors.
The most recent models of Stark's armor, beginning with the Extremis Armor, are now stored in the hollow portions of Stark's bones, and the personal area networking implement used to control it is implanted in his forearm, and connected directly to his central nervous system, making Stark essentially a cyborg.