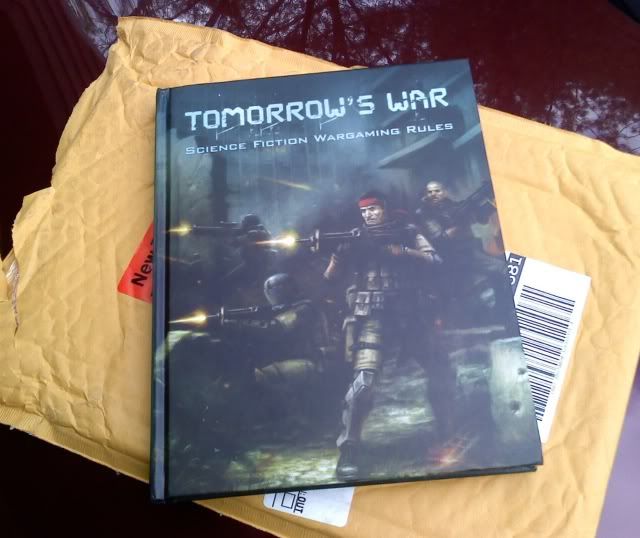 Things have been quiet around here on the gaming front. I'm still doing stuff, it just hasn't been the over-the-top game-a-palooza pace that y'all have been accustomed to seeing me do. A cool thing to report on though is a couple of rulebooks I picked this week and last.
First things first is the above copy of
Tomorrow's War
, and man has this book been highly anticipated! It's the definitive sci-fi standalone in the same vein as the modern cousin,
Force on Force
. I can't wait to sink my teeth into this one, and there's a lot of sinking to do...it is a mighty tome indeed. I see it's not released for a couple of more weeks yet, so I count myself lucky to have been able to snag an advanced copy.
Next up on the new rules list is 5150 Star Army, and if you've been a reader here you know there have been a lot of
5150 games in the past
. Also, readers will note there have been times where getting the rules down consistently has been troublesome for me. Well even after a cursory glance it seems all that and more has been fixed in this new edition. It's not just a new edition, it's a complete overhaul really.
In related news, I will be reviewing these two games in particular, as well as other games and the like over at
Santa Cruz Warhammer
. In addition to my Barter Bucketing responsibilities at SCWH there's going to be a new feature with me reviewing tabletop games, card games, videogames, movies, whatever that may be gaming related. My first review is up of the
Space Marine videogame
, and a preview of 5150 Star Army is due in a few days from now. I'll keep the cross-posting to a minimum, and still keep my battle reports here of course.