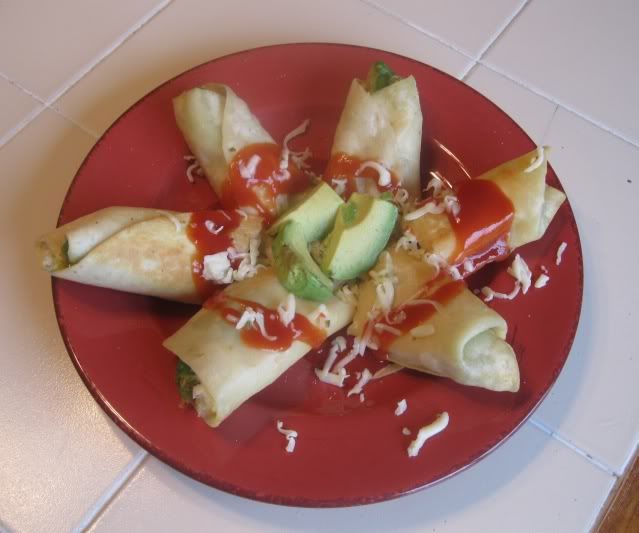 Here's a very quick, and very tasty dish I whipped up last week. I've gone easy on the ingredients and steps below because I was improvising along the way as it is, and you should too. Here you go, Mik's Stuffed Veggie Flautas, enjoy:
Stuffed Veggie Flautas:
Make some mashed potatoes, I like to add shredded pepper jack cheese, sour cream, and/or cream cheese. For this batch I used all three, set aside for later.
Get your favorite peppers and veggies from your garden (or the store). For this batch I used all my own garden goods; jalapeño, poblano, green peppers, and some hot banana peppers.
Cut these into thin strips and sauté with a little olive oil and some fresh garlic, set aside for later.
Get a couple of avocados (if you like them, but who doesn't?) and slice up into strips.
Get some oil warming up in a large skillet, I used six cups (which is a lot) of canola oil.
Now you're going to put it all together:
Get some small flour tortillas, six or eight inch diameter.
Get your assembly line ready with all of the above fixins.
Take a tortilla and spread a not-too thick, not-too thin layer of the mashed potatoes as a base.
Next take some strips of the sauteed veggies and lay them in a line in the middle of the tortilla.
Finally lay in a slice or two of the avocado.
Now it's time to cook them:
Fold in the edges of the tortilla fist and foremost.
Next, roll your tortilla tightly, like a fine cigar, the tighter the better.
Keep it held together with toothpicks.
Lay them in the heated canola oil, you're frying them, they'll cook fast so keep an eye on them, maybe a minute or two per side.
That's it, they're not the healthiest since they're fired, but you could fool yourself and say the veggies are in fact healthy. Serve up like mine in the photo at the top of this post and if you want to be really cool, slice them in the middle with a diagonal cut like the restaurants do. I garnished mine with some cheese, more avocados (because I can't get enough), and enchilada sauce. Cook these up for your next gaming session and impress your buddies. The smaller the tortillas the bigger batch they will make, which is more finger food for you and your friends.