Three easy dips! Lots of football on right now with the playoffs in full swing and all. So with all of that football comes lots of excuses to have lots of people over to watch said games, and lots of excuses to eat horribly unhealthy food. Mind you, you don't have to like sports to have an excuse to whip up some quick and easy dips however. Maybe it's a Stargate marathon, or just game night around the table. Whatever the case, try one of these next time.
Cheesy Chorizo Dip
Ingredients:
Chorizo (Mexican sausage)
a box of Mexican style Velveeta cheese
a can of Rotel (hot)
Directions:
cut up the Velveeta into one inch cubes, either half the box for a small amount, the whole box for a huge amount
fry up the Chorizo, two sausages for half a box (above) or four for the full box, drain
put the Chorizo and the can of Rotel into a crock pot with the cubed Velveeta, a sauce pan on the stove will work if you don't have a crock pot

cook it for a few hours in the crock pot, mixing occasionally, and you're good to go, if you're using the saucepan, just don't leave it unnattended
That's it, and you're good to go. Even the prep time, if you can call it that, is minimal. This one is tasty, and one of my favorites. If you don't like spicy stuff, switch the Rotel to regular. Good with tortilla chips, corn chips, and the like.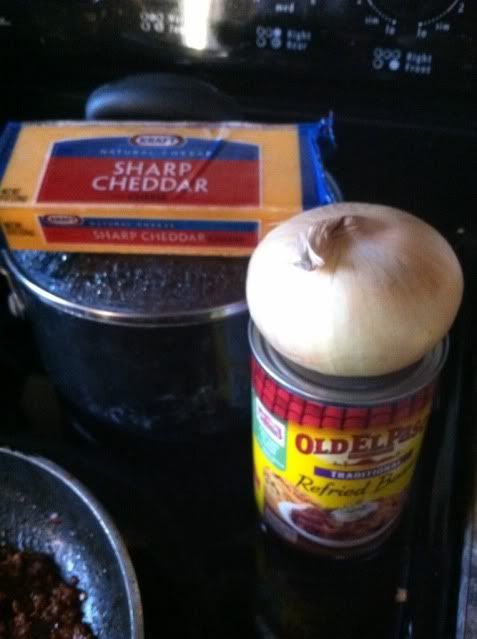 Bean Ole Dip
Ingredients:
one can of refried beans
one small onion
a block of cheese
Directions:
dice the onion
shred the cheese
put everything in a pot and cook it
Yeah, it's
that
easy. This one is neat because it can change quite a bit just depending on the cheese you put in it. Cheddar, Monterrey Jack, even Swiss, it's all good and every time makes for a different dip. If you're not a big onion fan, maybe try half of a diced one, me, I put in the whole thing. This one is good with tortilla chips and the like, but you can also dip flour tortillas in it, or even spread as a burrito filling.
Hidden Valley Dip Dip
Ingredients:
one packet dip mix
one 16oz container of sour cream
Directions:
put them in a bowl and mix together
I saved the easiest, and most non-original, for last! This one is a delicious no-brainer, costs next to nothing, and is stupidly easy to fix. If you can chill it for a couple of hours beforehand, even better. All of these reasons make it a perfect game table dip too, heck, you can even make it
at
the game table! Good with pretty much anything you can buy in the chips section of the store, not to mention veggies like carrots, cauliflower, and broccoli.