My Christmas present to myself this year was a double-shot of the new
Gamma World
. Me? I'm a big fan of Gamma World, I always have been, having first played it back in the mid to late eighties. I love the gamma-goodness, the fires not born unto serious post-apocalyptic forays but more fanciful romps through the rubble-strewn world after "the event".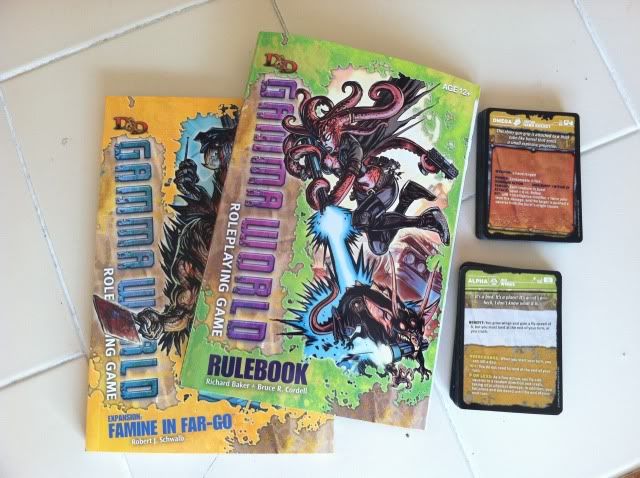 I picked up the core box set and the first expansion, another boxed set known as Famine in Far-Go. Some fans of the game may recognize that name because Famine in Far-Go has made an appearance
before
. From what I can tell, based on sketchy memory of the original and cursory glance of the new one, they're both in the same vein as well.
As for the boxed sets themselves, I'm a simple guy and I don't need all the doo-dads really, and the boxes come doo-dad-a-plenty. Above is shown all I'm asking for; a couple of rulebooks and some cards. The rulebooks are dense, very dense and in full color with plenty of charts, examples, fluff, and more. They're also digest-sized, which is nice too. Surprisingly, the Far-Go expansion book is
almost
as big as the core book, with a little over half dedicated to the adventure but the rest being supplemental material.
The cards are a new Gamma concept, and I didn't know exactly how they would work. Having read up on the rules now, the cards seem very cool. You don't have one mutation, one psychic power, or one laser rifle...all of these things are constantly fluctuating. When it's time to roll for initiative, everyone at the table draws a new card. You may have had telekinetic mind blasts when you fought the Croc-Men yesterday, but today you've got wings and you're up against rogue robots. It's a weird concept, but for the setting it works. Technology and 'junk' is everywhere, your equipment is always changing, and mutations are always in a state of flux.
Character creation is also gloriously random, again a weird concept usually for an RPG, but one that works perfectly in this setting. We haven't played yet, so I can't speak too much on gameplay (if at all) so I'll just focus on what all you get in the box(es).
Above are all the counters you get. Lots of counters on card sheets that necessitated the size of the boxes themselves. Too many counters; counters for player characters, counters for monsters, counters for NPC's. I'm sure counters have their place, but we don't use them and I'm not a huge fan of them.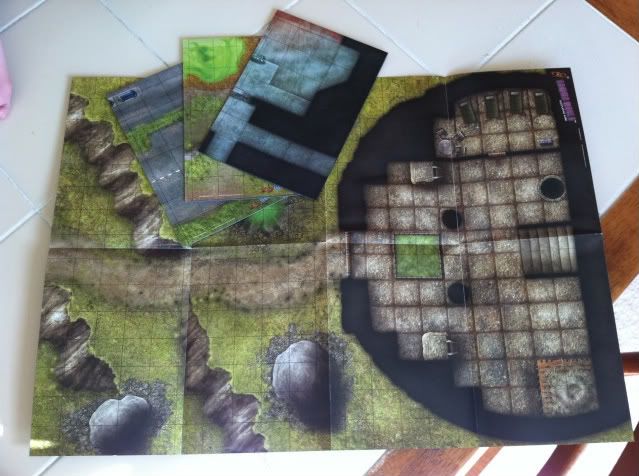 You also get some maps. Who doesn't like maps? It's not a roleplaying game if there's not a map somewhere! Gamma World does come with maps, nice stock, full color, double-sided even. The expansion has some maps in it too. I'm all right with some maps.
Somewhere in a box in the garage I've got all of my old Gamma World modules. I also scored the
Thundarr the Barbarian
boxed set
recently as well
. Lots of good, fun source material for a new version of the game that equally looks solid and fun.