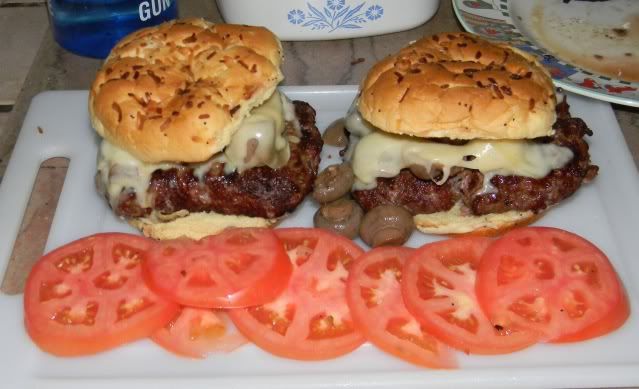 "This burger captures the scent of a Bavarian meadow after a fresh winter snow. Inspired by the German people who invented the Hamburger outside of Hamburg, Germany. Mushrooms are collected by manly fairies in the upper Alp valleys. The tomato was hand grown using fertile techniques of hand patted manure. Note the glimmer of crystalline fields covered in dew drops. Therefore the perfect burger." Love, dad
This isn't my burger, and it's not my flavor text (ha, get it, "flavor text") but it's not far from me genetically. It's funny because when I got this email from my Dad titled "Burger Wars" earlier today I had to laugh. It
looks
like one of my burger pics (for those keeping score
here
and
here
) and the text certainly
sounds
like my usual self, it basically could be one of my own random blog posts...without any editing either.
So it got me thinking as to what it is we do here gaming-wise. Often we reminisce about what games we first started playing, but why did we play them? Dungeons and Dragons was forbidden in many childhood households in the 1980's, so kids rebelled and played it at friends' houses. On the the flipside there were a lot of parents out there who encouraged it (yes, reading, writing, and imagination might actually be good for a ten year old).
I don't know, as I'm pushing forty I guess I'm still recognizing how much all the moms and dads, aunts and uncles, grandparents and the like influence us more than we realize. As for the burgers themselves above, I can only surmise the following since the email lacked any meat to it (ha, I'm on fire today!). It looks like Swiss cheese generously melted over a heaping mound of sauteed mushrooms and served up on an onion roll. If this is indeed the first salvo in a "Burger War" then it was pretty good one.