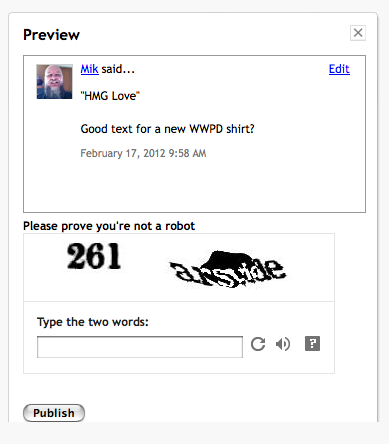 I have turned "verification for comments" off, as the title suggests; bring on the Spambots! To the left you can see that Blogger has decided to go to a new, two-word format to verify comments. Nice,usually unintelligible words.
I was leaving a comment over at my favorite Flames of War blog,
What Would Patton Do?
, or I should say "trying" to leave a comment. After the third attempt I finally got a simple three-digit number as my first word but I think it was sheer luck that I deciphered the second 'word'. It could be worse, like the "genital robberies" code
Fran blogged about
just earlier today.
WWPD isn't the only place I've tried to leave a comment the last day or so and had to enter the verification at least twice...aargh, frustrating! So, I've turned this feature off at Mik's Minis, please comment away without impediment! Sure I may get occasional spam comments, but some of those Spambots have a sense of humor!
Note: I had the new 2012 HUD queued up for today, but pushed it to Saturday to make room for this important service announcement. Of course that meant I had to move tomorrow's queued post of a mutant pig to the following day, but I digress...