Sometimes a new project just pops onto your plate by accident, as did this one. I'm sure I will tie it into the Starport series in some fashion, so let's see what we've got. I got my
Armies Army
ten man pack in the mail and they are very cool figs. If you haven't picked some up yet, I highly recommend that you do as soon as you can, plus, they're 10% off right now!
The details are crisp and the lines are clean on these figs, they are equipped with recognizable weapons but have cool, little extras that could easily plant them in a near-future setting, namely their full-face helmets. Holding figs in hand always lets you appreciate them even more.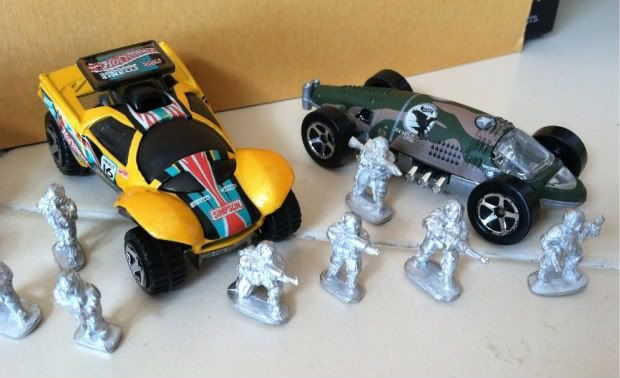 There's a lot of personal favorites out there in Starportlandia, and when I think of the bigger picture I think of
Ironworker's Station 42
. He's got the Starport station itself, but he's also got designs on large chunks of the planet in general, like farming communities, outlying stations, junkyards, and more. I'll be taking a page from there and expanding the lands beyond just the station itself. Which brings in this little project.
Call them insurgents, rebels, guerrillas, or whatever, these figs will make for perfect "civil disobedience" fighters. With a handful of cool looking toy cars ripe for recruitment, these rebels now have fast attack capabilities too. I envision the planet being rocky and barren with isolated 'nourishment' zones. The troopers here (and now I'm really liking the term 'rebels') will have a hidden outpost somewhere deep in the badlands.
It lends itself well to a couple of linked scenario games taking it all in. Game one; rebels raid the starport, with the SPPD having to fend them off (and probably losing). Game two; Military PDF shows up to the firefight to save the SPPD and rebels have to escape being outnumbered. Game three; PDF tracks down rebels hideout in the badlands and you have the big, final battle. Sounds good to me, all you need are the figures, this stuff writes itself!