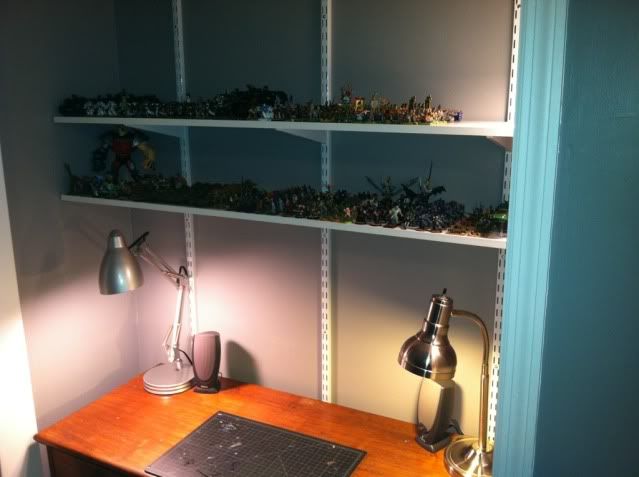 I've finally got my painting desk back out of the garage and set up in the game room. I was able to put up new shelf brackets and finally got some shelves too. As you can see here I was able to put all of my painted minis back out too, well, except for my Blood Bowl stuff, they would almost take an entire shelf themselves. Sitting here typing though I realize my Vikings aren't in attendance, I need to find those!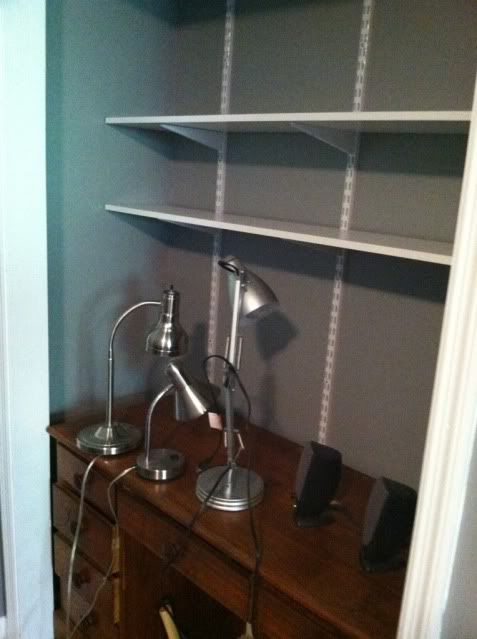 What's most important? Light and music. Those went up first. I won't be able to put my old corkboard up but maybe I can use some cork tiles between the brackets? I'm also planning on thinning out all of the cups and holders for all the different pens, brushes, and what-not. I'd also like to put a shorter glass shelf about halfway down to hold all of my paints, I haven't figured out how to do that yet either but I'd like to have them out somehow.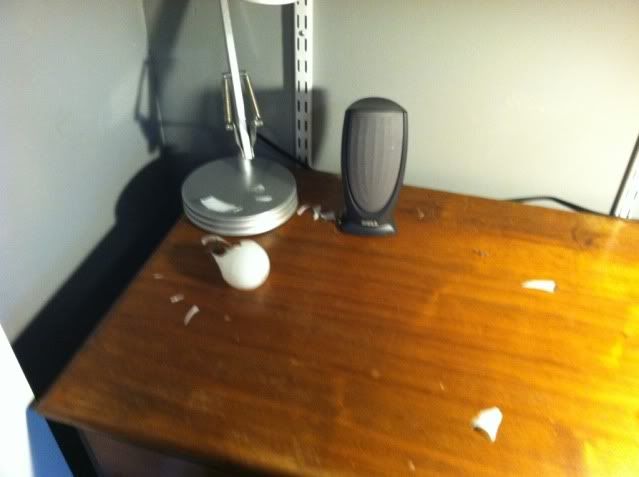 Nobody move! Yup, I broke a bulb...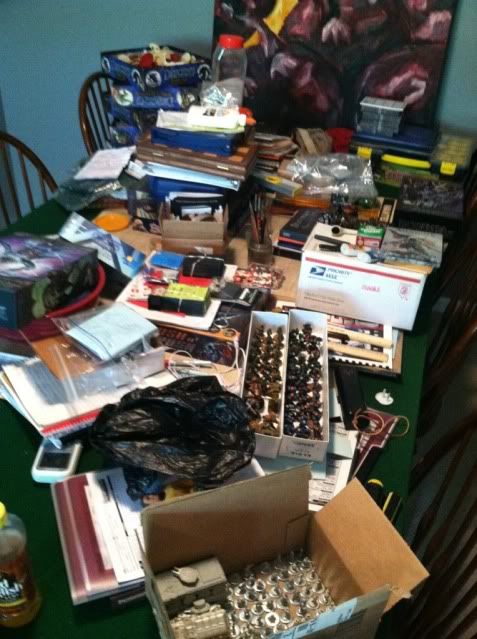 Mind you, I emptied the desk out as well. After about ten years in the game room it collected a lot of stuff in it. Not all of this mind you, but enough! I found some things I forgot I had at least. Anyone remember the miniatures-less
Battleground
miniatures game? I found my two Dwarf "armies" in there, not to mention some softcover rulebooks I forgot I had and a whole stack of Scrollworks Press, the primordial ooze version of the current
Loviatar
gaming zine. I love these old Scrollworks issues because I actually have some of my own artwork in them, including one cover piece! The rest of the stuff here just needs a home, either in the garage in the room, or out the door.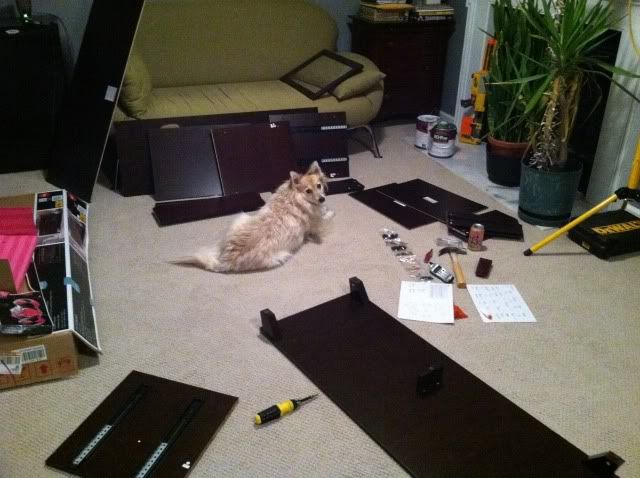 Here's some of the other half of the game room, with another WIP shot. Instead of just putting the television up on an old piece of furniture like we've been doing we thought a small entertainment center would look nicer and work better. Well I had no idea the thing was going to come in so many pieces, I had to assemble even the metal rollers on the drawer! It wasn't rocket surgery or anything, but it was incredibly tedious and took me the entire evening. Though I think I can safely say the "other half" of the game room is now done. First things first, before the big reveal(s), we need to name that Gnome!