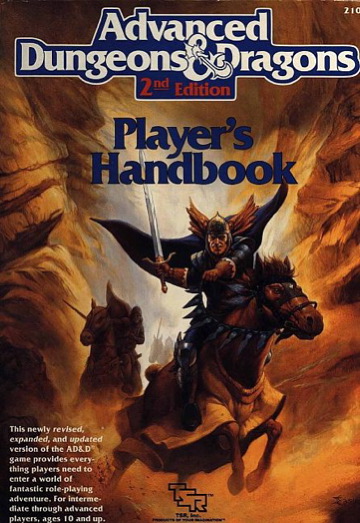 9. AD&D 2nd edition, 1989
Anyone who gamed in the eighties is going to have this one on their list. The weird thing is that this is number nine on mine. Usually Dungeons and Dragons is at the top, if not in the number one slot. Nope, it's not even top five material for me believe it or not. It doesn't make it any less special, it's just noteworthy that in all of my gaming foundations, DnD came pretty late in the game.
Of course once it made its debut it never really left, so for that reason and more, here it is. We usually played in the Forgotten Realms, but had brief stints in pretty much all of the other settings out there, Dark Sun being one of my more favorites, though it was short lived. Homebrew campaigns, hand drawn dungeon maps, lengthy character bios, all the tropes and more that come with the territory were formed during this time. As far as staying power, and games that shape what the future was going to bring, AD&D had it all. We would eventually go back and play first edition, as well as have a very long 3/3e campaign within recent years. Whatever its incarnation, DnD is just that, DnD; it's not just a staple, it's
the
staple..