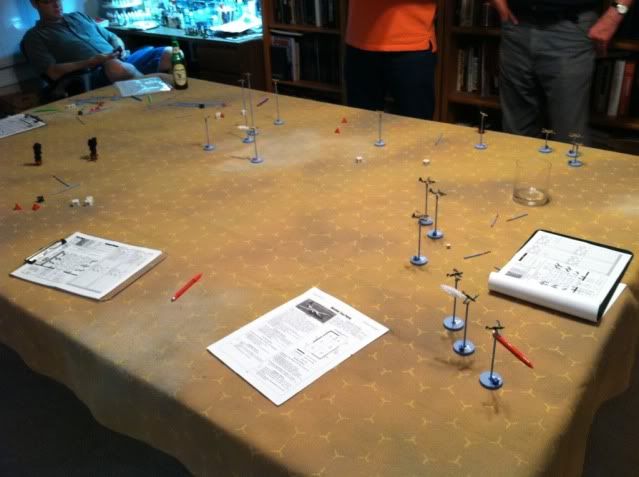 Date: July 4th, 1942
Location: Over El Alamein, Egypt
History: On a morning patrol over the battlefield with a force of twelve fighters (Macchi C.202s) Capitano Lucchnini intercepted a formation of twenty A-20 Boston Bombers escorted by a large number of P-40s and Spitfires; below them was a second formation made up of Hurribombers. Italian fighters pounced on the British planes, and our battle commenced.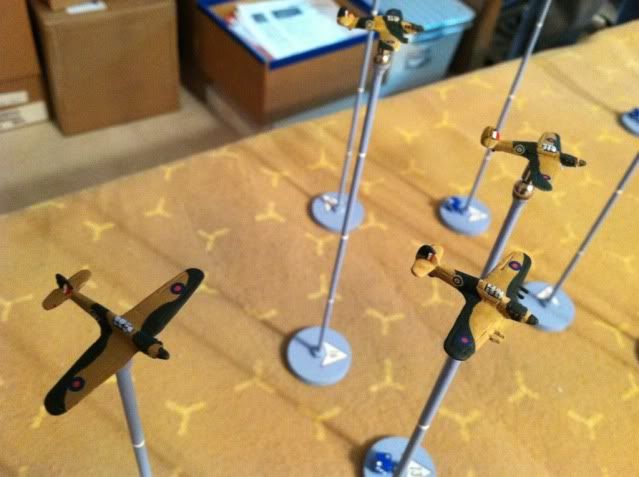 Check Your Six!
is fast becoming our historical minis "go-to" game, and I am absolutely fine with that. I gotta say, aside from the people you game with it's the
stuff
you game with that makes it enjoyable and I am lucky to play with the best CY6!
stuff
on the planet. From the handmade, ten-foot hex map to the excellently painted planes, to the adjustable height combat stands there's nothing about this game I don't like. The rules are solid, the games fun, the mechanics easy to learn, and an absolute horde of historically-based scenarios make every game unique and grounded in reality from the barnstorming biplanes of WWI to the jets of the 1980's.
Unlike the past handful of games, this time around I was saddled with a coupe of green pilots. No skilled pilots, no veterans, and certainly no aces, just me and a couple of rookie Spitfires. I was expecting much, but I did surprisingly well actually.
This is a tough scenario for the Italians to win. The British forces have a ton of heavy bombers flying by, plus a bunch of lighter bombers, then all of their fighter escorts. All my side had to do was get off the other end of the table, while avoiding getting shot down of course. My little greens got in there scoring a couple of hits and even taking down an enemy fighter. Of course this enemy fighter was
Andy's
plane, and I always like to point out when I shoot him down, it's becoming quite the Mik's Minis tradition!
Here's my wounded Spitfire shooting down Andy's plane
When the battle was done, and the smoke not yet clear, the British forces had pulled out a decisive victory. We weren't able to meet out secondary objectives, but we did pretty well. I like these scenarios since they're based on actual events, and in the case the real-world counterpart battles was a completely different affair with the Italian forces demolishing the Brits.
So there's another CY6! battle in the bag. That makes five total for the year, and I have feeling we've got at least that many more in store before 2012 is up. Until then, enjoy!