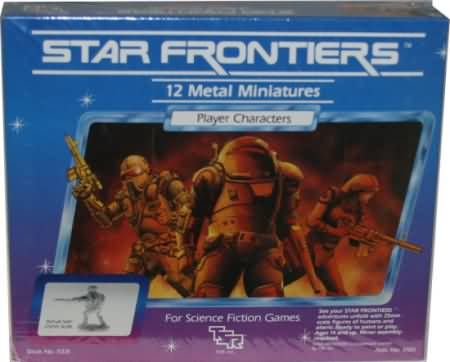 2. Star Frontiers, 1983
So about a year after me #1 spot intro we were visiting some relatives in another state. Apparently my mom's cousin was (and still is) a big gamer. He had given me a present at one point during our visit and it was the sweetest package deal ever; a box of Star Frontiers miniatures and the Star Frontiers RPG boxed set.
Holy crap. To a nine year old this was amazing; the artwork, the user-friendly rules, and miniatures. Miniatures? What the heck are these? Then I saw all the minis that mom's cousin had painted, shelves full of them. I'm now thinking this gift was spur-of-the-moment out of his own collection, something I've caught myself doing for nieces and nephews form time to time. I remember making myself carsick on the long drive home because I couldn't put the rulebooks that came in the boxed down.
Whereas the #1 spot opened the door, this was the light beyond.