"The mean streets of Milton Bradley." -mezzwargames
The other night we got in a trial-run of
Infinity
using the
free quickstart rules
. We had one goal and that was to get down the basics of the turn sequence, the mechanics, and the like. I haven't been the most prolific in posting, but as I may have said, there is growing interest here in Infinity. There were four players; myself and Ray both with painted starter sets, Andy who had figs just not completed, and Jeff, who I'm guessing will be picking some up soon. This was a trial run mind you, so it was kind of slow-going, and as you can see from the impromptu "poor man's urban terrain" it was kind of bare bones.
Look! Freshly painted figs, in action...in a new game! Very exciting! Yup, I'm excited if you couldn't tell. Apparently the starter box I have, the
Combined Army
, has about 75 more points worth of troops in it than the other boxes so a couple of my line troopers sat this one out.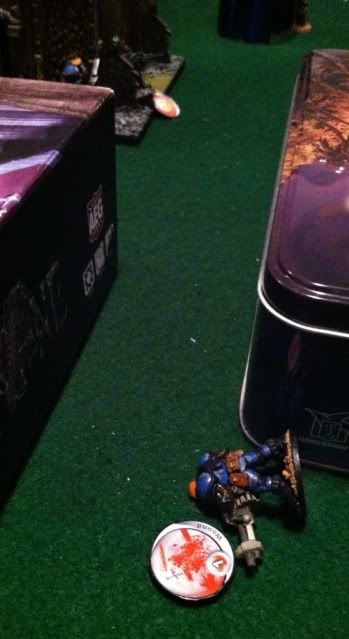 We proxied a Pan-Oceana starter box as well as a duplicate Ariadna starter box and played two on two. Here you can see Andy's proxied Orc Troop get taken out by the enemy Ariadna troops using their effective AROs.
We're no strangers to Two-Hour Wargames around here, so the reactive type phase of the turn wasn't entirely new, but it was still refreshing to see it in action again in a skirmish game. It's basically overwatch, is your opponent moving across your line of sight? Well you can do something about it now, shoot them! There's a ton of actions you can do in addition to shooting however, and having all those options broadens the gameplay.
Camouflage plays a big role in the game. There are different levels of camo too, from basic fatigues to thermo optics and light bending materials. You move markers around until your model is 'discovered' by the enemy, then you put the fig on the table. Here you can see my Malignos skulking about, he just took a shot at a target, who survived, so he lost his camo for the turn. I like how the figs in the game don't just have combat stats and guns only, you have support equipment and skills that are useful for other things, like bypassing doors and what-not. My Malignos lurker here also has an automedkit as well as some other neat skills and equipment, all of which escape me as of this writing.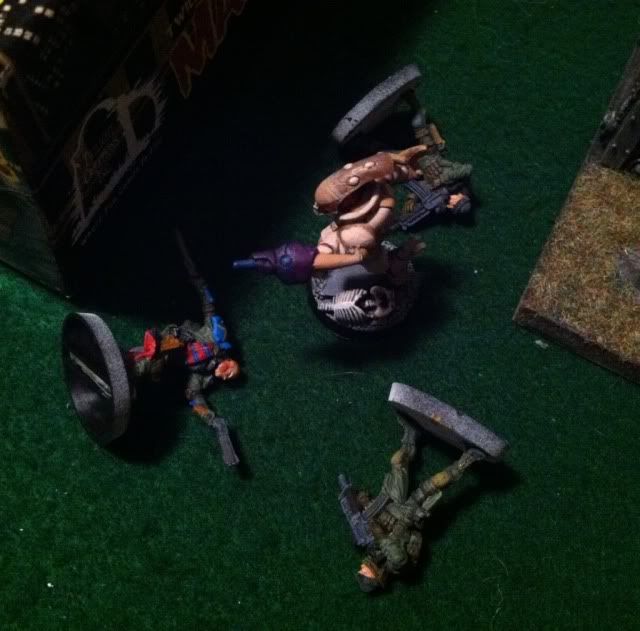 Another thing we discovered rather quickly is that the model that costs about four times as many points as any other given model on the table...well, he's pretty good in combat. My Charontid wasn't the fastest guy around but his combat stats and armor seem very high compared to everyone else. I only have
the free rules
, not the rulebook with all the fluff so I was a bit disappointed to find out that this model is more of a 'ghost in the shell' type character than just a buff alien in power armor. It's still a cool concept mind you, just one I hadn't considered. I am the kind of gamer that likes the fluff, them, story, what-not. It's not 100% for me, but it weighs heavier on the scale than mechanics and the like.
Showdown between the Charontid and an Ariadna Chasseur
Near the end of the test game we weren't playing exactly by the turn sequence but were putting models in situations to test the rules further. Sticking two guys in close combat to see how that pans out, moving a medic in contact with a fallen comrade to work through that, and so on.
I had boldly stated early on that I would learn the rules and handle the workload in that department to facilitate getting everyone on board. In full disclosure I have not, in fact, made a whole lot of progress on learning the rules, ahem. Needless to say, our first foray went over positively so expect to see more. I can't really give an impression of the rules just yet, other than it is more than just skirmish scale, I would call it hero scale, where every model on the table has as many stats and doohickeys as a light RPG character, and once the fast playing rules are learned you will be able to do all kinds of varied and cool games.
Looking at the rest of the way to three hundred points with the Combined Army, it looks like I'm just three models shy. From there, I don't know, I thought of amassing lots of CA models to have options and varieties but I'm second-guessing that now. Infinity is the kind of game where it is very feasible to have multiple 300pt armies without investing too much time or money either way. With all the gorgeous models, it's hard to resist. You can have your cake and eat it too, or in my case, have my aliens and ninjas too. Until next time, enjoy!