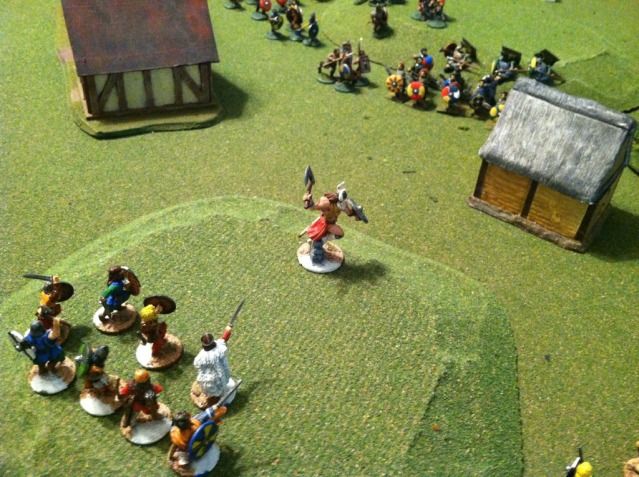 Before I even begin to get into the newest game we added to the ranks,
Gripping Beast's Saga
, let me just say I am not going to be winning a lot of these games. Or at the very least my warband leader, known as the Warlord, won't be surviving too many battles. Case in point, the opening photo of this post.
Saga is the Dark Ages skirmish game that is making its rounds. The name of the game says it all, "Saga". It straddles the two worlds of semi-historical and the epic battles of legend. If you're looking for a historically correct game, look elsewhere. If you're looking for a fast, fun Dark Ages game with great rules, you've found it. If you're looking for another point of view of the same night,
look here at Little Lead Heroes
. Way back when a gaming buddy of ours, Brian, who has since moved away
started looking into Saga as well
, it's just taken me this long to get a game in!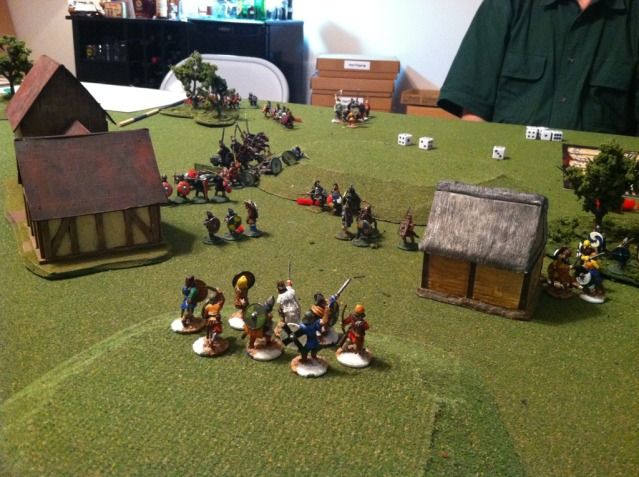 Saga is about the heroes and the warriors they lead, so that's why my Warlord is going to be leading the charge time and time again. The gates of Valhalla only open to the bold. The rest of my warband will be tasked with two things in a battle, defeating the enemy of course and just trying to keep up with their leader. To me this is the only way to play the game!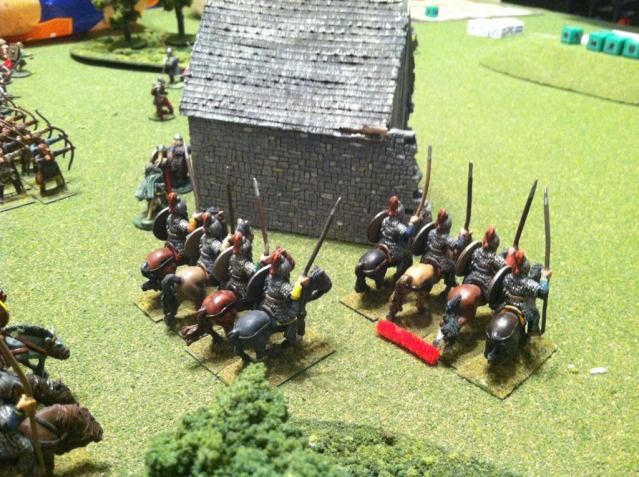 Shown here are the Normans, who were allied with two Viking warbands for this battle. On the other side of the table were an allied group of Anglo-Danes and Welsh. Being our first intro and test game, there were some initial set up rules we overlooked but overall I don't thing they messed things up. Warbands are generated simply enough with four or six point warbands being the norm. A leader is free, each unit after that costs a point. Your units can be from small, elite groups, up to large peasant-class levy troops.
Welsh javelin-armed troops about to get trampled by Norman cavlary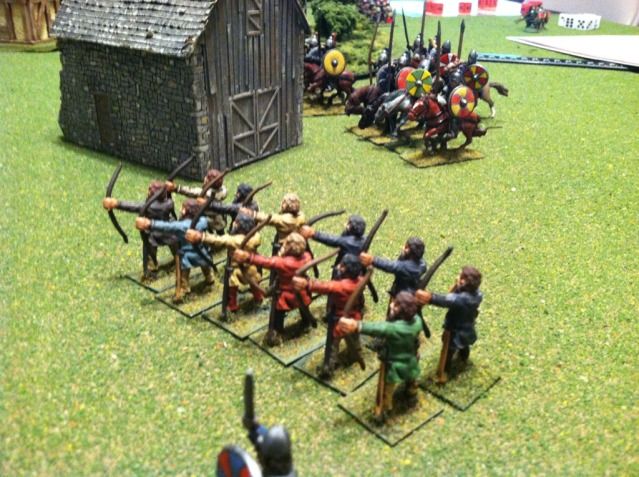 Viking levy archers
The base game, $40 bucks by the way, has army info on four separate forces, plus the rules themselves. You also need some game-specific dice to go along with it, which can be pricey but there's all kinds of inventive work-arounds to that. This is where the game takes a fairly serious detour from other skirmish games.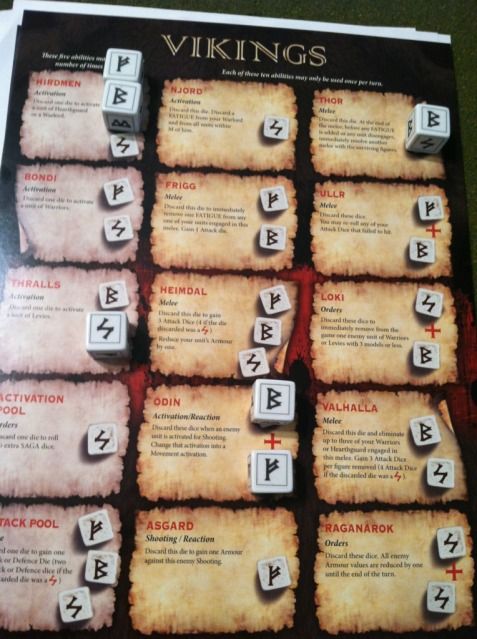 Each force has a battle board, each of the four boards wholly different and unique to that specific army. This is where the game gets even more cool. You roll a number of dice each turn based on how many units you have on the table. Then you allocate those die rolls to your battle board. If you look at the top left of my Viking board you see "Hirdmen". If I want to activate my Hirdmen at all this turn, I need to allocate one of my die rolls and place it there.
That's the normal stuff, each force has its own flavor in the form of special abilities, like "Odin" that needs two dice to work and changes and enemy's shooting turn into a move turn instead. The other trick is you're not guaranteed these very time, obviously. So if you get two sixes and are able to charge up "Ragnarok" you may have to leave the dice there for a turn or two, which you can, but that's going to be two less dice you're able to roll the next turn.
Two warlords clash...and kill one another simultaneously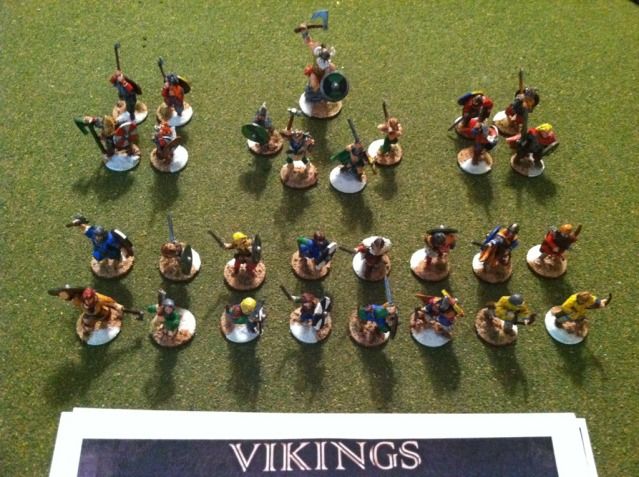 I mentioned
Repple Depple's Brian
in the beginning of this post and it was because of him and all of the Pig Wars enthusiasm before he moved that I painted up my
Viking horde
. We have played a Dark Ages game or two since he's moved off, but the Viking wargaming potential that was about to explode died with his egress. I am hopeful however that these rules, which I enjoyed immensely, will turn that ship, err, longboat around.