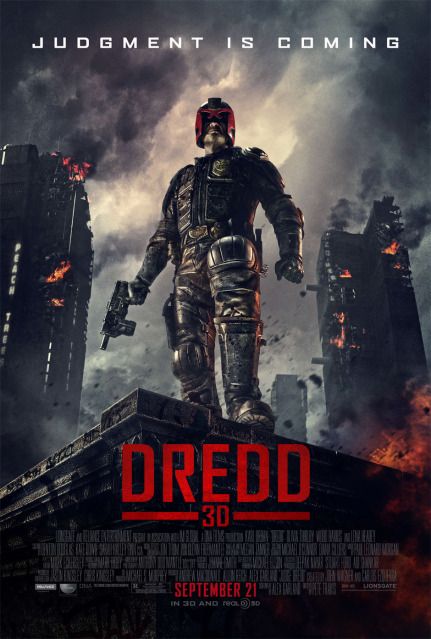 Dredd 3D, 2012
When [a pair of street judges] goes after a drug lord holed up in [Mega City One]'s most notorious tenement building, they find themselves trapped and forced to fight their way out through brutal gangsters loyal to the kingpin they were trying to [arrest].
That of course is the plot to Dredd 3D, the second film we've been lucky enough to receive of our favorite judge, jury, and executioner. I'll mention the
Stallone version
from 1995 just this one time, but you know what, I liked that one as well, just not nearly as much as this new one. These two Dredd movies, however, couldn't be more different.
I loved this movie, it was brutal, it was straight forward, it was dark and gritty, in a nutshell...it
was
Judge Dredd. If you read the comics in the 80's, like sci-fi action in general, read this blog, etc. then chances are you'll see this movie eventually, you don't need my approval. I will tell you this, it's worth it. It is also graphic, a real, over-the-top gore fest. Probably not a date night movie if you're trying to get your love interest into the sci-fi genre for the first time.
The plot isn't even close to being original, and has already been done as recently as last year called
The Raid: Redemption
. In fact, the synopsis I opened this post with was actually from The Raid with just a couple of changes (see, I tricked ya!). But this doesn't stop Dredd from being a kick-in-the-teeth, awesome sci-fi action shoot 'em up steeped in the comic tropes we've learned to love over the last twenty years from this original BA anti-hero.
Karl Urban is a solid fit for the role, and to the filmmaker's credit, he never once takes off his helmet. There aren't any one-liners or zingers, and every time you cock your head thinking, "But wait, what about the..." they cover it in the film. No detail is left hanging. The entire story takes place over the course of a few hours through the middle of the night, and you're thrown right into the action. Speaking of which, another of my favorite characters from the comic plays an integral part to the film as well, though I won't spoil it for you. In fact, maybe I've said too much already. Just let me know what you think.
Oh, and a big ole footnote, as for
The Raid
, holy cow. This is another awesome movie you need to see! I think it may just deserve its own review in a couple of days! Until next time, lock and load!