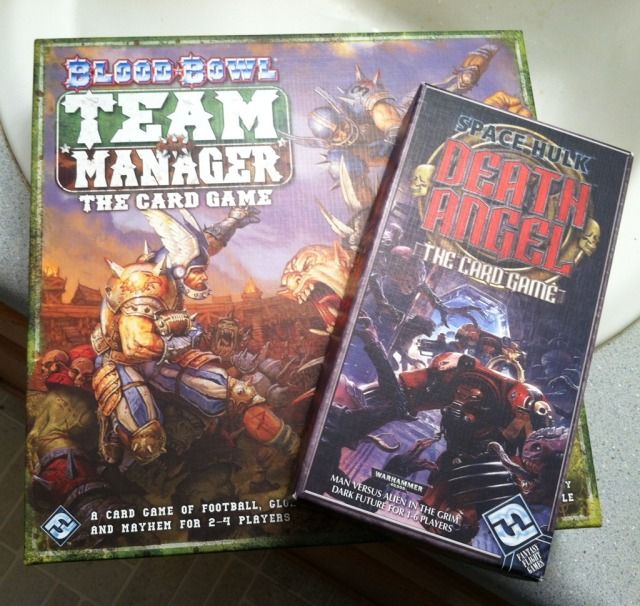 Early last month in a state-of-the-blog update I had mentioned that more and more boardgaming had been working its way into the fold. Here's a bit more of that.
Since then I have picked up these two
Fantasy Flight Games
, which in a neat twist are both based on beloved GW properties, yet are decidedly
not
GW.
First up is
Blood Bowl: Team Manager
, and where I love regular Blood Bowl, after almost twenty years of playing it's hard to stay enthused. This one isn't supposed to replace the original, but is another take on the Blood Bowl experience. In about an hour you will take your team through an entire season of ups and down, wins and losses. I haven't torn into it yet, but I'm looking forward to it.
Next up is
Space Hulk: Death Angel
which is an even more abstract game centered on just as anchored a property. I would say I've heard mixed reviews on this one, but the positives seem to be far outweighing the negatives on this one. It supports up to a whopping six players, but one of the main selling points is that it can also be played solo too. This purchase was made even better by the fact that I ended up with the first two card expansions as freebies to boot.
All that said, I am gearing up to get into my boardgame collection, dust off and give some gaming love to those forgotten titles, re-learn a bunch of gems that have been neglected, and put these new games through their paces. The responses were positive for some boardgame reviews, and that's what I'm going to do.
Until next time, rock on!