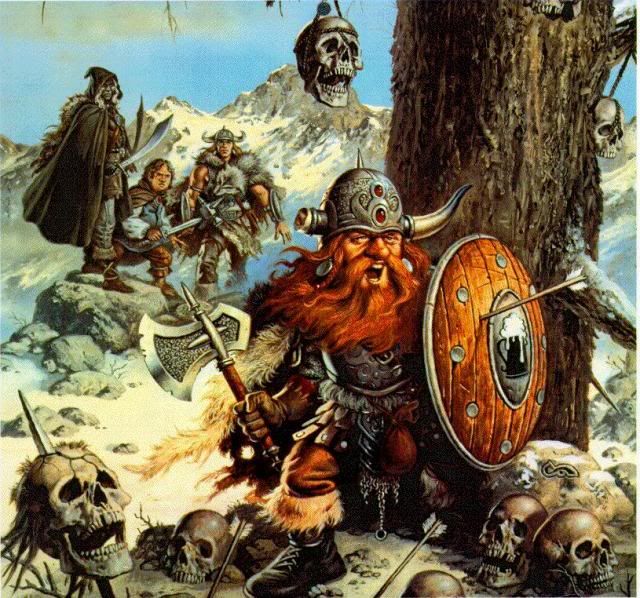 Dwarves were always just that, Dwarves. Another race in the Player's Handbook; they had beards and preferred axes, and got some kind of underground direction sense or something. I was never really intrigued by their entry enough to want to play one. Then I read Salvatore's The Crystal Shard in 1988, and I suddenly loved Dwarves.
One of the main characters, one of the "Heroes of the Hall", was a Dwarf named
Bruenor Battlehammer
. There wasn't a whole lot of D&D Dwarf fiction out there (other than proto-Tolkien), so Bruenor wasn't anything fresh and innovative, he was pretty much your stereotypical Dwarf. But he was a well-written stereotypical Dwarf, as were his Dwarf peers, and for that I was hooked. Salvatore has gone on to write a lot of books, and his Dwarves don't ever disappoint. I'm getting a wee tired of reading about the goth/emo Dark Elf Drizzt, but Bruenor and his Dwarven cousins are still a lot of fun to read about.
Bruenor's the reason I lean to the Dwarf race nowadays when rolling up new characters and the like. He's a man's Dwarf, tough as the stone he carved an empire out of with a wit as sharp as his axe. He loves beer and is a loyal friend to the end. That's reason enough alone to make him a Thor's Day Hero.