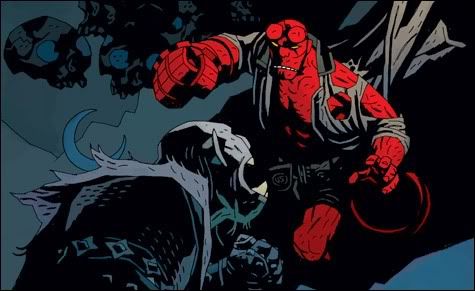 When
Hellboy
first hit the scene I knew I had something special in the issue I held in my hands. Mike Mignola's artwork and overall style are simply fantastic to say the least. Couple that with an amazing story concept, wow, you've got a winner.
Mixing Lovecraft mythos, sci-fi goodness, weird war II elements, four color fisticuffs, and a good guy ultimate anti-hero Hellboy and his Bureau for Paranormal Research and Defense never disappoint. He routinely sands down his devil horns, has a literal right hand of doom made from impervious stone, and wields a
pistol that deserves its own link
. From the smallest of Sprites to the largest tentacled masses from beyond the stars, Hellboy and his team tackle everything head-on with 'leap first, look later' bravado. Welcome aboard the Thor's Day Heroes Hellboy.