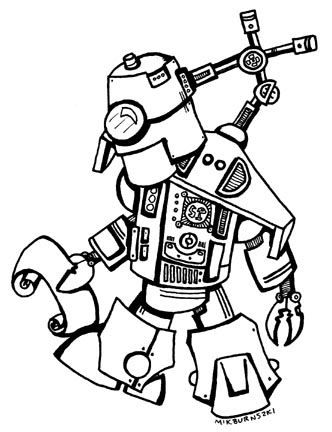 My opening piece for today's art leftovers is a fave of mine, not because so much of what it is but where it was. Back before Christian's
Destination Unknown
, really before blogging in general, and way before his
Loviatar
'zine he wrote Scrollworks Press. Well this robot graced one of the covers of that indie gaming magazine a long, long time ago. It was really cool to get it in the mail, see my art on the cover, and know that a lot of other people were seeing my art as well. There's another Scrollworks piece floating around in the archives, I just don't know when it'll pop up.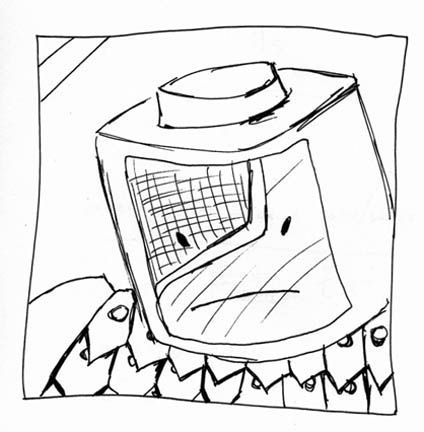 I think I plug those ill-fated and little known LEGO
wargaming rules
of mine a little too much to be honest, but this next piece was a test from that. We didn't know if we were going to use stat cards or what, but the idea here was to have a closeup, profile shot of the character on the card. This was a "warpainted" Islander head atop some scale-mail.
There's not much to say on this one. It's supposed to be a Scottish Terrier. Get it? Scottish. Terrier. Ahem, moving on...
Last but not least is basically a doodle taken directly from a note page. Also it's apparent that I can't seem to divide four into nine hundred without writing it down. So basically you've got a fantasy version of Star Wars mixed even more so with the wild west. The Texas Rangers/Jedi of the setting were monastic knights who had these "magic" swords made of a rare crystal. Maybe it's a crystalline entity. I don't know, the idea never got past the "crystal sworded knights" idea. Looking at the pic I may have been thinking "ruby" not crystal. I really don't know, you know how it is; you think of an idea, you jot it down, file it away.
Until next time!