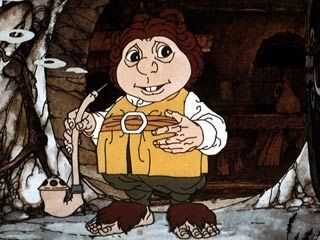 I had to be specific in my title, today's Thor's Day Hero isn't just any ole Bilbo Baggins. No, today's inductee is the one you see above, the
Rankin Bass 1977 Bilbo
. Sure, I saw Star Wars in '77 but it wasn't until a few years later I was into it thanks to the toys. My first geek introduction though,
pretty much ever in my life
, goes to my Lord of the Rings storybook record sets. Yes, records, played on my
Fisher-Price turntable
. Of those Bilbo and the tale of the Hobbit took center stage, we even named a litter of puppies at the time after Hobbit characters. Good, moving memories. Welcome aboard Bilbo!